Published Mar 13, 2009 — 4384 views

In recent years, two new sub-$500 mobile device categories have burst onto the scene: the "mobile Internet device" (MID), with the iPhone representing its greatest success; and the "netbook," popularized by the Asus Eee PC. Get ready for the third wave: the "netpad."

MIDs
In early 2005, Intel began promoting the concept of "mobile Internet devices" (MIDs) — mini-tablets offering Web access along with a limited set of built-in applications. Later that year, Nokia became the first major device maker to ship an MID, with the debut of its N Series Internet Tablets. Since then, portable multimedia player (PMP) makers (most notably Archos) have followed in Nokia's footsteps, adding WiFi, Web-browsing, and email capabilities to their PMPs.


Nokia 810 (left) and Archos 605 (right)
(Click each image to enlarge)

Built in roughly 3 x 5-inch form-factors, featuring 4- to 5-inch (diagonal) 800×480-pixel resolution touchscreen LCDs, and positioned at sub-$500 price-points, MIDs have had a hard time developing a market beyond early-adopter gadget enthusiasts.
Meanwhile, "smartphones" — Internet-enabled cellphones pioneered by RIM, Symbian, and Microsoft — began infiltrating the MID realm. As with the larger, non-phone MIDs, smartphones also appeared to be mired in a market niche — in this case, that of the corporate road warrior.
MID game-changer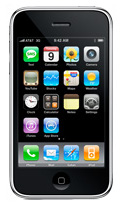 Then, seemingly from nowhere, Apple's iPhone catapulted overnight to "must have" status in mid-2007. Its remarkable success is attributable to the device's sleek hardware design, elegant user interface, modest price-point, and bustling community of third-party applications.
Intriguingly, despite the iPhone first-and-foremost being a cellphone, the irresistible urge to own one seemed undeterred by the device's unremarkable call quality and battery life.
This suggests a substantial market opportunity for an easy-to-use tablet-style mobile device offering instant access to email, Web browsing, and lots of Web-based applications — in addition to phone functions.
Netbooks
In parallel with the arrival of the iPhone and other MIDs, another new consumer device category was also gaining market traction over the past couple of years. The netbook is basically a sub-$500, lightweight, WiFi-enabled, mini-notebook PC with modest computing resources.


Asus's Eee PC launched the netbook category

Netbooks typically sport 8- to 10-inch LCD screens, include near-full-sized keyboards, and weigh between 2 and 2.5 pounds. From the software perspective, they generally offer a minimal suite of applications, such as web-browsing, email, media playing, document reading/writing, photo organizing/viewing, etc.
To hit the sub-$500 price-point target, netbooks frequently come with Linux as their default OS (several Linux distributions specifically target the devices), although higher-priced Windows XP versions are also available. In addition to a Microsoft OS, the latter generally include faster processors, more memory, and a 50-100GB (or larger) hard drive, rather than the flash storage of the entry-level models.
The missing third category
Comparing the key capabilities offered by the MID/iPhone and the netbook, a third possibility presents itself. To see this, have a look at the following table:

Comparison of MID, Netbook, and Netpad characteristics
| | | | |
| --- | --- | --- | --- |
| | MID | Netbook | Netpad |
| Form-factor | Teeny-tablet | Mini-notebook | Mini-tablet |
| Size (inches) | 3 x 5 x 0.6 | 7 x 9 x 1.25 | 7 x 9 x 0.75 |
| Screen (diag.) | 4-6 in. | 8-10 in. | 8-10 in. |
| User input | Touch | Keyboard | Touch |
| Usable while standing? | Yes | No | Yes |
| Weight | 0.5 lb | 2.25 lb | 1.5 lb |
| Phone? | 3G or VoIP | No | Voice/video-over-IP |
| Processor | 750MHz ARM | 1.5GHz Atom | 1.5GHz Atom |
| Memory | 512MB | 1-2GB | 1-2GB |
| Storage | Flash | Flash or HDD | Flash or HDD |
| Multi-tasking OS | Varies | Yes | Yes |
| Price-point | sub-$500 | sub-$500 | sub-$500 |
As seen in the table, the netpad would be a thin, wireless, Internet-enabled device combining many features of netbooks with others from the MID category. Basically, a touchscreen and soft-keyboard are substituted for the netbook's non-touch screen and keyboard, resulting in a thinner, more intuitive device.
Lightweight, thin, compact netbooks could be just the ticket for easy access to information and entertainment both around the home and on the go. With significantly larger screens than what's found on MIDs and iPhones, they'd reduce eyestrain and simplify text entry.
A few other features and options could seriously increase the excitement around the netpad:
Voice/video-over-IP phoning capabilities (via WiFi, optional 3G)
Universal remote control functionality
Blu-ray drive option
HDMI output for TV display
A/V-player functions
Built-in GPS
eBook reading support
DeviceGuru readers can no doubt think of many more nifty features suitable to netpads.
When will one of these see the light of day?
Recent rumors have it that Apple is working on a new product with a 10-inch touchscreen. Of course, everyone's predicting it'll be Apple's first netbook.
Given the iPhone's stunning success in the teeny-tablet space, however, DeviceGuru can't help wondering if Apple is readying its first netpad, rather than the rumored netbook.
Perhaps they'll call it the "iPad."