Aug 30, 2011

A Mog music-streaming Boxee app is now available to users of PCs, Macs, and Boxee Box devices. The new app provides access to over 11 million songs, all at better than HD audio quality (320kbps).

Mog lets users create personal playlists or have Mog build a radio station based on artist and song preferences. Like other services, such as Pandora or Aupeo, it's a great way to discover new artists and bands that match your music tastes.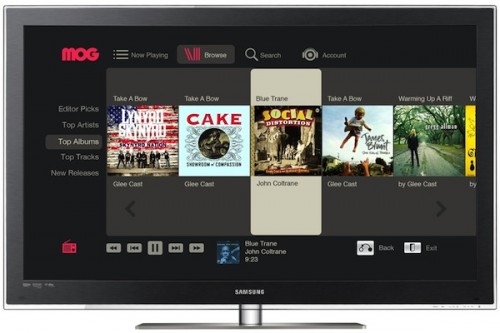 Mog app screenshot
Unlike Pandora and Aupeo, however, Mog doesn't offer a free option with ads and restrictions. Instead you can sign up for a 2-week free trial, after which the monthly fee for continuing to use the service on your Boxee system or device runs about $5 or $10. Unfortunately, Mog requires you to submit your credit card info before you can get the 2-week free trial.
About Mog
Launched in June 2005, Mog's "all-you-can-eat, on-demand listening service" currently boasts over 11 million songs and a million albums. It's available via apps on iOS and Android mobile devices, via apps on Roku, Sonos, and Boxee players, and via the browser on PC and Mac desktops. The company is based in Berkeley, CA.
Further info
For more details, or to sign up for the free trial on your Boxee installation, visit Mog's Boxee page.