Aug 26, 2008

I've long been a sucker for small-footprint Linux distributions. So naturally, I thought it would be interesting to explore the latest version of "UbuntuLite."

The community-run Ubuntulite project aims to extend the useful life of aging, under-resourced hardware, as might be found in schools or nonprofit organizations. Accordingly, instead of using a high end, video-hungry desktop environment, such as GNOME or KDE, this parsimonious OS incorporates the Lightweight X11 Desktop Environment (LXDE), a platform being honed for use on nettops (aka mini notebook PCs) and MIDs (mobile Internet devices).
LXDE provides "moderate" performance on systems with Pentium 2 processors clocked as slow as 266MHz and equipped with as little as 192MB of RAM, according to the LXDE website. That should make UbuntuLite a good match for my old Thinkpad 2662-35U testbed, with its 600MHz Pentium III CPU, 192MB of SDRAM, and 16GB hard drive.
Incidentally, until recently UbuntuLite came with IceWM, a popular reduced-footprint window manager. Earlier this year, however, the project migrated to LXDE as its default desktop, in an effort to provide "a modern desktop feeling," among other benefits.
Two-part installation process
Unlike standard Ubuntu, UbuntuLite currently is not available in the form of a single installation CD (there's one in the making). Instead, you start by downloading the Ubuntu "mini" installer CD (a 9.7MB iso) and then use a script (command file) that's available for download from the Ubuntulilte project's website. The first part of the process installs a minimal Ubuntu system without a desktop environment; then, the script installs the LXDE desktop along with a prescribed set of applications.
Despite the added complexity of not having a single installation CD, the current two-part installation process really isn't too big a deal. Here are the steps needed, as listed on the UbuntuLite website:
Download the Ubuntu "mini" iso image from Ubuntu's archive site and burn a CD.
Boot the CD and type "cli" (followed by Enter) at the initial prompt.
Respond appropriately to the installer's half-dozen-or-so prompts.
After the installer's process completes, remove the CD and hit Enter at the prompt to reboot the system, and then login with your user name. (Note: At this point, 693MB of the system's hard drive was occupied by the core Ubuntu OS.)
At the resulting command-line prompt, download the UbuntuLite installer script using the following command:

wget http://download.tuxfamily.org/ubuntulite/nouveau/install_ubuntulite_nouveau

Now run the UbuntuLite installer script with this command:

sudo bash install_ubuntulite_nouveau

Finally, reboot the system into UbuntuLite, using the following command (and enter your password when prompted):
The final step restarts the system, which boots up into a GDM login prompt. Once these procedures were all complete, UbuntuLite occupied 1.2GB of my system's hard drive.
Touring UbuntuLite
Here's what the system looked like shortly after the installation was complete: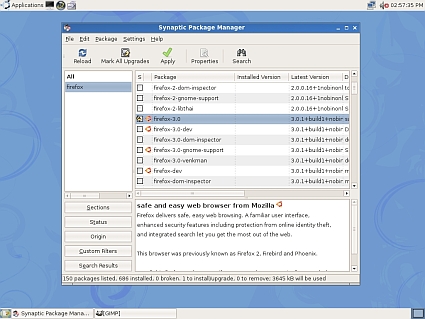 Using Synaptic to install Firefox 3
(Click image to enlarge)

These were the standard applications included in the version of UbuntuLite that I installed today:
Audio & Video:

Alsaplayer
Asunder CD ripper
Brasero disc burning
gxine

Graphics:

ePDF viewer
GNU Paint
GPicView image viewer

Settings:

Appearance
Login window
Openbox Configuration Manager
Screensaver

System tools:

Hardware drivers
Network
PCMan file manager
Services
Shared folders
Software sources
Synaptic package manager
Time and date
Update manager
Users and groups

Network:

Kazehakase Web browser
Pidgin IM
Sylpheed email

Office:

Abiword word processor
Gnumeric spreadsheet

Accessories:

Leafpad
LXTerminal
Search for files or folders
Xarchiver
To the above, I immediately added Firefox 3 (shown below), GIMP (which I used for grabbing the screenshots), ssh (which I used for transferring the images to this blog's webserver), and Adobe Flash Player (for watching YouTube videos). None of these had any difficulties running on UbuntuLite and its LXDE desktop environment. Of course, I'll be adding more software over time.
Screenshot tour
Below are screenshots of some of the applications running on my UbuntuLite system. Click each thumbnail for a larger view:
















Conclusions
UbuntuLite seems to work well, although it does seem to have a few rough edges. But that's understandable considering that it's a work in progress. From what I've seen so far, I'm certainly looking forward to watching this mini Linux distribution evolve!
To download or learn more about UbuntuLite, visit the projects's website.