Oct 31, 2010

[Updated Nov. 2, 2010] — Although the October 10 release of Ubuntu 10.10 (Maverick) had been anticipated for many months, and despite Ubuntu being Boxee's primary Linux target, Ubuntu 10.10 users were disappointed to discover that the then-current Boxee beta wouldn't install on Maverick due to dependency conflicts.


Nov. 2, 2010 Update
After DeviceGuru published this post, Boxee informed us that they had fixed the Boxee software package in its repository to support Ubuntu 10.10, enabling Maverick users to install the Boxee beta via apt-get or Synaptic. A day later, the updated package also showed up on software's download page.

In short, you can now ignore the balance of this post — or read on, for installation instructions and info regarding the schedule for the release Boxee 1.0.
The initial bad news
Strictly speaking, the makers of Boxee had been in the clear all along, since the software's download page stated that the then-current version of Boxee (Beta 0.9.22.13692) supported Ubuntu 9.10 and 10.04, and made no mention of Ubuntu 10.10.
Still, based on the long warm relationship between Linux and Boxee's A/V streaming software platform, I was surprised and disappointed when, following my fresh install of Ubuntu 10.10, I was presented with the error message below when I tried installing Boxee by downloading it from Boxee's download page.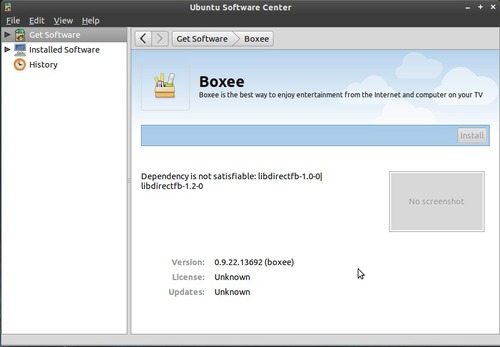 As of Oct. 31, Boxee wouldn't install on Ubuntu 10.10
(click image to enlarge)

With no official word from Boxee on when Ubuntu 10.10 support would be forthcoming, beyond a recent announcement indicating that Boxee would be going gold soon, an unofficial modified version of Boxee, which resolved the dependency problem, had quietly surfaced in a Boxee user forum post.
Being impatient (and bit of a Boxee freak) by nature, I threw caution to the wind and gave the unofficial, modified package a whirl. Here are some screenshots showing its installation and operation on my Ubuntu 10.10 system:









The modified Boxee version installs and works fine
(click each image to enlarge)

Although it appeared to work fine, there was, of course, no guarantee that it would problem free — or even that it wouldn't proceed to destroy my system like a snake swallowing its tail. Another liability of installing a modified, unsupported version would be the need keep an eye out for the official Ubuntu 10.10 version when it eventually showed up.
Official Ubuntu 10.10 Boxee beta emerges
The day after this post was published, Boxee emailed DeviceGuru to ask us to test an updated Ubuntu Boxee package, which had just replaced the earlier one in its repositor. We quickly confirmed that new official version installed successfully on our Maverick system, but also let them know that the one on the Boxee download page was still the old one, complete with Ubuntu 10.10 dependency problems.
As of this (Nov. 2) update, all is in order: the updated, Ubuntu 10.10-compatible version of Boxee is available for installation from Boxee's software repository using Ubuntu's apt-get or Synaptic package managers, and it's also available for direct download from Boxee's download page, where it is labeled "Boxee Beta 0.9.22.13692 for Ubuntu … Linux 10.04 Lucid Lynx, 10.10 Maverick Meerkat." The modified package name currently is "boxee-0.9.22.13692.i486.modfied.deb" (with "modified" misspelled).
Boxee now officially supports Ubuntu 10.10. Case closed.
Installing Boxee on Ubuntu 10.10
There are two easy ways to install Boxee on your Ubuntu 10.10 system: download the .deb package directly from Boxee's download page; or, install it using via one of Ubuntu's package managers. Either method adds a boxee repository line to your system's package sources lists (in /etc/apt/sources.list.d/boxee.list), so use whichever approach you prefer.
To install Boxee using the the Synaptic Package Manager, follow these steps:
Add the following boxee repository line to the package management sources database, using Synaptic's "Settings > Repositories > Other Software > Add" function:

Type: binary
URL: http://apt.boxee.tv/
Distribution: maverick
Components: main
Comment: Boxee

Click Synatpic's "Reload" button to update its packages database
Search for, select, and install Boxee using the standard Synaptic package installation method
If you choose instead to download the package directly from Boxee's website, save it to your desktop or preferred location, and then click the package icon once it has finished downloading. (Or, from the a command line, type "sudo dpkg -i boxee-package-name.deb", substituting the current .deb package name, and entering your password when prompted.)
What about Boxee 1.0?
How soon can we expect Boxee to move beyond beta? We recently learned that Boxee version 1.0 will initially show up in the D-Link Boxee Box, which is scheduled to ship by mid-November.
So far, the Boxee team hasn't committed to a deadline, but instead simply stated that the v1.0 release for OS X, Windows, and Linux PCs would follow first customer shipments of the Boxee Box.
In response to DeviceGuru's latest inquiry, a Boxee source confirmed that the team is "shooting for early next year," and added: "We're 100% focused on the Boxee Box at the moment."