Jan 20, 2008

Sex with robots? Stephen Colbert, news anchor of Comedy Central's "Colbert Report," interviewed the author of a recently published book on this intriguing subject last Thursday.

According to publisher Harper Collins, Love and Sex with Robots, by David Levy, explores the possibilities of emotional relationships between humans and robots "and its far-reaching implications."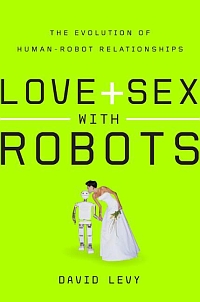 (Click to enlarge)
"Using examples drawn from around the world, David Levy shows how automata have evolved from the mechanical marvels of centuries past to the electronic androids of the modern age, and how human interactions with technology have changed over the years," the publisher writes. Levy's book explores why humans fall in love, "why we form emotional attachments to animals and to virtual pets [for example, the Ugobe Pleo], and why these same attachments could extend to love for robots."
"He also examines the needs we seek to fulfill through sexual relationships, tracking the development of life-sized dolls, machines, and other sexual devices, and demonstrating how society's ideas about what constitutes normal sex have changed — and will continue to change — as sexual technology becomes increasingly sophisticated," the publisher adds.
The publisher claims that "…Levy makes a compelling and titillating case that the entities we once deemed cold and mechanical will soon become the objects of real companionship and human desire. Anyone reading the book with an open mind will find a wealth of fascinating material on this important new direction of intimate relationships, a direction that, before long, will be regarded as perfectly normal."
Not convinced? Stephen Colbert discusses this intriguing new book — and its implications — with author David Levy in the following video clip from Jan. 17 edition of the Colbert Report:


Stephen Colbert interviews author David Levy
(Click image to play video clip)

Levy is claimed to be an internationally recognized expert on artificial intelligence, and is president of the International Computer Games Association.
Love and Sex with Robots (352 pages, $24.95) is available online from Amazon.com, here, among other online and brick-and-mortar booksellers.