Oct 19, 2010

The Nissan Leaf electric car's "easy-to-use touch-screen Information Hub" will run Microsoft's Windows Embedded Automotive operating system. But not to worry: it won't be driving or controlling the car, so fear not the dreaded BSOD.

"The 100 percent electric Nissan Leaf uses its advanced intelligent transportation system (ITS) to help drivers maximize their zero-emission driving capability," stated Microsoft in its news release. "This advanced ITS system delivers a steady stream of information such as a real-time locator for public charging, timers for charging and running heat or air conditioning, energy usage, and other tools to help the driver more efficiently use the vehicle. All these features can be quickly accessed through Nissan Leaf's easy-to-use, touch-screen Information Hub, powered by the Windows Embedded Automotive platform."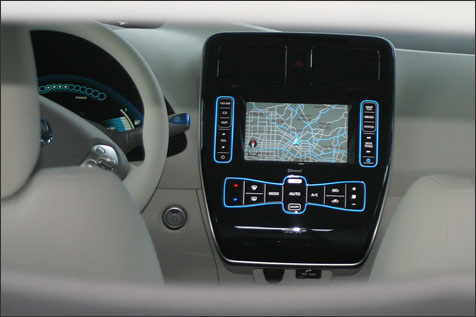 Nissan Leaf's Information Hub runs Windows Embedded Automotive
As mentioned already, the car itself won't be controlled by Windows Embedded Automotive. In fact, today's highly complex vehicles contain hundreds of distributed embedded computers running hardened real-time kernels and OSes, which are responsible for specific control and monitoring functions. They communicate via specialized vehicle buses, such as CAN, VAN, and others.
Says Tooru Abe, Nissan's chief product specialist, "the Leaf's ITS system, which includes the Nissan Leaf Information Hub, will be a critical tool for our owners. Not only did we want to provide information to help our owners maximize the use of their Nissan Leaf, we also want to help create a connected zero-emission community around the globe. These ITS features will help make that possible."
About Windows Embedded Automotive
In related news, at the SAE Convergence 2010 Conference and Exhibition today, Microsoft announced the availability of the Windows Embedded Automotive software platform 7 to select car makers and suppliers in the automotive industry.
According to Microsoft, key features of its automotive software platform include speech commands; touch input; hands-free Bluetooth phone communications; advanced dashboard systems for access to music, maps, third-party apps and navigation; and streamlined connectivity with other devices.
The platform also includes a Windows Embedded version of Silverlight, which Microsoft says "gives automakers the ability to quickly create rich device user experiences with engaging 2-D and 3-D graphics by using a familiar Microsoft technology and taking advantage of a large ecosystem of Microsoft Silverlight designers."
Additionally, Windows Embedded Automotive includes includes Microsoft's "Tellme" speech technology. This, the company says, enables "simple and hands-free system commands such as allowing the entire interface to be driven through speech." It also provides support for SMS reply-by-voice, which allows text message replies to be constructed by speech (OMG!). Tellme supports U.S. English, U.K. English, German, Mexican Spanish, Continental Spanish, Canadian French, Continental French, and Korean. It's not known whether this feature is present in the Nissan Leaf's Information Hub, however.
Microsoft says that, in addition to Nissan's application in the Leaf EV described above, its Windows Embedded Automotive OS serves as the software platform for in-vehicle infotainment systems going into more than 80 vehicle models. Automakers are said to include Nissan, Daimler, Fiat, Ford, Kia, and "many more."
Further information on Windows Embedded Automotive may be found on on Microsoft's website.