Jun 8, 2010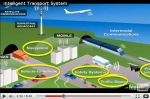 This short, Intel-produced video provides an excellent, high-level introduction to next-generation intelligent transportation systems (ITS) concepts and technologies. Additionally, the 9-minute video includes brief demonstrations of several connected vehicle capabilities derived from the EU's CVIS (cooperative vehicle infrastructure systems) project.

In summarizing the video, Intel writes, "Next generation transportation infrastructure will result in cars and vehicles talking to each other. These connected vehicles will help battle congestion, pollution, and accidents."
Click below to watch the video:

The video's interviews and demonstrations were filmed at the 16th World Conference and Exhibition on Intelligent Transportation Systems and Services, held in Stockholm during September of 2009. Although the video has a slightly annoying tendency to repeatedly promote Intel silicon (e.g. the Atom processor), this is more than offset by the interesting information provided.
Here are two more videos that provide additional background regarding connected vehicle initiatives and technologies:

Further information on the CVIS project is available on the
project's website
. Information on future ITS World Conference events is available
here
.