Last updated Apr 27, 2013 — 2001 views

Plair says it is now shipping its "Plair" media-streaming device to U.S. customers. Unveiled earlier this year at CES, the $99 embedded Linux-powered gadget is said to provide AirPlay-like beaming of multimedia content from Apple, Windows, and Android devices to "any HDTV" with an available HDMI port.

Plair says it created the stylish, eponymously-named device in order to provide a universal, source- and destination-agnostic media streaming capability similar to Apple AirPlay, but free from the requirement of having Apple desktop, laptop, smartphone, tablet, and TV devices.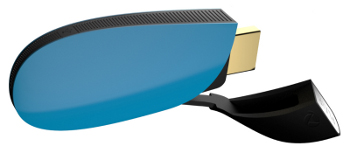 Plair plugs into any HDTV's open HDMI port
(click image to enlarge)

According to Saad Hussain, Plair co-founder and CEO, Plair's operation differs from the usual "AirPlay experience" in two significant ways.
First, the content-beaming process does not involve streaming video directly from a PC, tablet, or smartphone to the Plair device. Rather, content is beamed to the Plair as a result of the user selecting it through a Chrome browser plugin on a Windows PC or a Mac, or via a dedicated Plair app on an Android or Apple smartphone or tablet.
Additionally, the company's approach "eliminates the mirroring restrictions of AirPlay and other alternatives," adds Hussain. Consequently, "when a user beams a video, Plair takes over the streaming and allows the user to browse the Web, logon to Facebook, or have a lean back experience by simply powering off their laptop or mobile device."
In light of the fact that iOS screen mirroring is often cited as Apple TV's killer app, Plair's success or failure will hinge on how high users' hit-rates are when they attempt to beam content to their Plair devices from PC or Mac browser plugins and Android or iOS device apps.
Inside the gadget
Within the stylishly crafted Plair device lurks a miniature, WiFi-enabled embedded Linux computer. Its  embedded hardware consists of a 1GHz-clocked ARM SOC containing a Cortex-A5 CPU along with a GPU/VPU for full 1080p streaming, plus 1GB of DDR3 RAM and an unspecified amount of flash storage. The device plugs into an HDTV's ordinary HDMI port, and receives DC power from a small wall-wart-style power supply, which comes with the device.
According to Hussain, Plair's software team developed a customized embedded Linux OS that draws on some Android components in order to enable the installation of future features via Android apks. However, the capability to run Android apps is to be reserved for specific internal functions — not for user-installation of ordinary Android apps.
 
Key features & specs
Plair's website lists these key features and specs for the device:
802.11b/g/n WiFi
Micro-USB connector for power
1W power supply included
Supported multimedia formats:

Video — H.264 up to 1080p/30fps
Audio — AAC, MP3
Photos — JPEG

TV compatibility — any TV with an open HDMI port
Dimensions — 4.0 x 1.4 x 0.47 in. (102 x 36 x 12 mm)
What can Plair play?
Hussain said that initially, the greatest range of beamable content will be available through Chrome on a PC or Mac. Most popular video sources, he said, will be available as a result of Plair's support for HTML5 and H.264 video.
When the browser plugin discovers beamable video on a current page, it will start showing the beam button, as shown below. At that point, clicking the beam button will start playing the video on HDTV.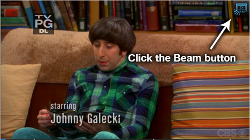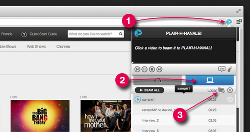 Beaming from Chrome (left) and from a PC or Mac hard drive
(click images to enlarge; source: Plair)

Examples of playable content are listed on Plair's website. Currently, the lists include…
TV shows:  Bones, Castle, Elementary, Fringe, Grey's Anatomy, How I Met Your Mother, NCIS, Once Upon a Time, Person of Interest, Revenge, Saturday Night Live, Survivor, The Big Bang Theory,The Good Wife, The Mentalist, and Two and a Half Men.
TV networks:  Lifetime, ABC, YouTube, Disney Channel, Bravo, A&E, TLC, SyFy, CBS, E, PBS, ESPN, Travel Channel, USA Network, AMC, NBC, Comedy Central, FOX, History Channel, and CNN.
Web shows:  Buzz60, CelebTV, Clevver, College Humor, Funimation, How It Works, Machinima, Respawn, Maker Studios, Meta Cafe, Perez Hilton, Revision 3, Shut Up Cartoons, Smosh, Watch Mojo, and Yoga Vibes.
 
Checking out the Plair Android app
Since the Android Plair app is currently available for free download from Google Play, and it provides a fallback mode through which content can be rendered directly on the Android device if no Plair device is found, we installed it on a Google Nexus 10 and grabbed a few screenshots.











Plair Android app running without a Plair device
(click images to enlarge)

The results, as the screenshots above indicate, currently are not very impressive. However, it's reasonable to expect the number of video sources to grow rapidly. Oddly, the Android app forced the Nexus 10 into portrait mode for menu functions, and then forced it into landscape mode for video rendering.
Regarding the limited range of available content available through the Plair's Android app, Hussain said  the company expects to grow the list of "curated content" rapidly and continuously. The company also intends to release a "Plair API" through which third-party apps can beam content to the device.
Additionally, plugins for browsers beyond Chrome on Windows and Mac will be released "soon," added Hussain. Hopefully, web browsers on Android and iOS will also be gaining Plair-beaming capabilities in the near term.
 
Further info
The $99 Plair device, available in black, blue, or red, can be ordered online through the Plair website. However, as of this posting, Plair's web store states: "Due to overwhelming demand PLAiR is on backorder," with an current orders estimated to ship on June 4, 2013.