Last updated Jan 20, 2009 — 53889 views

After recently reviewing the gOS Gadgets Ubuntu-remix, I decided to try adding Mozilla Prism, Google Gadgets, and a Wbar animated application-launch icon dock to standard Ubuntu. Here's how to do that.

For starters, I downloaded the Ubuntu Desktop 8.10 iso image file and performed a fresh install in a VirtualBox virtual machine.
Adding an animated application launcher
The first step is to install Wbar, a desktop add-on that provides an attention-getting animated application-launch function.
Since Wbar's animated-icon dock would need to occupy the bottom of the desktop, made room there by eliminating Ubuntu's lower taskbar/launcher panel. To do this, I merged the functions normally divided between the desktop's upper and lower panels into a single, upper panel. This was easy to do, using functions available by right-clicking on each of the panels.
In my case, the result looked like this:

Single-panel Ubuntu desktop
(Click image to enlarge)
Now, it's time to install Wbar. To do that, go to Google's Wbar page, and download the .deb file (currently named "wbar_1.3.3_i386.deb") to your desktop.
Next, double-click that package's icon on your desktop. This will install the Wbar package along with some dependencies.
Once Wbar is installed, you can quickly test it by issuing the following command from a console (Menu > Accessories > Terminal) window:
wbar -pos center -above-desk
Did that deposit a Wbar application launcher dock in the middle of your deskop?
Assuming that was successful, it's time to add Wbar to the list of applications that start automatically when GNOME loads. To do this, start GNOME's Sessions configuration tool (Menu > System > Preferences > Sessions), and add Wbar to the list of startup programs. For its startup command, enter: "/usr/bin/wbar_start".
Next, download this file to your desktop, set its permissions to executable ("chmod +x wbar_start"), and move it to /usr/bin/ on your system ("sudo mv ~/Desktop/wbar_start /usr/bin/).
To test it, reboot your system and see if the Wbar launcher dock shows up on the bottom of your Ubuntu desktop. In my case, it looked like this:

Ubuntu desktop with default Wbar dock
(Click image to enlarge)
At this point, I suspect you'll be eager to customize the contents of your Wbar application-launcher dock. This is easy to do using Wbarconf, the Wbar configuration utility. To install wbarconf, go here, download its .deb package (currently "wbarconf_0.7.2-1_i386.deb") to your desktop, and double-click the resulting wbarconf icon on your desktop.
Now, use Wbarconf (Menu > Accessories > Wbarconf) to add/remove/rearrange the application-launch icons that appear in your animated icon dock.

Use Wbarconf to customize your Wbar launcher
(Click image to enlarge)
For each launcher you add, you'll need to specify the application's name, the command to run (including path), and the program's icon.
Note

Wbar's default icons are located in /usr/share/wbar/iconpak/. Additional application-launch icons are available in /usr/share/pixmaps/. For adding Google applications to the Wbar launcher (or to your desktop) download this set of icons (courtesy of gOS), untar them, and place them somewhere convenient (/usr/share/pixmaps/ would be ok).
Following reconfiguration of Wbar, my animated application-launch icon dock morphed into this:

Customized Wbar dock

If you tried some of the Google applications and discovered they didn't work, don't be too surprised — we haven't installed Mozilla Prism or Google applications yet. Let's do that now.
Installing Mozilla Prism and Google Prism applications
Adding Prism to your Ubuntu system is quite easy, using the Synaptic Package Manager (Menu > System > Administration > Synaptic Package Manager). Once Synaptic is running, type "prism" in the Quick Search box at the top and select the prism package (by clicking on the box to the left of its name in the Package list) for installation. Then click the Apply icon at the top of Synaptic to install Prism.
This would also be a good time to install any Google applications of interest. To do this, type "google-prism" in Synaptic's Quick Search box. Select from among the half a dozen or so Google Prism applications that show up. In my case, I selected google-prism-mail, google-prism-calendar, and google-prism-docs for installation. After you select the ones you want, click Synaptic's Apply icon to install them. Then close Synaptic.
This would be a good time to test your new Prism apps, by finding them in your system menu. Google Mail ends up in the Internet group, while Calendar and Docs end up in the Office group; you'll need to hunt for any others that you install.
I like how fast the Google Prism apps open up, and how they appear to be resident applications running on your desktop. Here's how the three I installed look:



Three Google Prism Apps: Mail, Calendar, Docs
(Click each image to enlarge)

Going gaga over Gadgets
Now let's decorate your Ubuntu desktop with your choice of Web-based mini applications.
To get started, go here to find the .deb package for Google Gadgets (currently "google-gadgets_0.10.4-0~getdeb1_i386.deb"), download it to your desktop, and double-click the package's icon on your desktop to install it.
Next, use GNOME's Sessions tool (as above) to add the following command to the list of sessions to be started automatically when GNOME loads, calling it Google Gadgets: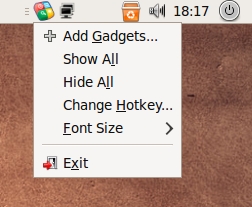 At this point, you can test Google Gadgets functionality by restarting GNOME (or rebooting your system). Do you see the multicolored Google Gadgets icon (see screenshot at right) showing up in the status tray on the right edge of your desktop's upper panel?
Right-click the Google Gadgets icon for a list of configuration options. Click "Add gadgets" to browse a catalog containing hundreds of available gadgets. The following screenshots show the Gadget Browser, and my Ubuntu desktop after I've added some gadgets:

Gadget Browser (left) and Ubuntu desktop with gadgets (right)
(Click each image to enlarge)

Well, that's all there is to it!




[Acknowledgement: Thanks go to the Ubuntu-based gOS Gadgets OS for inspiring me to write this article, and for being the source of the Google Applications icons referenced above.]