Last updated Dec 11, 2013 — 1347 views

AirTame is developing an AirPlay-like protocol for PC-to-PC content streaming and screen mirroring, plus a Linux-based dongle for AirTame rendering on TVs.

With 24 days left to go in its funding round for its AirTame HDMI dongle for TVs, Denmark-based AirTame has surpassed its initial $160,000 goal to reach $214,000. Funding packages start at $89, earning you an AirTame device when it ships in May 2014. Meeting a $250,000 stretch goal would help AirTame release a firmware-only version of the HDMI dongle that runs on the Raspberry Pi.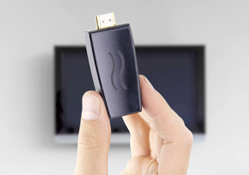 AirTame HDMI dongle
According to an email from Attila Sukosd, co-founder and CTO of AirTame, the AirTame dongle runs "our own spin" of Debian Linux, but will be ported to the similar Raspbian on the Raspberry Pi. "Debian was chosen deliberately to allow the hacker/tinkering community (where we are from too) to play around with the software," said Sukosd.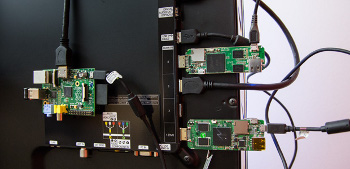 Testing Raspberry Pi left with AirTame devices (right),
as part of developing a future Pi-based version
(click image to enlarge)
Sukosd also confirmed that AirTame can be used for screen mirroring and content streaming from one desktop system to another — and even from one to many — without requiring any special hardware (see farther below for details).

About AirTame and the AirTame dongle
The AirTame device most closely resembles Google's Chromecast, as it plugs into a TV via an HDMI port and enables mirroring of 1080p HD content from the PC. Like Chromecast, it supports Windows, Mac, and Linux desktops, a trifecta unavailable with AirPlay or the Windows-only Miracast. In addition, its minimum requirements support older, dual-core, 1.6GHz PCs with a minimum of 1GB of RAM.
Unlike any of these products, as well as newer competitors like Plair and BiggiFi, the initial AirTame device will not support streaming or mirroring from mobile devices.
AirTame is looking into supporting Android and iOS devices as controllers and as mirroring targets, but says that streaming from mobile devices may not be possible with the AirTame technology. "Streaming from [an Android or iOS tablet or smartphone] is also technically possible," states the AirTame FAQ. "But access to special hardware has been restricted by the vendors, so it would require rooting/jailbreaking, which we cannot support." A recent post from Google suggests the next version of Android may support mirroring natively. However, this will apparently work only for Google-based devices (see farther below).
Unlike Chromecast and most competing solutions, however, AirTame claims to post no restrictions on what PC browsers or applications can be mirrored. The technology also offers some unique features.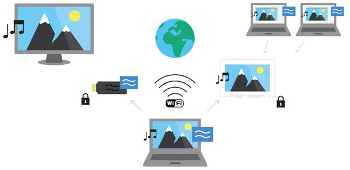 Left: Streaming and screen mirroring to a TV via the AirTame dongle;
Right: Screen mirroring and extended desktop sharing to multiple PCs
Like Apple TV, the AirTame device can turn a monitor or TV into a second extended monitor, letting you drag windows over and back to your primary display. In addition, it also supports the duplication of screens over multiple desktops. This feature is said to enable applications beyond the home, such as presentations or educational applications. The technology lets remote users control applications on their own while watching the mirrored presentation.

Software-only PC-to-PC rendering
As hinted in the AirTame diagram above, AirTame mirroring and streaming from a Linux, Mac, or Windows desktop to one or more PCs does not require the use of an AirTame device. This AirTame capability, known as a "Public Stream," simply requires that the transmitting and receiving PCs have the appropriate AirTame app installed and running, and is accomplished without any special hardware.
"There will be an online registration to a 'control panel' where people will be able to manage their devices, but it will be free for private users," said Sukosd in an email. "We are looking into monetizing for commercial applications, possibly providing better administrative features for organizations which have a large number of devices, and support."

Technical details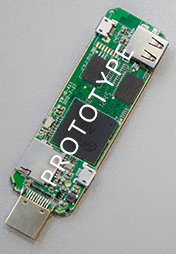 AirTame PCB prototype
The AirTame prototype board, pictured at right, runs Debian on a 1GHz ARM processor, accompanied by 512MB of RAM. The dongle-like device is further equipped with an HDMI 1.4 port, a micro-USB port for power, and a second USB port for connecting accessories.
The software offers different encoding options for bit rate, frame rate, and video buffer, which can be set up to be automatically enabled based on the content. For example, games would prioritize low response time and high frame rate while video would emphasize high video quality. Audio is currently limited to 2-channel stereo, but 5.1 surround sound is said to be a future goal.
AirTame's protocol, APIs, and application are written in C, and are based on open source components such as OpenSSL, the Opus audio codec, FFmpeg, SDL, and cURL. An SDK release is on the roadmap, but it may not make it out by the May 2014 launch date, says the company.
"The source code for the software, the API, and protocol specifications will be released as open source, most likely under a dual-license where people can choose to use the open source license (GPL or something similar) or the commercial license for proprietary applications," explained Sukosd. "This way we can make sure that all the helpful features and patches end up in our community edition, benefiting everyone."

AirTame menu on PC application
According to an interview with AirTame's Sukosd on ZDNet, AirTame has the capacity of going beyond image and audio data to mirror events such as joystick, key-press, and mouse events. The company also hopes to develop some interaction with USB-based peripherals, says the story.
Thanks to the device's dual WiFi controller design, it can act as both a WiFi client and an access point. Among other ramifications, this means you can walk into a new environment and set up your own WiFi network without worrying about device-to-device communications restrictions on educational or corporate networks.

AirTame demo video
The AirTame team's Indiegogo fundraising campaign demonstration video appears below.
AirTame project video
Android Rumors: native mirroring and a Nexus TV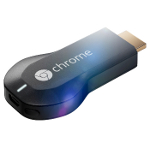 According to another ZDNet story, citing a Google+ post from Cyanogenmod developer Koushik Dutta, a future version of Android will support Chromecast-like mirroring natively without requiring one of the supported Chromecast apps. Dutta spotted the feature in changes listed in a set of Android 4.4.1 updates for the Android Open Source Project (AOSP) posted by Funky Android. However, Dutta notes that Google appears to be sharing the "capture secure video output" code only with OEMs — presumably the manufacturers of Chromecast or perhaps Google TV devices.
With Chromecast selling well while Google TV devices continue to lag, Google's TV strategy is in flux. A new wave of Google TV products due to arrive soon have been stripped of the Google TV branding, and are instead being referred to as "smart TV devices with Google services." The new devices are based on a new Google TV release built on Android 4.2.2 code. The release should be available to OEMs with fewer restrictions, such as the requirement of a keyboard controller or live TV integration, and could also end up being called Android TV, according to some observers.
Meanwhile, rumors of a Nexus TV device from Google are once again circulating. Due in the first half of 2014, this replacement for the failed Nexus Q is said to remove the integration of live TV search found in Google TV, while adding Android controller and gaming support. Potentially, the device will ship with a touchpad remote, according to the rumors. Earlier rumors suggested Google may be prepping a Kinect-like peripheral, as well.
Presumably such a device would offer Chromecast-like mirroring built in, with the help of the upcoming Android native mirroring support. This would help bring it up to par with Apple TV, which offers AirPlay mirroring. Meanwhile, Amazon is said to be prepping a media player device of its own.

Further AirTame information
AirTame is open for funding on Indiegogo through Jan. 1, with packages starting at $89 for an AirTame device delivered in May 2014, plus $15 shipping outside of Denmark. Some more information is also available on AirTame's website.

This post originally appeared on our sibling site, LinuxGizmos.com