Last updated Sep 29, 2011 — 2459 views

Amazon is poised to grab a big chunk of the emerging web-tablet market with a device that's half the size, half the performance, and half the price of Apple's iconic iPad. The Android-powered, Wifi-only Kindle Fire sports a 7-inch color display, and enters the market priced at $200.

As evidenced by the tablet's promotional page, the new high-end Kindle family member is squarely aimed at proliferating Amazon's large and growing purchasable and pay-per-view multimedia and other content, said to include "18 million movies, TV shows, apps, games, songs, books, newspapers, audiobooks, magazines, and docs." This, of course, helps explain the device's loss-leader pricing.




Amazon's 7-inch Kindle Fire tablet
(click thumbnails to enlarge)

The Kindle Fire is clearly a highly optimized device — no doubt a necessity in hitting its aggressively-low price point.
It runs a customized Android OS, and includes "split browser" technology that accelerates website rendering through the judicious use of service-side coprocessing (more about that feature below). Thankfully the device supports Adobe Flash, eliminating a common complaint about Apple's iPad.
On the downside, there's currently no Kindle Fire model with built-in cellular wireless, thereby limiting its use to cached content when it's out-of-range of a usable WiFi signal.
Additionally, the device appears to lack both microphone input and Bluetooth wireless, eliminating the possibility of using apps such as Skype for voice communications. No Bluetooth also means the Fire can't be used with external wireless keyboards or A/V accessories. Plus, there's no built-in camera, so forget about taking photos or videos.

Kindle Fire vs. iPad 2 vs. Galaxy Tab 10.1
Here's a quick-reference table comparing selected features of the Kindle Fire, iPad 2, and Galaxy Tab 10.1:
| | Kindle Fire | iPad 2 | Galaxy Tab 10.1 |
| --- | --- | --- | --- |
| Processor: | 1GHz dual-core OMAP4 processor | 1GHz dual-core Apple A5 | 1GHz dual-core Nvidia Tegra 2 |
| Internal memory: | 512MB RAM; 8GB flash | 512MB RAM; 16GB flash | 1GB RAM; 16GB flash |
| OS: | Android 2.3 (Gingerbread) | iOS 4.3.3 | Android 3.1 (Honeycomb) |
| Display: | 7-inch diag | 9.7-inch diag | 10-inch diag |
| Camera: | no | front; rear | front; rear |
| WiFi: | yes | yes | yes |
| Bluetooth: | no | yes | yes |
| Cellular: | no | option | option |
| Mic: | no | yes | yes |
| Speaker(s): | stereo | mono | stereo |
| Adobe Flash support: | yes | no | yes |
| Size: | 7.5 x 4.7 x 0.45 in | 9.5 x 7.31 x 0.34 in | 10.1 x 6.9 x 0.34 in |
| Weight: | 14.6 oz | 21.3 oz | 19.9 oz |
| Base price: | $199 | $499 | $499 |
Features and specs
The table below lists the Kindle Fire's key features and specs…
Processor:
1GHz dual-core OMAP4 processor
Display:
7-inch multi-touch display with IPS (in-plane switching) technology and anti-reflective treatment
1024 x 600 pixel resolution at 169 ppi, 16 million colors.
Size:
7.5 x 4.7 x 0.45 in
Weight:
14.6 oz
Internal storage:
8GB
Cloud storage:
Free Amazon Cloud storage for all Amazon content
Battery life:
Up to 8 hours of continuous reading or 7.5 hours of video playback, with wireless off; battery life varies according to wireless usage
Charging time:
Approx. 4 hours using included AC adapter; also chargeable via USB
Wi-Fi connectivity:
Supports 802.11b/g/n/x with WEP, WPA, and WPA2 security; does not support ad-hoc networks
USB port:
USB 2.0 micro-B connector
Audio:
3.5 mm stereo audio jack; top-mounted stereo speakers
Content formats supported:
Kindle (AZW), TXT, PDF, unprotected MOBI, PRC natively, Audible (Audible Enhanced (AA, AAX)), DOC, DOCX, JPEG, GIF, PNG, BMP, non-DRM AAC, MP3, MIDI, OGG, WAV, MP4, and VP8
System requirements:
No computer required
"Split browser" technology
One particularly interesting aspect of the Kindle Fire is its Silk Browser, which Amazon says was "built from the ground up to leverage the power and capabilities of the Amazon Web Services (AWS) cloud to fundamentally rethink the level of performance and functionality that a browser can provide."
More about Amazon's Silk browser…
Silk introduces a radical new paradigm — a "split browser" architecture that accelerates the power of the mobile device hardware by using the computing speed and power of the Amazon Web Services cloud (AWS). The Silk browser software resides both on Kindle Fire and on the massive server fleet that comprises the Amazon Elastic Compute Cloud (Amazon EC2). With each page request, Silk dynamically determines a division of labor between the mobile hardware and Amazon EC2 (i.e. which browser sub-components run where) that takes into consideration factors like network conditions, page complexity and the location of any cached content. The result is a faster web browsing experience.

With Amazon Silk, most of the heavy-lifting is shifted from the processor on your device to our powerful AWS servers. Access to such lightning fast CPUs, expansive memory, and huge network connections allows the performance of Amazon Silk to transcend the capabilities of your local device. Amazon Silk isn't just about massive computing power, however. Because much of the intelligence of the browser is in the cloud, a number of performance enhancements become possible, including squeezing the utmost throughput out of your "last mile" connection, smart caching both on your device and on our servers, and on-the-fly content optimizations. In addition, Amazon Silk has the ability to learn about traffic patterns on individual sites over time, allowing it to begin fetching the next page that users may wish to visit.
To be sure, Silk is not the first browser to lean on server-side processing for optimizing the web browsing experience on mobile devices. One early example was the Opera Mini browser (technical details here). Another interesting one is Skyfire (technical details here), which provides Android and iOS browser clients, among others.

Sold below cost?
A preliminary virtual estimate conducted by the IHS iSuppli Teardown Analysis Service pegs the Kindle Fire's BOM (bill of materials) cost at $191.65.
"With the addition of manufacturing expenses, the total cost to produce the Kindle Fire rises to $209.63," states IHS, which concludes that Amazon is selling the device at a low profit margin in order to promote the sale of various Amazon merchandise and content.
iSuppli's hardware BOM and manufacturing cost estimates for the Kindle Fire are summarized in the table below: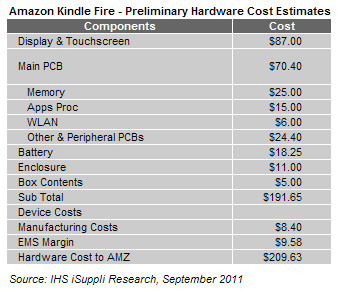 Amazon Kindle Fire cost estimate
(Source: IHS iSuppli)

Given the combination of Kindle Fire's low cost and loss-leader pricing strategy, iSuppli conjectures that "the Kindle Fire potentially could become the No. 2 selling tablet after the iPad."
Further info
The Kindle Fire tablet is currently available for pre-order, priced at $199 on Amazon's website, and scheduled to ship on Nov. 15, 2011.
Further details on the Amazon Silk Browser are available here. Silk is also discussed on Amazon's Silk Browser blog.
DeviceGuru's iPad 2 vs Galaxy Tab 10.1 smackdown may be found here.