Last updated Dec 26, 2011 — 18571 views

[Updated Jan 27, 2013] — Boxee released version 1.5 of its free multimedia streaming software for Mac, Windows, and Linux desktops today, but simultaneously announced that it will cease offering the Boxee desktop software after January 2012. Thereafter, the company will limit its focus to devices such as the D-Link Boxee Box.

The D-Link Boxee Box has been discontinued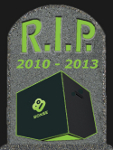 When Boxee announced its new Boxee TV product in October of 2012, it also stated that the original Boxee Box, which had already ceased being manufactured, would soon transition into "maintenance mode." Additionally, the company promised one last firmware update, which would "update the Flash player and fix some key bugs." Additional information is available in DeviceGuru's coverage:
R.I.P. Boxee Box: 2010-2013
Boxee version 1.5 for PC and Mac desktops is similar, though not identical, to the upcoming Boxee v1.5 firmware release for the D-Link Boxee Box, according to Boxee.
"As a platform, we have been able to bring Boxee for Computers to about 85 percent of the Boxee Box in terms of features and functionality," says Boxee. "Due to extensive DRM and certification requirements premium apps will not be available on the downloadable version of Boxee, most notably Netflix, Vudu, and Pandora"
In particular, some apps only work on certain platforms.
"However," adds Boxee, "if you are using Boxee for file playback you should be pleasantly surprised with better file support, a new on-screen display, better networking support, and a host of other features…" (see list below).

According to Boxee, firmware v1.5 for the D-Link Boxee Box is currently being tested by Boxee Box "Early Access" users, and will soon be available in beta to Boxee Box owners. Among other enhancements, the v1.5 Boxee Box firmware release will include Boxee's recently announced Boxee Live TV feature, which requires Boxee Box users to purchase an inexpensive HDTV receiver dongle.

Boxee Box Version 1.5 highlights
Here's a quick overview of some of the new features coming in the version 1.5 firmware for the Boxee Box, as described by Boxee. The screenshots in this section were provided by Boxee. A more comprehensive screenshot tour showing Boxee v1.5 running on our Windows 7-based HTPC appears later in this post.
Home Screen — We've added links to the standard menu to launch the Browser and Live TV (once you've attached the dongle). We also gave the featured section a small facelift.





Menu — the Menu is now more accessible, popping up as an overlay that lets you quickly navigate between different sections or search. we also optimized search to minimize the number of clicks.





Movies & TV Shows — We updated the layout of Movies and TV Shows for easier navigation by Genre and Source as well as providing quick access to trailers.





Movie details screen — There is also a new Movie details screen with extended synopsis and cast and crew information. For TV Shows it is now much easier to jump between seasons and see which episodes you already watched.





Watch Later & Friends — We expanded the thumbnails in Watch Later & Friends sections and now let you filter between clips, TV Shows and Movies.






You can read the complete Release Notes for Boxee v1.5 for Windows, Mac, and Linux desktops here.

Screenshot tour
The screenshots below show many of Boxee's top-level and other navigation screens for Internet streaming, with Boxee running on a Windows 7 system. Accessing multimedia files on local drives or network shares is not shown. Click each thumbnail for a larger image.

Main menu…



(click thumbnails to enlarge)

Show Library…








(click thumbnails to enlarge)

Note: Currently, a quantity of 200 total shows is reported, despite there being many more available. It's a bug.
Shows by Genre…








(click thumbnails to enlarge)

Shows by Channel…

















(click thumbnails to enlarge)

Favorite Shows…


(click thumbnail to enlarge)

Movie Library…



(click thumbnails to enlarge)

Note: Currently, a quantity of 200 total movies is reported, despite there being many more available. It's a bug.
Movies by Genre…










(click thumbnails to enlarge)

Local Movies…


(click thumbnail to enlarge)

Apps…













(click thumbnails to enlarge)

Apps by Category…





(click thumbnails to enlarge)

Using the Boxee Browser…





(click thumbnails to enlarge)

Watch Later feature…


(click thumbnail to enlarge)

Navi-X app…









(click thumbnails to enlarge)

Note: Read more about the interesting community-supported Navi-X app here
Boxee's device focus
"We believe the future of TV will be driven by devices such as the Boxee Box, Connected TVs / Blu-Rays and 2nd screen devices such as tablets and phones," explains Boxee on a blog post. "While there are still many users who have computers connected to their TVs, we believe this use case is likely to decline as users find better alternatives. People will continue to watch a lot of video on their computer, but it is more likely to be a laptop than a home-theater PC and probably through a browser rather than downloaded software."
Boxee's blog post continues: "To our computer users… to those who have come out to our NYC and SF meet-ups, talked with us at Engadget, GDGT, and Giz Gallery events, or enjoyed Austin BBQ with us during SxSW, or simply messaged with us on Facebook, Twitter, and our forums… thank you for all your support — we would not be where we are today without you. But we can't stay here."
"We are excited about the upcoming release of Boxee Live TV and our new product roadmap for 2012," adds Boxee. "If you are a current Boxee user on a computer we hope that you will enjoy 1.5 and maybe when you are ready to retire that good ol' HTPC/Mac Mini you will decide to get a Boxee Box."
A competitive market
Boxee faces stiff competition from multimedia streaming TV set-top-box products such as the Roku players, Google TV and Apple TV.
Hopefully, the XBMC project, on which Boxee's software is largely based, will carry the ball forward for desktop users. Speaking of which, the first preview release of XBMC 11.0 Eden was just released.
Further info
Boxee's free desktop software download for Windows, Mac, and Linux is available here.
Incidentally, DeviceGuru's installation of Boxee v1.5 worked fine on Ubuntu 11.10, but resulted in the following error message on Windows 7:


Missing DLL error message on Windows 7
Per a
suggestion on Boxee's user forum
, we installed Microsoft's
DirectX SDK end-user runtime
, and that resolved the problem.