Last updated Jul 8, 2011 — 7459 views

D-Link has begun selling the Boxee Box's two-sided remote control as an unbundled product for users of Boxee on PCs and Macs. It's the exact same remote that ships with the Boxee Box.


The DSM-22 Boxee remote comes with a nano-sized USB adapter (pictured on the right; click to enlarge), which provides the required 2.5GHz RF wireless interface to the PC or Mac system.
The design of the Boxee Box remote control has earned it both praise and scorn: praise for the rear-side mini-QWERTY keyboard, which eases the task of entering text when entering search terms or other data; and scorn for the hard-to-decipher button labels and lack of backlighting, which render the backside QWERTY keys nearly-impossible to read under dim lighting conditions of many TV watching environments.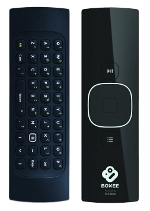 D-Link's DSM-22 RF wireless remote control for Boxee on desktop PCs and Macs is identical to the one that comes with the Boxee Box
(click image to enlarge)

According to the DSM-22's specs, it comes with drivers for Windows 7, Vista, XP, and SP 2003, and Mac OS X 10.4/10.5/10.6 (Intel only). No mention of Linux, but presumably the Linux Boxee community will solve that problem in short order.
In addition to its use with desktop systems or HTPCs (home theater PCs), the DSM-22 can of course be used as replacement remote for the D-Link Boxee Box, since it's identical to the original remote that came with the box.
The DSM-22 is available at Amazon for about $40. Further details are also available on D-Link's website.