Last updated Apr 8, 2011 — 5489 views

Following several months of use, and one major firmware update, DeviceGuru is now ready to relate our experience with using the D-Link Boxee Box. Despite seeming a bit more like a late-stage beta than a fully-released product, the device has gradually taken over command and control of our non-DVD TV watching experience.

So, what's a Boxee Box?
The D-Link Boxee Box is a creatively — though somewhat inefficiently — shaped device that contains a Linux-based embedded computer powered by a 1.2GHz Intel CE4100 Atom processor. The device's main functional capabilities are essentially those of the Boxee media-streaming software platform on which it's based. Namely, it…
Streams thousands of freely available TV shows from various networks' websites
Plays thousands of add-supported movies and TV episodes, which are freely available for on-demand streaming from numerous web-based providers
Streams thousands of premium movies and TV episodes from subscription-based or pay-per-view web services, such as Netflix and Vudu
Plays videos, songs, or pictures from an attached USB drive or from home network shares
Plays or displays any non-DRM video, audio, and photos from anywhere on the Internet
Supports a wide range of media formats, including…

audio: MP3, MP4, WAV, OGG, DTS, Dolby Digital 5.1
video: MKV, FLV, MTS/MT2S/TS, AVI, DivX MPEG4, XVid MPEG4, MOV, MP4-2, WMV9
images: JPG, PNG, GIF, BMP, TIFF
Stylish, eye-catching design
The unusually shaped, cuboid box measures 4.7-inches on a side and has a flush power button on its top. According to D-Link, the innovative industrial design was developed by Astro Studios, which counts among its past accomplishments Microsoft's stylish Xbox 360+.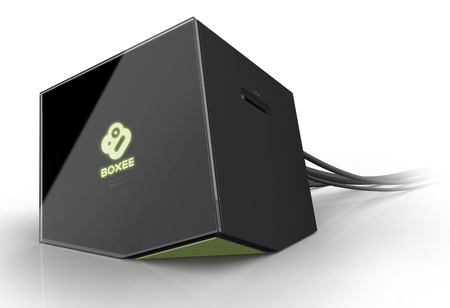 D-Link's Boxee Box
(Click image to enlarge)

While we admire the device's creative design, a more traditional, flat, rectangular mechanical design would have integrated more efficiently with the rest of our entertainment gear, which is stacked within an equipment cabinet. The D-Link device might look cool out in the open, but the device's small, continually-running cooling fan is considerably less annoying behind the cabinet's closed door. Nothing's more annoying than the drone of a cooling fan amidst the quiet, poignant moments of a film!

Connections
An SD Card slot, located on the device's side, is barely visible in the photo above. The photo below shows the following I/O and power connections, which are situated on the Boxee Box's rear panel:
HDMI port
Optical digital audio (S/PDIF) out
Stereo analog audio out
Ethernet RJ-45 connector
2 USB 2.0 ports
AC power input jack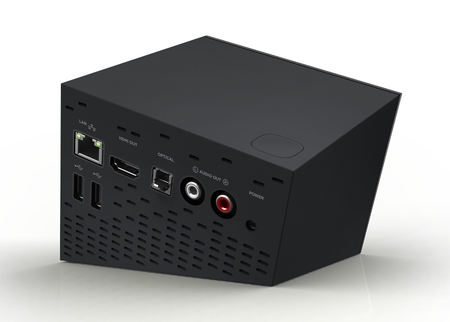 Rear panel connections
(Click image to enlarge)

RF-wireless remote
The Boxee Box comes with a small, easy-to-use, RF-wireless remote control. During operation, nearly everything can easily be accomplished with the handful of navigation keys that are located on the front side of the remote.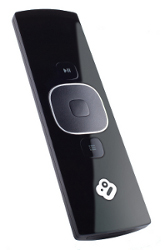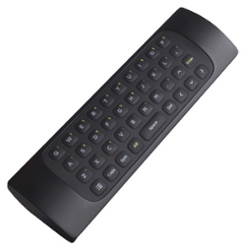 Remote control front (nav keys) and rear (qwerty keys)
(click images to enlarge)

When you want to search for content or enter a specific URL, however, you need to enter text. Although the Boxee software's on-screen keyboard works fairly well for this purpose, it's slow and somewhat cumbersome. To simplify this process, the remote control's rear side provides a complete qwerty-style keypad. Unfortunately, it's hard to read the key labels under the dim lighting conditions typically associated with TV watching. Hopefully, D-Link will address this problem in a future update to the remote.
On the right are two additional photos of the D-Link Boxee Box and its remote control. As seen in the photos, one side of the remote has a qwerty-style keyboard, while the other provides several buttons compatible with the Boxee software's simple navigation interface. Click each photo for a larger view.

Using the Boxee Box
The screenshots below show the top-level menus of the Boxee Box's user interface. Information on the use of the remote control to navigate the menu system is available on Boxee's website, in the online Boxee Box User's Guide.




















The D-Link Boxee Box's top-level menus
(click thumbnails to enlarge)

Application menus
The D-Link Boxee Box offers a rich variety of applications, created by both Boxee and third party developers. A comprehensive list of the Boxee Box's standard apps — currently totaling 188 — is available on Boxee's website, here.
Independently developed apps may also be installed via an application repositories function. A list of repositories — 28, at the moment — is provided on Boxee's website, here.
The next group of screenshots shows a few of the Boxee Box's functions for accessing and "favoriting" the device's standard apps. As you'll see in the first screenshot, we've designated 13 of the 188 available apps to appear on Boxee's favorite apps page.





D-Link Boxee Box app menus
(click thumbnails to enlarge)

Brief descriptions and screenshots of several of DeviceGuru's favorite Boxee Box apps come next.

Netflix app
The Boxee Box boasts the latest Netflix video-streaming app, which as of this writing is Netflix version 3.0 for devices. Use of this app requires a minimal monthly Netflix subscription, which currently costs $7.99/month in the U.S. The app provides extensive search-and-select features, including a wide range of genres and sub-genres, numerous suggestions from Netflix (based on your previous viewing habits), and various other aids to navigating through Netflix's extensive library.













D-Link Boxee Box Netflix app
(click thumbnails to enlarge)

Although Netflix doesn't specify how many film and TV episode titles are available for on-demand streaming, the number seems to be on the order of 5,000 to 10,000. Having acknowledged that DVD watching is being surpassed by on-demand streaming, Netflix has been aggressively pursuing arrangements with media sources to enable it to expand its library of Internet-streamable content.

Vudu app
The Boxee Box's Vudu app is really quite polished. In case you're not familiar with it, Vudu is a pay-per-view or -per-purchase service, and it prides itself on relatively current titles, with many available in 1080p HDTV format. Additionally, you can preview movies or TV shows for several minutes at no charge.





D-Link Boxee Box Vudu app
(click thumbnails to enlarge)

Vudu claims to have hundreds of new releases available for streaming prior to their being available in optical disk format from Netflix. Additionally, the company asserts that "almost all of [its] movies are available [for streaming] the same day they come out on DVD and Blu-ray." You can read more of Vudu's marketing hype here.

Pandora app
Although we don't particularly like using a power-thirsty device like our 100+ Watt HDTV as a display for playing Internet radio, the Boxee Box comes with a reasonably usable Pandora app. Here's how that looks:





D-Link Boxee Box Pandora app
(click thumbnails to enlarge)

Rather than using the Boxee Box for streaming Pandora, we recommend either a low-cost Grace Internet Radio (below, left) or Sonos's excellent whole-house wireless gear (below, right), either of which can be controlled without the use of a power-sucking HDTV.



Grace and Sonos streaming audio players work without a TV
Now, if Boxee's iPhone (iPod Touch) or Android remote control apps offered the means to select, play/pause, and control the volume of audio content… that would be another story!
Weather app
You can access a nifty Weather app directly from the Boxee Box's highest-level menu. As shown in the screenshots below, the app displays current and forecast weather conditions, a map of precipitation, and a choice of streaming weather forecast videos.





D-Link Boxee Box weather app
(click thumbnails to enlarge)

Amazon video-on-demand? Hulu?
Unfortunately, Boxee currently doesn't offer an Amazon VOD app for its Boxee software or the D-Link Boxee Box. We're sure this must be one of the most common feature requests, particularly in light of Amazon's having recently added "unlimited, commercial-free, instant streaming of 5,000 movies and TV shows at no additional cost" to its $79/year "Amazon Prime" membership level.
When will Amazon VOD be added to the Boxee Box? "We've spoken with Amazon VOD, but we have no immediate plans to add them to the platform," Boxee's spokesperson recently told DeviceGuru.
What about Hulu? Boxee is "still in talks with Hulu to get Hulu Plus on the platform," explained our Boxee source.

Browsing and streaming movies
The D-Link Boxee Box Movies app currently reports that more than 10,000 movies are available for watching from its various movie-streaming sources. And that number doesn't even include the thousands of titles available from Netflix, since Boxee's built-in search function currently doesn't index Netflix's content. Instead, Netflix titles can only be searched from within Boxee's dedicated Netflix app.
The screenshots below show a number of the functions associated with browsing and watching Internet-streamed movies on the Boxee Box. You can browse content on the device in numerous ways, including…
Sorted by popularity
Sorted alphabetically
By genre (e.g. Action, Adventure, Animation, Comedy, etc.)
By channel (e.g. EZTakes, Indie Movies Online, MUBI, OpenFilm, Vudu, YouTube)
Through a video app (e.g. Netflix, Boxee, etc. — 158 apps, and counting)
Using Boxee's search function



















D-Link Boxee Box movies functions
(click thumbnails to enlarge)

Browsing and streaming TV shows
TV shows are browsed and streamed from the Internet in a similar manner to movies, as indicated in the following group of screenshots:

















D-Link Boxee Box shows functions
(click thumbnails to enlarge)

The Boxee Box's "watch later" function
One really cool feature of Boxee is a web service, accessed via a "bookmarklet" that you install in your PC's browser, with which you can easily queue up video content for streaming to your Boxee Box.
The "watch later" bookmarklet is based on some javascript code that runs in the browser on your PC. When you click on the bookmarklet, it locates video content on the web page your browser is currently viewing, and saves the video's URL to a Boxee-hosted web service for subsequent playing on your Boxee Box.
The following screenshots show the "watch later" function in use on the Boxee Box…




D-Link Boxee Box "watch later" function
(click thumbnails to enlarge)

Accessing locally stored media
The Boxee Box can access media stored on a USB drive connected directly to it. It can also stream content from files located on your local network, using protocols such as UPnP and Windows networking (Samba).

Here at DeviceGuru, our two main sources of local media are:
A PopcornHour PCH-A110 (pictured above/right; click to enlarge), used as a NAS device and accessed via Samba file sharing
A several-years-old 80GB iPod, accessed as an 80GB USB drive attached directly to the Boxee Box
Each has the advantage of not consuming undue power when not being accessed. The iPod gets its power from its USB connection to the D-Link Boxee Box, so it consumes no power when the Boxee Box is shut off; and it goes into a very-low-power standby mode when idle for several minutes. The PCH-A110 has a great standby mode, so it consumes very little power when not being accessed over the LAN.
The set of screenshots below demonstrate the accessing files via USB or through the local network. The Boxee Box's UI makes it easy to navigate to and within the USB drive and network shares. Our main use of the local files access function consists of watching videos stored on the USB-attached 80GB iPod. This application works quite satisfactorily, and turns out to be a perfect use for that old iPod!









D-Link Boxee Box local files access
(click thumbnails to enlarge)

Setup and configuration functions
As seen in the screenshots below, the D-Link Boxee Box provides a wide range of configuration functions. Click the thumbnails to view larger images.


























D-Link Boxee Box settings functions
(click thumbnails to enlarge)

Advantages and disadvantages…
We've already let on that the D-Link Boxee Box has pretty much taken over complete control of DeviceGuru's TV watching experience.
Here's how it compares to its main competitor in our entertainment area, a Roku Internet multimedia player:

Boxee Box advantages…
Official apps — Boxee currently has 188 official apps, vs. Roku's 109 (both numbers are continually growing); however, although the Boxee Box leads in terms of number and range of apps, any particular app could be the killer app for you (example: Hulu Plus or Amazon VOD on Roku, or Vudu or access to network shares on the Boxee Box)
Direct web browsing — Boxee includes a web browser function, which in principle gives you access to anything on the web


Note, however, that the browser is somewhat lame, in that the default home page is a full-screen rendering of Bing; plus, it lacks bookmarks and login history functions, which makes it inconvenient to navigate to favorite sites, such as Google, Gmail, Facebook, or particular URLs you'd like to view on your TV
Network access — Boxee supports access to shares on the local network; Roku doesn't
Power consumption — assuming the D-Link device is turned off when not in use, by means of its "shutdown" function, it uses considerably less power (approx. 0W) than the Roku box when idle (the Roku box doesn't provide a power-down or power-saving mode, so it burns 6W continuously); yet, the D-Link device only takes 1 minute to boot after you press the home key on its remote to wake it up

Roku streaming media player advantages…
Ease of use — the Roku device has a simpler and more consistent UI, enabling anyone to master it within a few minutes — in short, essentially zero learning curve; in contrast, the Boxee Box's UI is more considerably complex and much less consistent across its many apps, making the D-Link device less desirable for users requiring mindless, appliance-like operation
Smoother full-screen video operation — Boxee Box apps based on the Boxee browser tend to require remote control tricks to enter full-screen mode, instead of "just working" like the Boxee Netflix does (example: watching The Daily Show on Comedy Central)
Amazon VOD and Hulu Plus apps — Roku has 'em; Boxee currently doesn't (but most likely will, eventually)
Form-factor — the Roku box integrates easily into any equipment stack; not so with the D-Link device, which occupies more vertical space than it ought to require
Price — the Roku box is available in three versions, priced from $60 to $100, whereas the D-Link device goes for $200; whether the lower price is an issue probably depends on whether your interests go beyond Netflix, Amazon, and/or Vudu paid content, since the Boxee Box's integrated web browser offers virtually unlimited access to web content (hence, its support for content such as Comedy Central's "Daily Show" or "Colbert Report")
The bottom line
In conclusion, providing you don't mind a few rough edges, at least temporarily, we'd heartily recommend getting a D-Link Boxee Box for streaming Internet-based multimedia to your HDTV. Besides, with a revised firmware promised for release next month, it'll only get better!
On the other hand, if all you want to do is stream Netflix, Amazon, and/or Vudu to your HDTV, the Roku box is a low-cost, reliable, and easy-to-use device that can't be beat! (Although Roku's lack of a shutdown function, with remote control-based power-up, is an unforgivable design flaw.)
To put it another way, there are some people for whom we'd strongly recommend the D-Link Boxee Box, and others whom we'd point toward the Roku box, depending on their proficiency with gadgets. The former is much more powerful and complex but requires some skill to operate, while the latter is pretty much "point and shoot." You know who you are…
Further info
Further details on D-Link's Boxee Box are available in our earlier coverage, as well as on D-Link's website.
Further information on the free, Boxee A/V streaming platform for OS X, Windows, and Linux PCs and the AppleTV STB is available on Boxee's website. For details on Roku's alternative, go here.

UPDATE: V1.1 Boxee Box Firmware released, reviewed
Version 1.1 of the Boxee Box firmware added a variety of content channels for both movies and shows, enhanced the device's browser functionality, improved the consistency of its user interface, and squashed numerous bugs.

Review of Boxee Box version 1.1 update
(includes an extensive screenshot tour)


UPDATE: V1.5 Boxee Box firmware released, reviewed
Version 1.5 of the Boxee Box firmware implemented numerous new features and enhancements to the Boxee Box's user interface and functionality. It also added support for the Boxee Live TV adapter option.

Revised Boxee Box Review, based v1.5 update
(includes an extensive screenshot tour)