Last updated May 11, 2011 — 3223 views

Boxee released the second major update to the D-Link Boxee Box's firmware today. The new v1.1 release adds a variety of content channels for both movies and shows, enhances the device's browser functionality, improves the consistency of its user interface, and squashes numerous bugs.

The new firmware (numbered 1.1.0.19036) will be pushed out to users' Boxee Boxes gradually over the next 48 hours, according to Boxee VP of marketing Andrew Kippen. While there will be numerous mostly unseen fixes, changes, and enhancements under the hood, here's a run-down of the more noticeable improvements…
Many more channels
One quibble I had with the Boxee Box prior to this release was the difficulty of sorting out free or ad-supported movies and shows, from among the thousands of Vudu's PPV titles that populate the Movies and Shows areas and are returned in a search. That issue largely goes a way now, thanks to v1.1's greatly expanded availability of content provider Channels for movies and shows.
Currently, the Boxee Box's Channels include:
Shows — Adult Swim, BET, Cartoon Network, Comedy Central, Crackle, Crunchyroll, Current TV, CWTV, Engadget, FOX, FX Networks, HGTV, History Channel, MTV, myLifetime, Nickelodeon, PBS, PBS Kids, Revision 3, Spike TV, TBS, TED, The WB, TV Land, TVO, VH1, VICE, Vudu, and Xfinity
Movies — EZTakes, Indie Movies, MUBI, myLifetime, OpenFIlm, SnagFilms, Vudu, and YouTube
Notably missing is a Netflix channel, nor is it included in the search function; instead, you have to run the Boxee Box's Netflix app. Also, Crackle's movies aren't available through a Crackle movie channel, in contrast to the Roku player's Crackle video channel, which offers both shows and movies. And the Boxee Box still lacks Hulu Plus and Amazon VOD.
Despite the greater orientation toward channels, however, movies and shows can still be viewed as one long list, sorted alphabetically or by popularity. In addition, you can always use Search to find what you want. Plus, you've got the Apps menu, which currently offers 189 apps grouped in video, music, and photos categories.
If all that leaves you feeling breathless, you're not alone!

Other v1.1 enhancements
Another not-so-obvious addition to v1.1 is more UI languages. The Boxee Box now supports a total of 17 languages, including English, German, French, Italian, Spanish, Swedish, Hebrew, Danish, Dutch, Turkish, Russian, Arabic, Portugese, Czech, Norwegian, Finnish, and Polish; the device currently is being sold in 34 countries.
The Boxee browser has been made considerably more useful, thanks to the addition of favorites, history, and an enhanced on-screen display (OSD), as seen in the screenshots below.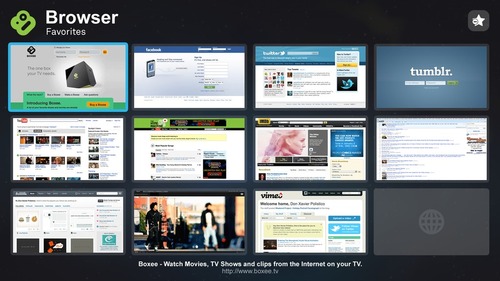 The Boxee browser's new favorites function serves may purposes
(click to enlarge)

Of note, videos viewed in the browser no longer automatically go to fullscreen mode. This was done in order to support an enhanced web playback OSD, which, according to Boxee, lets you see a bit more of what's going on in the background, and frees up some room for various UI components to be positioned below the content area. The screenshot below shows the new web-playback UI in action.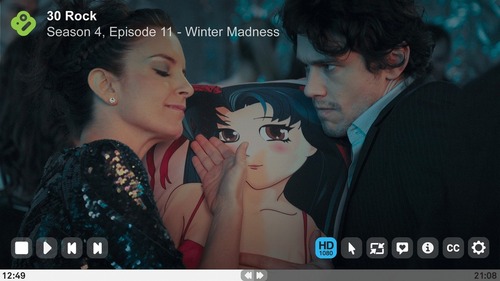 The Boxee Box's enhanced web-playback OSD
(click to enlarge)

Boxee points out that the revamped OSD includes a new seek bar, which offers precise rewinding and fast-forwarding, along with minimized button count for greater ease-of-use.
On the down side, the previous ability to adjust volume on the Boxee Box using its remote control in some, but not all, apps has been eliminated. This change was made in order to improve consistency across the wide range of apps supported on the device, says Boxee.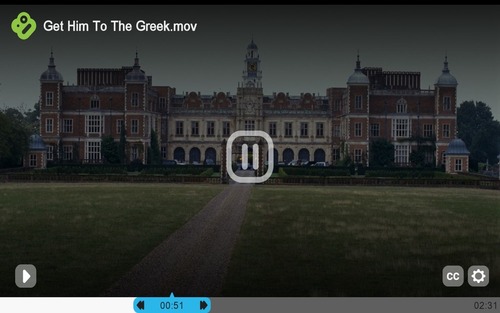 The OSD for local media playback has also been enhanced
(click to enlarge)

Another area of enhancement is the addition of support for
HFS formatted
drives, seek functionality inside music playback, and the ability to filter local files by source.
"We've spent a lot of time discussing internally and have decided to create a more consistent experience by removing features that work inconsistently," explains Boxee marketing VP Andrew Kippon. "While it might not instantly be apparent, over the next few versions we will streamline the interface so that everything works the same, no matter whether you're in an HTML 5 app, a normal web page, playing a movie file, or watching video from inside an application."
For more details on what's new in the version 1.1.0.19036 update read the complete release notes.

Screenshot tour
Below are various sets of screenshots showing the Boxee Box's updated menu system, apps, settings, and more. For additional screenshots on the device's Netflix, Vudu, Pandora, and Weather apps, refer to our prior review based on the v1.0 firmware.

Top-level navigation and menus…

(click thumbnails to enlarge)



















(click thumbnails to enlarge)

Apps galore…

(click thumbnails to enlarge)



































(click thumbnails to enlarge)

Show episodes are now increasingly available through Boxee Box channels…

(click thumbnails to enlarge)






































(click thumbnails to enlarge)

Movies also are found in an expanded set of channels…

(click thumbnails to enlarge)

















(click thumbnails to enlarge)

Boxee Browser enhancements …
As seen in the screenshots below, the Boxee browser now sports improved navigation features, flexible bookmarking and bookmark access, erasable browsing history, and more.

(click thumbnails to enlarge)










(click thumbnails to enlarge)

A glimpse of the device's local and network file access functions…

(click thumbnails to enlarge)






(click thumbnails to enlarge)

Find out what's up with the weather…

(click thumbnails to enlarge)






(click thumbnails to enlarge)

Settings, settings, settings…

(click thumbnails to enlarge)


































(click thumbnails to enlarge)

Overall assessment
With the v1.1 firmware update, the Boxee Box has come a long way since its widely criticized initial release last Fall.
The new features and capabilities of the browser and web-streamed video OSD are welcome enhancements, as are the efforts to optimize UI consistency across the wide range of apps that run on the device. Add to that the new release's expanded use of "channels" for accessing movies and shows, and the device has suddenly become a lot more user-friendly.
Looking back at the conclusion of my review of the Boxee Box running February's v1.0 firmware release, I would recast my Boxee/Roku comparison as follows…



D-Link Boxee Box advantages:
Official apps — Boxee remains significantly out front, with 189 apps to Roku's 109.
Unofficial apps — in addition to officially supported and provided apps, there are also third party apps available from web-based repositories; however, I haven't actually found anything worth installing on my device. (Feel free to suggest some in the comments area below.)
Web browsing — Boxee's web browser — now with favorites, history, and other goodies — is a key advantage of the device, allowing access to unlimited content, though not as easily as with a laptop or web tablet.
Network access — Boxee supports access to shares on the local network; Roku doesn't.
Power consumption — Assuming you use Shutdown to turn off your Boxee Box when you're not using it, it uses considerably less power on average than the Roku box, which lacks both software and hardware "off" switches.

Roku player advantages:
UI consistency — despite the Boxee Box's UI enhancements and simplifications, the Roku device is still out front in terms of having a simple, easy-to-learn UI that anyone can master within a few minutes. In its defense, however, the Boxee Box's capabilities go way beyond those of the Roku box, so the problem is a much harder one to solve, particularly since some of the device's content is accessed via web-service APIs, while other content is rendered by its web browser — a real challenge to UI consistency.
Appliance-like full-screen video — Apps on the Roku behave like they were made for that device, much the way TV shows play on TV sets. In contrast, many of the Boxee Box's apps rely on its web browser, resulting in awkward moments, such as pop-up ads and messages that can interfere with what's being watched, or occasionally falling out of full-screen mode and exposing the underlying browser.
Amazon VOD and Hulu Plus apps — Roku has 'em; Boxee currently doesn't; but Boxee says Hulu Plus is "coming soon."
Form-factor — I prefer how the Roku box stacks with my other A/V gear, in contrast to the D-Link device, which occupies an unfair share of Z-space.
Price — the Roku boxes are priced from $60 to $100, vs. $200 for the D-Link device; but the price differential is only an issue if the Roku unit has everything you want, or will ever want.

In summary, I think the Boxee Box has come a long way toward meeting its initial goals. It combines a dazzling range of movies and shows (free, ad-supported, and PPV), virtually unlimited browser-based access to web content (assuming the required CODECs are available), and the ability to render content located on attached media or local network shares.
If you're looking for a device with simple, appliance-like operation and a highly consistent UI, the Roku player (or a Blu-Ray drive with built-in Netflix, YouTube, Amazon VOD, etc.) might be your best bet, especially considering its low cost of entry. But if you don't mind a few rough edges and a bit of a learning curve, the Boxee Box offers a universe of possibilities, with many available now and many more to come.

Further info
Further details on D-Link's Boxee Box are available in our earlier coverage of the hardware and in our review of the operation of the device, as well as on D-Link's Boxee Box website.
Further information on Boxee's free, A/V-streaming platform for OS X, Windows and Linux PCs, and the AppleTV STB is available on Boxee's website. For details on Roku's alternative, go here.
You might also want to visit the new Boxee Box Tips website (DeviceGuru's sibling). The site was created to help Boxee Box users get the most from their devices, by providing quick-and-easy access to the web's best Boxee Box apps, how-to's, resources, and tweaks. You might even win a Boxee Box.