Last updated Jan 7, 2012 — 5184 views

Boxee Box users who enjoy staying on the bleeding edge of features and functions can now download and install beta v1.5 firmware on their devices, by following a fairly straightforward procedure.

Version 1.5.0.23422 implements quite a few new features and enhancements to the Boxee Box's user interface. It also adds support for the soon-to-be-available Boxee Live TV adapter option.
Boxee Box users are likely to be pleasantly surprised by the makeover of the device's user interface, a bit of which is evident in the homescreen photo below.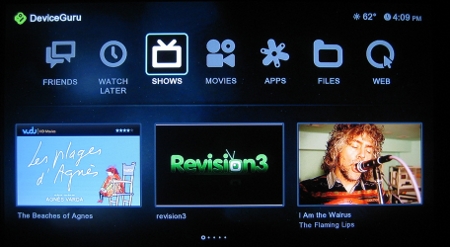 Enhanced Boxee Box homescreen
(click image to enlarge)

Boxee Box Version 1.5 highlights
Here's a quick overview of some of the new features in the version 1.5 firmware for the Boxee Box.
Home Screen — links have been added to the top-level menu for launching the Browser and Live TV (once you've attached the Live TV dongle option). The "featured section" has also been given a small facelift.





Menu — the Menu is now more accessible, popping up as an overlay that lets you quickly navigate between different sections or search; the Search function has also been optimized to minimize the number of clicks required.





Movies & TV Shows — the layout of Movies and TV Shows sections have been updated for easier navigation by Genre and Source, and for quick access to trailers.





Movie details screen — there's also a new Movie details screen, which provides extended synopsis and cast and crew information; for TV Shows, it's now much easier to jump between seasons and see which episodes you've already watched.





Watch Later & Friends — the thumbnails in the Watch Later & Friends sections have been expanded, and you can now filter between clips, TV Shows, and Movies.





More details
Numerous other new features and enhancements have been incorporated into the v1.5 beta release. Here's a brief outline, extracted from the release notes:
User interface enhancements to…

Main Menu
Home Screen
Browse Screens (Movies, TV Shows) – including new filtering options.
Season selection for TV shows
Watch Later including filtering by content source
Indication for which movies and shows have been watched
Action/Info Menu
OSD and OSD settings
Search
Enhanced login flow

Library and play action enhancements…

Rotten Tomato rating integration for movies
Launch trailers from the Media action screen

Networking and file playback enhancements

Support for simultaneous digital bitstream plus stereo over analog

Browser enhancements

Added Popup management
Support for HTML5 Local Storage in Boxee Browser

New social account pairing with Boxee user

Create a new Boxee account using Facebook connect
Pair Boxee with Facebook, Tumblr, and Twitter on device to view videos from those services in the Friends section, and to easily share content.

Support for the Boxee Live TV dongle option

View Live TV channels on Boxee using via the included antenna or QAM
Browse channel listings
See social recommendations in the channel listing based on what your Facebook friends are watching and have watched
Share shows and currently viewed channels via Boxee and Facebook
Release notes and instructions for installing the beta firmware
Read the complete v1.5.0.23422 beta release notes for more details, including information on how to download and install it on your Boxee Box. Note that the release notes caution users that "reverting from version 1.5.0 to version 1.2.2 requires factory restoring of the Boxee Box." Also note that you will need to rename the downloaded firmware ISO file to "boxee.iso" before installing it on the Boxee Box.
For those preferring to hold off until v1.5 is fully baked, be patient and within a few weeks your Boxee Box should inform you that a new firmware version is ready to install. At that point, you'll simply need to respond to the prompt in order to initiate the device's automatic update process.

Boxee Box v1.5 screenshot tour
To see more of what's new and different as a result of the version 1.5 firmware update, check out our comprehensive Boxee Box v1.5 Screenshot Tour, which accompanies our Updated Boxee Box Review based on its v1.5 firmware. The screenshot tour includes about 150 screenshots showcasing the Boxee Box's menu system, extensive suite of multimedia apps, movies and shows selection process, Watch Later feature, and more.

Boxee Box v1.5 screenshot tour