Last updated Mar 1, 2011 — 222 views

Boxee, maker of the free Boxee multimedia-player software platform for PCs and Macs, and the smarts behind D-Link's recently introduced Boxee Box, has just received $16.5 million more funding. The lead investors of this financing round were Pitango and Softbank, with prior investors General Catalyst, Spark Capital, and Union Square Ventures also participating.

"We are more hungry and driven than ever, … less naive, but dreaming even more ambitious dreams," enthuses Boxee CEO Avner Ronen on the company's blog.
"We are getting lots of love as well as feature requests and bug reports," adds Ronen. "The new round will enable us to grow our development team, building new functionality while continuing to squash bugs. One of our greatest challenges will be to add more movies, TV shows, and video while at the same time making it easier to discover and watch them. We have ideas on both fronts and are excited to get to work. Many of you would like to see Boxee handle all the video on [your] TV with no need to switch inputs. We'd like to get there, too."
Another area of intensified focus will be the singing up of more hardware partners. Currently, the only production device based on Boxee software is the D-Link Boxee Box. However, Iomega is developing a Boxee NAS device and ViewSonic is prepping a TV based on Boxee. Beyond those, "we plan to sign up more device and distribution partners, giving users more options and more ways to get Boxee," says Ronen.
Boxee Box rising

Last November, D-Link finally began shipping the first commercial Boxee Box, an unusually shaped cuboid design priced at $199 (pictured at right).
The initial batch of D-Link Boxes mostly ended up in the hands of Boxee enthusiasts and early adopters. But as so often happens with v1.0 releases of new hardware or software, many early Boxee Box users were miffed at functionality shy of expectations and a long laundry-list of bugs. By far, the biggest disappointment for most users of the new devices was the absence of apps for streaming Netflix and Hulu content.
Following several successive delays in delivering Netflix support — and with many Boxee Box owners threatening to return their devices for refunds — Boxee finally pushed out a major firmware update along with a working Netflix app to the D-Link Devices on Valentine's Day.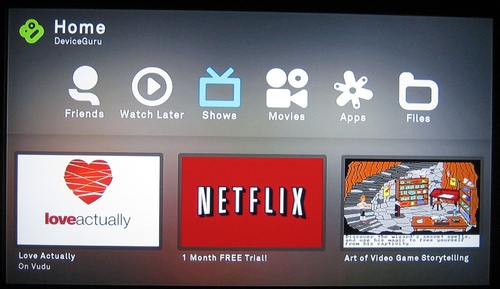 Netflix finally arrives on the D-Link Boxee Box
Thanks to the Boxee Box's recent firmware updates, along with the addition of apps for Netflix, Hulu, Vudu, and other several other new content sources, DeviceGuru is pleased to report that the D-Link device is starting to feel more like a finished product than a beta-test device. If this pace of enhancement persists, we might even retire our noisier and more power-hungry homebrew Boxee Box!
Further info
Boxee's prior round of funding, $6 million in August of 2009, was led by General Catalyst along with participation from Spark Capital and Union Square Ventures. Then, the company had 12 employees and its free Boxee software platform was at alpha level. "The Boxee Box was a dream," Ronen now recalls. "Fast forward 18 months and we are a different company. 34 employees, ver 1.0 of the software and the Boxee Box is available in more than 30 countries."
Further details on the D-Link Boxee Box are available in our earlier coverage, as well as on D-Link's website. You can download the free, Boxee A/V streaming platform for OS X, Windows and Linux PCs, and the AppleTV STB from Boxee's website. You can even build your own Boxee Box.