Last updated Nov 8, 2008 — 14352 views

Air France and KLM have announced plans to conduct a six-month trial of a new zero-emission, compressed-air powered vehicle. The "AirPod" seats three, can do 28 mph, and goes about 135 miles on a tank of compressed air.

The AirPod was developed by MDI (Motor Development International), under the direction of company founder and CEO Guy Negre. Initially, the vehicle will be manufactured in India by Tata Motors, and distributed in France and India.


MID's AirPod compressed air vehicle
(Photo source: MID)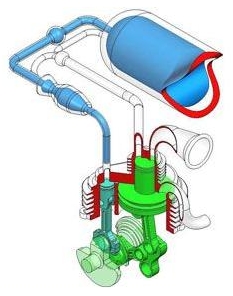 The AirPod is 6.7 feet long and weighs 485 pounds. The driver controls the motion of the vehicle with a joystick.
The vehicle has four wheels, and uses rear-wheel drive. Refueling the vehicle's 46 gallon (175 liter) compressed air tank tank only takes a couple of minutes, according to the company.
MID expects the AirPod to reach production by mid-2009, and to sell for around 6,000 Euro. Four other models, featuring speeds up to about 70 mph, are also on the drawing board.
AirPod demonstration and Q&A
Below are three YouTube videos that showcase and describe the AirPod. The first shows a prototype AirPod being tested in Nice, France. In the second and third videos, MID R&D manager Cyril Negre discusses the AirPod's technology and capabilities.
Airpod prototype demonstration in Nice, France
(Click image to play video)





Q&A on AirPod with Cyril Negre — Part 1
(click image to play video)





Q&A on AirPod with Cyril Negre — Part 2
(click image to play video)




Further information
Air France Industries and KLM Engineering and Maintenance will be evaluating the AirPod from the perspective of safety, ergonomics, deployment, reliability, and maintenance costs, among other factors.
For more details, visit MDI's website.
Note: The above videos were produced by Catvolution.com, a website devoted to "using the power of the Internet to help bring these amazing compressed air vehicles to the North American market."