Last updated May 22, 2011 — 832 views

AMD has just added a pair of lower-power processors to the Embedded G-Series APU (accelerated processing unit) line that debuted earlier this year. The new single- and dual-core parts integrate 64-bit x86 CPU cores along with a DirectX 11-capable GPU (graphics processor unit) core on a single die, and offer total (CPU+GPU) power consumptions down to 5.5W.

Given their fanless capabilities, you can expect to these new APUs to start popping up in A/V-streaming consumer devices such as the Boxee Box, Google TV boxes, Roku players, connected TVs, and Blu-ray players
Key characteristics of the two new parts are listed in the table below. As indicated, the T40E is a dual-core chip with dual on-chip L2 caches, and is rated for 6.4W TDP (thermal design power). The T40R, meanwhile, has one 64-bit core accompanied by one L2 cache, and features 5.5W TDP.
Model
CPU speed
CPU cores
Radeon GPU version
DRAM type & speed
Max TDP
T56N
1.65GHz
2
HD 6310
DDR3-1066
18W
T52R
1.5GHz
1
HD 6310
DDR3-1066
18W
T48N
1.4GHz
2
HD 6310
DDR3-1066
18W
T40N
1.0GHz
2
HD 6250
LVDDR3-10662
9W
T44R
1.2GHz
1
HD 6250
LVDDR3-10662
9W
T40E
1.0GHz
2
HD 6250
LVDDR3-10662
6.4W
T40R
1.0GHz
1
HD 6250
LVDDR3-10662
5.5W
Note: All of the G-Series APUs have on-chip 64KB L1 caches; single-core and dual-core APUs have one and two on-chip 512KB L2 caches, respectively.
Aimed at fanless applications
Both new, sub-7W TDP APUs are currently being designed into fanless embedded systems, adds AMD. The photo below shows a single-board-computer in the Qseven form-factor, powered by AMD's new T40x G-Series Processor. Made by Datakamp, the tiny SBC plugs SODIMM-style into a connector on an embedded system mainboard.
Datakamp's 70 x 70-mm G-Series SBC
When AMD
introduced the Embedded G-Series earlier this year
, it cited analyst data sizing the embedded processor market at $3 billion annually in 2010, and predicting it to grow at double-digit rates for at least each of the next five years. Typical applications are expected to include "graphics-intensive solutions like digital signage, internet-ready set top boxes, mobile and desktop thin clients, casino gaming machines, point-of-sale kiosks, and small form-factor PCs," as well as numerous single-board computers such as the one pictured above.
G-Series Platform architecture
AMD's Embedded G-Series platform chipset is implemented in the form of a pair of low-power, ball-grid-array components — the G-Series APU plus an I/O Controller Hub:
Application Processing Unit (APU) — integrates a low-power x86 dual-core CPU (codenamed Bobcat; see diagram, below-left) along with a full-fledged GPU and parallel processing engine; the APU includes video interfaces, four PCIe lanes, and a DDR3 DRAM interface (see diagram, below-right).
Fusion I/O Controller Hub — the G Series platform's Fusion I/O Controller Hubs (two pin-compatible models initially are available) conveniently add four more PCIe lanes, SATA, LPC (low pin count) bus, SPI (serial peripheral interface), CIR (consumer IR), HD audio, and a Gigabit Ethernet MAC
The block diagrams below show the partitioning of functions between the two Embedded G-Series platform components (click each image to view a larger version).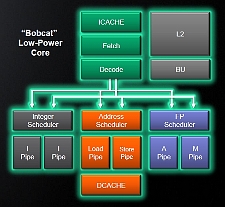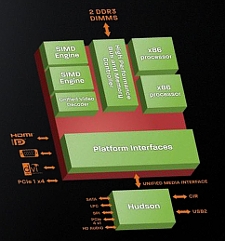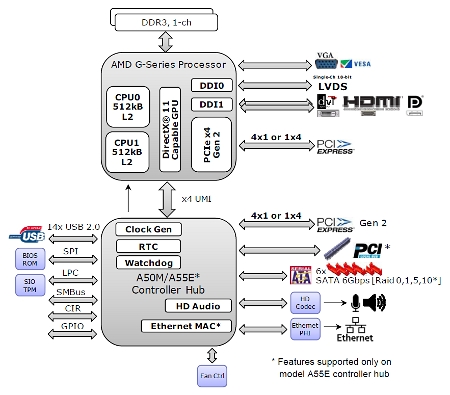 Embedded G-Series block diagrams
(click each image to enlarge)

Features & specs
The key features of the Embedded G-Series APU, as listed by AMD, are…
1 or 2 x86 "Bobcat" CPU cores with 1MB L2 cache, 64-bit Floating Point Unit
1.0 to 1.6GHz CPU clock rate
5W to 18W TDP (thermal design power)
Array of SIMD (single instruction multiple data) engines
DirectX 11 capable graphics
Industry-leading 3D and graphics processing
3rd Generation Unified Video Decoder
Various power management features, including C6 and power gating
Supports DDR3 800-1066 memory, including 64-bit channel and 2 DIMMs
Contained within a single piece of silicon in a 361 sq-mm, 413-ball BGA package
Despite AMD's initial positioning of the G-Series as combining CPU and GPU functionality on a single chip, the company subsequently introduced a triad of GPU-less APUs targeting cost-sensitive headless applications. The T48L, T30L, and T24L integrate one or two 64-bit CPU cores spec out at 18W and 5W TDP, for the 1.4GHz and 1.0GHz models, respectively.
The Embedded G-Series platform's I/O Controller Hub currently comes in two versions: the basic A50M and the higher-end A55E.
We've assembled a much more detailed set of Embedded G-Series platform features and specs in this detailed list.
Further information
Find out more about the AMD Embedded G-Series APUs in our earlier highly-detailed coverage, which includes benchmarks comparing the G-Series to Intel's Atom along with some AMD GPU history.
Additional data is available on AMD's website.