Last updated Sep 13, 2010 — 4558 views

D-Link's Boxee Box can now be ordered from Amazon for November delivery (to US destinations only). Additionally, the company disclosed today that its device is based on an Intel Atom processor CE4100, representing a significant triumph for Intel over ARM Ltd.

D-Link unveiled its plans last December to build an STB (set-top-box) based on Boxee's media-streaming software platform, and published preliminary photos and functional specs at that time.
Key features listed by D-Link for the device are essentially those of the Boxee media-streaming software on which it's based — namely:
Enjoy thousands of shows available for free from your favorite networks, ready to watch at any time
Check-out free movies from the web & watch new releases in stunning HD from premium movie services
Play videos, songs, or pictures from your computer or home network
Plays any non-DRM video, music, and photos and media from anywhere on the Internet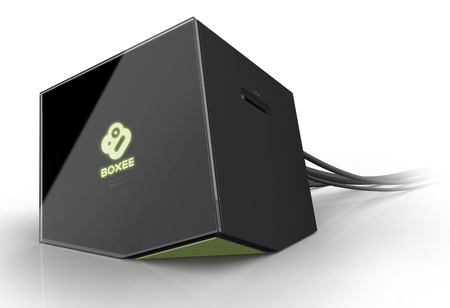 D-Link's Boxee Box
(Click image to enlarge)

The unusually shaped box measures 4.7-inches on a side and has a flush power button on its top. According to D-Link, It was designed by Astro Studios, which counts among its past accomplishments
Microsoft's stylish Xbox 360+
.
An SD Card slot, located on the device's side, is barely visible in photo above. The following I/O and power connections appear in the photo below:
HDMI port
Optical digital audio (S/PDIF) out
Stereo analog audio out
Ethernet RJ-45 connector
2 USB 2.0 ports
AC power input jack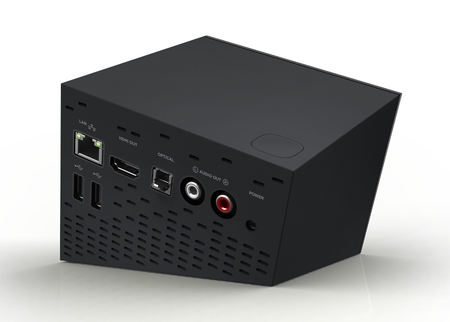 Rear panel connections
(Click image to enlarge)

Once you're running Boxee, you can do most anything with a handful of navigation keys. Yet, when you're searching for movies, TV shows, or other types of content, you need to enter text. Although text can be entered in via Boxee's on-screen keyboard, D-Link's Boxee Box eases and speeds text entry via the qwerty-style keys on its back, as shown below.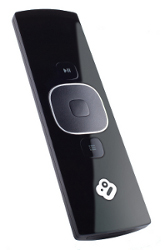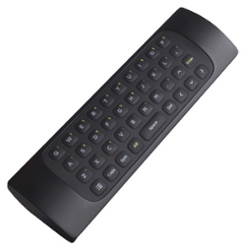 Boxee Box remote control front (nav keys) and rear (qwerty keys)
(click images to enlarge)

Here are two additional photos of the D-Link Boxee Box and its remote control, taken at the Intel Developer Forum in San Francisco this week. As seen in the photos, one side of the remote has a QWERTY-style keyboard, while the other provides several buttons compatible with the Boxee software's simple navigation interface.




D-Link Boxee Box device and remote control
(click images to enlarge)

The screenshots below (courtesy of Boxee) show Boxee's media-streaming software running on the D-Link device:


(click thumbnails to enlarge)








Boxee running on D-Link's Boxee Box
(click thumbnails to enlarge; source: Boxee)

About Intel's new Atom CE4100 processor
According to Intel, the Atom CE4100 SoC (system-on-chip processor), formerly codenamed "Sodaville," can be clocked up to 1.2GHz, and integrates a display processor, graphics processor, video display controller, transport processor, dedicated security processor, and several I/O functions including SATA-300 and USB 2.0.
Intel says the SoC can support dual 1080p video streams, along with advanced 3-D graphics and audio standards. Other key features are said to include MPEG4 video hardware decode (capable of DivX Home Theater 3.0 certification), an integrated NAND flash controller, support for both DDR2 and DDR3 RAM, and 512KB L2 cache.
Netflix on Linux?
When D-Link unveiled its plans for a Boxee Box last December, it said the device would run an embedded Linux operating system. The company also said it planned to provide Netflix's video-on-demand (VOD) service as an option on the device.
The original D-Link Boxee Box design was based on the ARM core-based Nvidia Integra 2 SoC, touted as a "mobile web processor was designed to power the new generation of tablets, slates, mobile Internet devices (MIDs), e-readers, automotive safety and entertainment solutions."
To date, support for Netflix's VOD service on Linux-based STBs has generally been limited to devices built with SoCs based on ARM CPU cores and DRM (digital rights management) implemented in silicon, rather than with Intel's x86 architecture silicon.
Evidently, D-Link has managed to implement the requisite DRM under Linux on their device's Atom CE4100 processor, since the company told DeviceGuru that the D-Link Boxee Box still runs an embedded Linux OS. That assumes, of course, that Netflix VOD is still going to be on the Boxee Box (which seems a sure thing).
Pre-ordering the D-Link Boxee Box
As of today, pre-orders for the D-Link Boxee Box, priced at $199. can be placed on Amazon.com, here. Delivery is restricted to US addresses only, at this time. D-Link says it will commence shipments of the devices in November, to destinations in the US, Canada, the EU, and Australia.
Want to build your own Boxee Box? Check out DeviceGuru's exclusive Boxee Box Cookbook.