Last updated Oct 27, 2010 — 1120 views

Following nearly three years of alpha- and beta-level releases, Boxee's A/V-streaming software platform will finally go gold at a November 10 launch event in New York City. However, v1.0 initially will be limited to D-Link's Boxee Box, with versions for PCs running OS X, Windows, and Linux coming later.

At the December 2009 unveiling of the Beta version of Boxee, D-Link announced its plans to produce a "Boxee Box" set-top-box (STB) for 2010 delivery. In June, D-Link said its Boxee Box would ship in November, and in September we learned that the device was available for pre-order at Amazon.com.
According to Boxee's blog, people who pre-ordered from Amazon should receive their box as early as November 11 and the device should start appearing in stores a week later. It's currently priced at $199.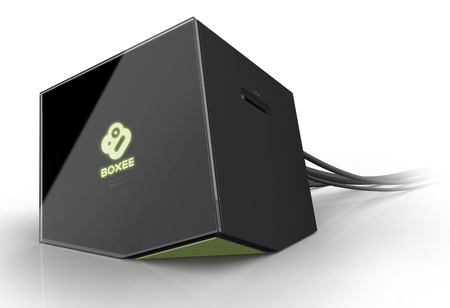 D-Link's Boxee Box
(click image to enlarge)

What's new in Boxee 1.0?
Unfortunately, we don't know the answer to that question, since Boxee hasn't indicated whether v1.0 represents a major restructuring, minor enhancement, or bug-fix and cleanup update. However, several Boxee beta updates have already occurred this year, in parallel with the introduction of numerous new sources of content via plug-in apps developed by Boxee and third-parties.
Consequently, we're guessing that the v1.0 release of Boxee will involve few if any UI (user interface) tweaks relative to the latest Boxee beta version, but will fix a laundry list of minor bugs.
Here are some screenshots showing a few features of the current Boxee beta:













Boxee beta version screenshots
(click thumbnails to enlarge)

Further info
Further details on D-Link's Boxee Box are available in our earlier coverage, as well as on D-Link's website.
Further information on the free, Boxee A/V streaming platform for OS X, Windows, and Linux PCs and the AppleTV STB is available on Boxee's website.