Last updated Dec 8, 2009 — 5653 views

D-Link unveiled its soon-to-be-released "Boxee Box" at Boxee's preview of Boxee Beta in New York last night. Few details have been disclosed other than that it runs Boxee on Linux, provides HDMI and both analog and digital audio outputs, and hooks up to the Internet via either WiFi or Ethernet.

We contacted Boxee and D-Link, but were unsuccessful at prying much more out of them than what's listed on D-Link's Boxee Box web page.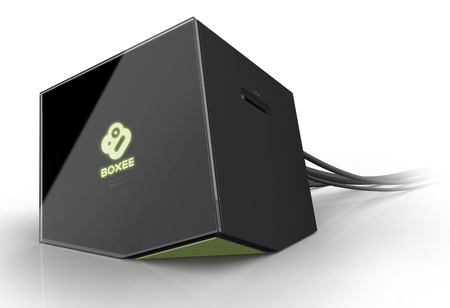 D-Link's out-of-kilter DM-380 Boxee Box
(Click image to enlarge)

An SD Card slot, located on the device's side, is visible in photo above. The following I/O and power connections are shown in the photo following the list:
HDMI port
Optical digital audio (S/PDIF) out
Stereo analog audio out
Ethernet RJ-45 connector
2 USB 2.0 ports
AC power input jack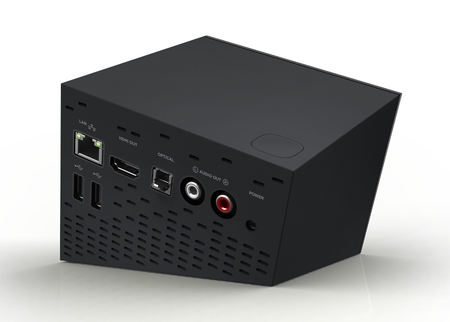 The DM-380's rear panel connections
(Click image to enlarge)

The unusually shaped box measures 4.7-inches on a side and has a flush power button on its top. It was designed by Astro Studios, which counts among its past accomplishments Microsoft's stylish Xbox 360+



Two more views of the DM-380
(Click each to enlarge)

Here are several screenshots, courtesy of by D-Link, showing Boxee running on the device (click each thumbnail for a larger view):







Boxee running on D-Link's DM-380 Boxee Box
(Click each thumbnail to enlarge)

Price? Availability?
Again, Boxee and D-Link are being tight-lipped as to any details beyond what can be seen in the photos above. However, rumor has it that the device will be priced at "under $200," and will be introduced in the first quarter of 2010. According to Boxee, the DM-380 will be demonstrated at the Consumer Electronics Show in January.
But will it stream Netflix video-on-demand?
With Roku now offering its Netflix-capable Roku Player Internet A/V-streaming set-top-box in three models priced at $80, $100, and $130, it would seem that the bar is set relative to Netflix functionality. To date, however, no Linux-based products have shown up streaming Netflix beyond the Roku box.
Asked if D-Link's DM-380 would be offering Netflix VOD streaming, given its embedded Linux OS, a source within Boxee replied, "Our goal is to have it support Netflix." They've been saying that for about a year now — let's hope it's finally true!
In the mean time, there's always DeviceGuru's own DIY Boxee Box!