Last updated Oct 2, 2008 — 5115 views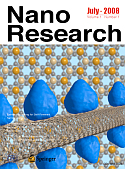 A recently launched nanotechnology publication is making all of its articles available for free download. Nano Research, launched in July, is touted as a peer-reviewed, international, interdisciplinary journal focused on all aspects of nanoscience and nanotechnology.

The journal's highly technical articles are expected to cover topics such as…
Synthesis, characterization, and manipulation of nanomaterials
Nanoscale physics, electrical transport, quantum physics
Scanning probe microscopy and spectroscopy
Nanofluidics
Nanosensors
Nanoelectronics and molecular electronics
Nano-optics, nano-optoelectronics, and nano-photonics
Nanomagnetics
Nanobiotechnology and nanomedicine
Nanoscale modeling and simulations
Articles from the journal's first three issues are currently available for free download in pdf and html format. Click each of the cover images below to access the corresponding issue's download page.

Nano Research issue covers for July, August, and September
(Click each cover image to access that issue's articles)
Here's a list of the downloadable articles from the journal's first three issues:
Energy harvesting for self-powered nanosystems
Development of ultra-high density silicon nanowire arrays for electronics applications
In situ TEM measurements of the mechanical properties and behavior of WS2 nanotubes
Synthesis, contact printing, and device characterization of Ni-catalyzed, crystalline Sawtooth-like graphene nanoribbon
Au/LaVO4 Nanocomposite: Preparation, characterization, and catalytic activity for CO Collective magnetic behavior of graphene nanohole superlattices
Elasticity, strength and resilience: A comparative study on mechanical signatures of alpha-Helix, beta-sheet and tropocollagen domains
Demonstration of covalent sidewall functionalization of single wall carbon nanotubes by NMR spectroscopy: Side chain length dependence on the observation of the sidewall sp3 carbons
3-D characterization of CdSe nanoparticles attached to carbon nanotubes
Bioconjugated silica nanoparticles: Development and applications
Controlled nanocutting of graphene
Vertical nanowire array-based light emitting diodes
Growth and patterning of pt nanowires on silicon substrates
Shape control of doped semiconductor nanocrystals (d-dots)
Phase diffusion in single-walled carbon nanotube Josephson transistors
High yield synthesis and characterization of the structural and magnetic properties of crystalline ErCl3 nanowires in single-walled carbon nanotube templates
Wafer scale synthesis of dense aligned arrays of single-walled carbon nanotubes
Nanotubes in a gradient electric field as revealed by STM TEM technique
Simulation studies of a "nanogun" based on carbon nanotubes
A DNA-based approach to the carbon nanotube sorting problem
From two-dimensional metal-organic coordination networks to near-infrared luminescent PbS nanoparticle/layered polymer composite materials
Nano-graphene oxide for cellular imaging and drug delivery
Inorganic hierarchical nanostructures induced by concentration difference and gradient
Growth and optical applications of centimeter-long ZnO nanocombs
A facile synthesis of monodisperse Au nanoparticles and their catalysis of CO oxidation
Bacteriophage M13 as a scaffold for preparing conductive polymeric composite fibers
Porous LiFePO4/NiP Composite nanospheres as the cathode materials in rechargeable lithium-ion batteries
Growth of anisotropic platinum nanostructures catalyzed by gold seed nanoparticles
Nano Research is published jointly by Tsinghua Press and Springer-Verlag. For further details, visit the journal's website.