Last updated Jan 30, 2009 — 1169 views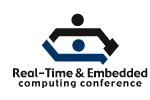 Embedded Linux has now been around for a decade and consistently ranks as one of the top OS choices for device development. But, does it still have its mojo?

Four distinguished panelists offered their insights on this intriguing topic in a panel discussion at the Real-Time & Embedded Computing Conference this week.
The session examined Linux's strengths and weaknesses relative to mobile and embedded applications ranging from handheld consumer gadgets to automotive infotainment systems to carrier-grade telecommunications infrastructure. It also assessed the quality and completeness of the open-source OS's available development tools.
The four presenters — and their topics — were:
The session, moderated by DeviceGuru.com's own Rick Lehrbaum, was attended by a standing-room-only crowd of over a hundred conference participants. Each panelist summarized his topic in about 10 minutes, after which there was a spirited discussion among the group.
DeviceGuru is pleased to bring you the slides from each presenter's short talk. Click the following images to view each presentation in PDF format:









So, what was the conclusion? Does embedded and mobile Linux still have its mojo? The group's unanimous declaration: a resounding "YES!"
Further information on the Real-Time & Embedded Computing Conference is available here.