Last updated Jul 7, 2011 — 3768 views

Cloud Engines, maker of the nifty Pogoplug device, has just introduced a software-only version of its cloud-based filesharing and multimedia streaming service. The free app builds Pogoplug functionality into Windows PCs and Macs, letting users share their desktop systems' multimedia libraries and other files over the Internet, and with a modestly-priced upgrade adds A/V-streaming and transcoding capabilities.



DeviceGuru has long been a fan of the Pogoplug devices and their associated cloud services. Initially, we used ours to share data stored on an otherwise-idle 80GB iPod Classic throughout our home LAN and over the Internet (see photo of that setup at right).
Despite replacing the iPod with a 250GB SimpleTech portable USB HDD, the Pogoplug/HDD combo consumes a mere 3W when idle (HDD spun down) and just 4W while streaming video (HDD spinning).
Here's a photo of the current setup: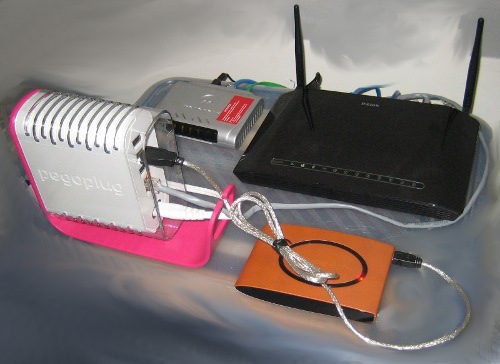 DeviceGuru's Pogoplug + 250GB portable HDD setup
At the moment, the above setup is being used for streaming photos, music, and videos to a pair of 10-inch tablets, in preparation for an upcoming Samsung Galaxy Tab 10.1 vs. iPad 2 smack-down. Stay tuned!
Pogoplug architecture
The overall architecture of how the Pogoplug device and its Pogoplug.com cloud service team up to transmit multimedia and files across over the Internet is shown below. In contrast to cloud services like Dropbox or Amazon Cloud Drive, your data doesn't get stored on the Pogoplug.com cloud service. Instead, the service performs a forwarding function, allowing you to access the data located on your PC or Mac from anywhere on the Internet.

Pogoplug + cloud services architecture
Among other functions, the Pogoplug.com cloud services prevent your Pogoplug from having to be exposed directly to the consumers of its data, and it also wraps the entire transaction in a security layer to safeguard the data itself.
One clever aspect of the Pogoplug architecture, which isn't indicated in the above diagram, is that data transfers between the Pogoplug and destinations on its local subnet are routed point-to-point, rather than passing through the Pogoplug.com cloud service. Consequently, A/V can stream much more efficiently within your home LAN/WLAN, regardless of your broadband connection's capabilities. Plus, you won't be penalized by your ISP for streaming too much data no matter how many Pogoplug-hosted movies you watch.
Introducing the "software-only Pogoplug"
The latest news from Cloud Services is that the company has added a software-only product that can be used without having to buy a Pogoplug device. A somewhat restricted (though potentially very useful) version is available free of charge, but although it lets you access and download all types of files and view photos in a slideshow manner, you can't use it to stream music or videos.
For a $29 one-time-payment "premium" upgrade you can upgrade it to provide audio and video streaming, equivalent to that of a hardware Pogoplug device (even better, when it comes to on-the-fly A/V transcoding).
According to Cloud Engines, the software-only Pogoplug implements the same sharing and data access features provided by the Pogoplug devices. Users can access and share files of any size or type from anywhere in the world, to anyone in the world.
Keep in mind, however, that using a software-only Pogoplug requires you to keep a PC or Mac running. That means your "software Pogoplug" consumes about 25-50 times the energy drawn by a Pogoplug device. So, it's probably not the best solution for an always-available source of streaming multimedia or file access.
Both the free and premium versions of the software-only Pogoplug apps for PCs and Macs give you unlimited access to files stored in folders you designate as Pogoplug shares. These, like shared folders on the hardware Pogoplug devices, can be accessed by any Windows, OS X, or Linux computer using a suitable Web browser or with one of the free software-only Pogoplug apps installed.
Additionally, there are free Pogoplug client apps for iPhone, iPad 2, and Android devices. Currently there isn't a tablet-oriented Android app, but the phone version scales up in a usable, though unsightly, manner. Hopefully Cloud Engines will release a version more suitable to Android tablets sometime soon.
Screenshots
Here are some screenshots of the new Pogoplug client/server app running on Windows 7 and streaming a video from DeviceGuru's Pogoplug device-based setup pictured earlier in this post:
(click thumbnails to enlarge)









Software-only Pogoplug app running on Windows 7
(click thumbnails to enlarge)

Here are some screenshots showing DeviceGuru's iPad 2 streaming movies from a Windows 7 PC with the software-only Pogoplug app installed:


(click thumbnails to enlarge)











Streaming from a Windows 7 "software-only Pogoplug" to an iPad 2's Pogoplug app
(click thumbnails to enlarge)

And here are some screenshots showing DeviceGuru's iPod Touch streaming movies from our Pogoplug device:


(click thumbnails to enlarge)












Streaming from a Pogoplug device to an iPod Touch's Pogoplug app
(click thumbnails to enlarge)

"Our software-only product is a very natural expansion of the Pogoplug streaming service that started with our hardware," says Cloud Engines CEO Daniel Putterman on the company's blog. "By offering solutions that can stream files from your PC, Mac, or external hard drives, we are creating a single access point for anyone who wants to be able to watch their movies, show off their pictures, and listen to their entire music library no matter where they are and no matter where those files are stored. There are no storage limits, no long upload times, and your files are secure at your home, office, or wherever you keep them – not stored with a 3rd party. No one else offers this kind of unified cloud streaming solution."
Further info
The free Pogoplug app for Windows PCs and Macs can be downloaded here. Recently updated iOS and Android apps are also available free, from their respective app markets. Further details on the company's hardware Pogoplugs are available here.