Last updated Nov 30, 2011 — 1326 views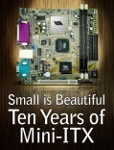 Via Technologies has published a free ebook celebrating 10 years of the compact, Mini-ITX motherboard form-factor. "Small is Beautiful: 10 Years of Mini-ITX" is available as a free download in ePub and PDF format.

The 155-page ebook traces the evolution of the popular form-factor over the past decade, during which it gave rise to numerous spinoffs, projects, and products, and grew in capability to where it now supports multi-core processors. The book also highlights numerous interesting and unusual Mini-ITX applications and speculates on the future of Mini-ITX.
Other popular formats for small-form-factor computers include the PC/104 Embedded Consortium's PC/104, EBX, and EPIC formats; various computer-on-module formats; and Via's own Nano-ITX and Pico-ITX formats (pictured below).
Via's original Mini-ITX VT6010 reference design was created by Robert Kuo, an assistant vice president at Via. The 17 x 17 cm mini-motherboard format debuted on Nov. 6, 2001, and subsequently gave rise to a large community of modders and manufacturers in applications ranging from car PCs to home-theater PCs to embedded control.
"Small is Beatiful is above all a celebration of the tremendous creative spirit shown by the modders and enthusiasts who got their hands on a Mini-ITX board and made their visions realities," says Via marketing chief Richard Brown. "It was they who demonstrated that PCs no longer needed to be big, beige and boring, rather they could be small, stylish and silent instead."
"Small is Beautiful: 10 Years of Mini-ITX" eBook can be downloaded in either PDF or ePub format here.