Last updated Jul 29, 2011 — 2398 views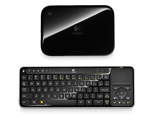 We learned in May that Amazon.com had dropped the price of Logitech's Google TV system (aka the Logitech Revue) 33 percent, to $199. Now, Logitech says it's dropping the Revue's price to $99.

In its most recent quarterly financial report, Logitech attempted to justify the Revue's aggressive price reduction by positioning it as a means to "accelerating adoption of the Google TV platform by removing price as a barrier to broad consumer acceptance."



Logitech's Google TV "Revue" box and keyboard
Logitech's decision to slash the price of its
Google TV box
appears be motivated by two factors. First, the devices reportedly haven't been selling well, with many being returned by dissatisfied customers. Second, the company has just reported an operating loss of $45 million in Q1 of its FY 2012, compared to an operating income of $12 million in the same quarter a year ago.
Buying market share
The Q1 loss "was compounded by the significant impact of the decision to reduce the price of Logitech Revue from $249 to $99 during Q2," the company explained. "The action was taken with the goal of accelerating adoption of the Google TV platform by removing price as a barrier to broad consumer acceptance."
Apparently, Logitech CEO Gerald P. Quindlen, who had been a strong supporter of the company's Google TV (Logitech Revue) strategic initiative, has been a casualty of the Revue's apparent failure in the market. Guerrino De Luca, chairman of Logitech's board, is now serving as acting president.
Google, meanwhile, is in the process of migrating its Google TV software platform to Android 3.1 (Honeycomb). The new version, dubbed Google TV 2, is expected to show up in TVs and other video-streaming devices in the second half of 2011. The goal is for Android apps to be usable on Google TV devices.