Published Jan 7, 2009 — 25580 views

The gOS ("good OS") project has issued an SP1 release of gOS 3.1 Gadgets. This latest gOS release implements numerous package updates, bug fixes, and configuration enhancements, and continues gOS's strong dependence on Google's web-based applications.

At its core, gOS 3.1 Gadgets is built from Ubuntu 8.04 (Hardy Heron). Modifications include a bright green theme, several changes to the distribution's default applications, and an increased emphasis on web-based applications — especially Google's.


gOS 3.1's default desktop — filled with colorful gadgets
(Click image to enlarge)

Welcome to "cloud computing"
On arriving at gOS's desktop for the first time, you're greeted with a dizzying array of Vista-like desktop gadgets that open up applications within Mozilla Prism windows when clicked. This approach makes web-based applications — Google Mail, Google Calendar, and YouTube, for example — appear to be native Linux applications, rather than web pages embedded in a Firefox browser.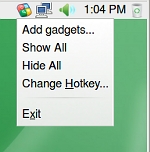 According to the gOS project, users can select desktop gadgets from an online repository of 100,000 Google Gadgets. The default gOS desktop (shown above) comes with gadgets for Google Calendar, Google News, weather, calculator, and several system tools. Additional gadgets can be added by right-clicking a small, multicolored icon located near the right edge of the top-of-page GNOME panel (see image above-right). From that icon you can choose Add gadgets, Show all, or Hide all gadgets.
Prism-powered desktop gadgets are not the only unusual aspect of the gOS desktop. The other is a set of 16 application-launch icons located at the bottom of the desktop:

A row of animated application-launch icons appears at the bottom of gOS's desktop
Mouse over each of the icons and it grows larger; click on one and its associated application launches. This animated application-launch function, based on a desktop add-on called wbar, can also be added to a standard Ubuntu installation (watch for a future DeviceGuru article on this topic).

At first I couldn't figure out how to modify gOS's standard set of application-launch icons at the bottom of its desktop. After a bit of googling, however, I realized that the OS comes with a wbar configuration utility. You can find it here: gOS menu > Accessories > WbarConf. It lets you add/remove apps from the set, and change the size of the font that shows up in the animated launcher icons.
I was pleased to see that gOS comes with Adobe Flash preinstalled. This isn't too surprising, of course, since it's needed for the included YouTube launcher to actually be able to play videos.


Thankfully, a Firefox Flash plugin comes preinstalled
(Click image to enlarge)

On the other hand, a Java plugin for Firefox didn't come preinstalled. I remedied this by selecting/installing the "Sun Java6" package (along with its dependencies) using the tool available at gOS menu > Add/Remove. (Note: before doing this, enable all software repositories using the tool available at gOS menu > System > Administration > Software Sources.)


Adding Sun's Java plugin to Firefox
(Click thumbnails to enlarge)

Oh, and I almost forget to mention one more thing I really like about gOS Gadgets 3.1. It comes with the Medibuntu package repository preinstalled, offers a wealth of multimedia applications, codecs, and drivers available at the click of a mouse. Thanks to the presence of Medibuntu in gOS's repository catalog, you can use the software Add/Remove tool (gOS menu > Add/Remove) easily to select and install numerous media streamers, CD/DVD players and rippers, and much more.
Additional screenshots from my brief investigation of gOS 3.1 Gadgets (SP1) appear below. They show many of gOS 3.1's key features, including its application menus, default desktop gadgets, application launchers, and tools for adding desktop gadgets and modifying the bottom-of-screen animated application-installer.

gOS 3.1 Gadgets (SP1) screenshots — click each to enlarge

gOS 3.1 Gadgets (SP1) screenshots — click each to enlarge

Further thoughts
Overall, gOS represents an intriguing Ubuntu re-spin. Its most significant contribution will probably be its use as a proof-of-concept platform for netbooks, netpads, and MIDs intended to run mostly web-based applications — what might be called mobile "cloud computing" devices.
At this point, I'm not sold on using either Prism-based desktop gadgets or wbar-based animated application-launch icons on my own systems. However, that doesn't mean I won't warm up to these two intriguing innovations in the future.
In any event it'll be interesting to watch gOS evolve. In fact, the gOS team recently announced that an even lighter-weight gOS implementation, known as gOS Cloud, is being readied for shipment to device makers. Although it's not available for public download at this point, here's what gOS Cloud is intended to accomplish:
"Cloud is a small operating system that boots directly into a browser environment in seconds. Deeply integrated with the operating system, Cloud is able to power off, adjust volume, and perform other system functions and run rich client applications all from within the browser. In addition, Cloud can switch to Windows and be preloaded on computers with Windows plus Cloud, or just Cloud."
For more information about gOS Gadget, or to download the OS and give it a whirl, visit the project's website.