Last updated May 8, 2010 — 11724 views

Two years after absorbing a Roku SoundBridge Internet radio into my A/V equipment stash, I started hankering for a more modern device. Specifically, I wanted an Internet audio tuner that would integrate into my whole-house audio system, provide wireless remote browsing and control via an iPod Touch app, and support media sources such as Pandora and local UPnP streams.



Although the Roku SoundBridge (pictured at right) occupies a position of honor in the kitchen, where it serves up a selection of Internet radio favorites at the pressing of a button or two on its IR-remote, the world of IP-streamed A/V has evolved a lot over the past couple of years, and Roku unfortunately has moved on to other pursuits. These days, it's hard to imagine an audio-streaming device without Pandora support, not to mention playing local media via UPnP/DNLA. And then there's the use of an iPod Touch (iPhone) app for WiFi-based remote control. Hence, my interest in getting a new device.
Desired features check-list
I began my quest for a new streaming-audio tuner by compiling this checklist of desired features:
Usable as a tuner in conjunction with a home theater system
Support for a range of web-based content, including:

Internet radio stations
Free and paid subscription services, including at least Pandora

UPnP/DNLA support, enabling local content streaming
Ability to designate favorites, preferably integrating Internet Radio channels, Pandora stations, and other audio streams into a single favorites function
WiFi remote access/control via an iPod Touch (iPhone) app, allowing…

Content browsing, selection, and playing
Control of volume, mute, pause/play, skip-to-next, etc.
Viewing "now playing" stream info, including source, album, track, artist, composer, etc.
Remote on/off via WiFi

Low power consumption: less than 1W standby (with remote turn-on capability), 3W while playing
Periodic automatic (preferably opt in/out) firmware updates for bug fixes and feature enhancements
Priced below $200, and free of annual fees other than for premium content options
Selecting a device
Using my checklist as a filter, several Internet radio tuners showed up on Google's radar screen. In order of increasing price, these included Grace Digital Audio's Solo ($125 direct), Sanyo's R227 ($150 from Amazon), and Myine's IRA ($150 direct) in the below-$200 category, plus Sangean's WFT-1 ($250 from Amazon) and Sono's ZonePlayer 90 ($349 direct).
I eventually zeroed in on Grace's "Solo WiFi Receiver," a brand new Internet radio model introduced last month. The Solo appeared to satisfy all of my baseline requirements and was well within the price range I was targeting. Plus, like so many recently introduced Internet-enabled consumer A/V devices, it runs Linux as its embedded OS. So with all that going for it, I ordered one online and eagerly awaited its arrival.
Introducing the Grace Solo
The Solo is surprisingly small and blends in well with my entertainment center furnishings, as seen in photos below.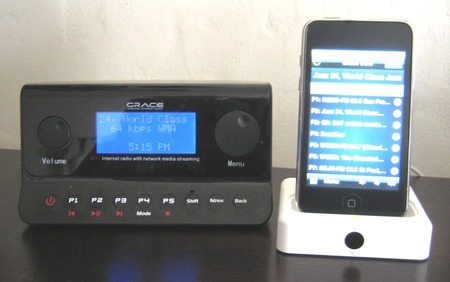 Solo WiFi Receiver: front, back, IR-remote
(click each image to enlarge)

Since my primary use for the Solo is as a whole-house Internet audio tuner, operating it with its iPod Touch app is the main focus of this article. However, virtually everything that I describe below can also be done using the buttons and display built directly into the device, or with the dedicated IR-remote that comes with the Solo. For details on the their (and much more), download the complete
Solo user manual
(PDF file).
Controlling the Solo with its iPod Touch app
The sets of screenshots that appear below explore the use of Grace's free iPod Touch (and iPhone) app to control the Solo, including turning the device on and off, and browsing and streaming Internet radio, Pandora, Live365, and Podcasts. Click each thumbnail for a larger image.
On/off and top-level menu…
These screenshots show the process of powering up the Solo remotely and accessing its top-level menus for content selection:




Power up, presets, top-level menu
When you press the red power button shown at the upper left corner of the left-most screenshot above, you arrive at the Solo's "Radio Presets" screen (middle screenshot).
The Radio Preset function is my favorite Solo feature, since its 10 presets can be assigned both Internet radio and Pandora streams. From there, pressing the "Menu" button at the bottom left corner of the screen takes you to the Solo's top-level menu, shown in the right-most screenshot.
Finding, selecting, and recalling Internet radio stations…
These screenshots show the use of the Solo's Internet radio features under control of the device's iPod Touch app:










Internet Radio on the Solo
Incidentally, one excellent feature of all Grace's Internet radios is the ability to manage Internet radio station favorites on the web at
Reciva.com
. There, you can search for stations by genre or location, add them to a set of favorites, and even sort them within personalized folders.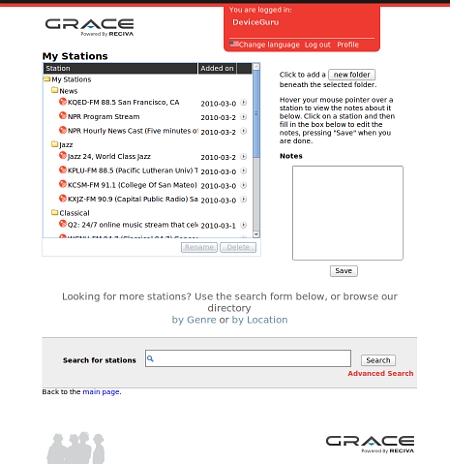 Organizing your Internet radio station favorites using Reciva
(click to enlarge)

Once you've done that, the sorted favorites
show up automatically
on your Grace Internet radio(s). (By the way, you can also play these Internet radio favorites directly on your iPod Touch or iPhone using a $5 Grace Internet Radio app
available from the iPhone Store
.)
Playing Pandora streams on the Solo…
Locating, selecting, and playing Pandora apps on the Solo using its iPod Touch app is a snap, as these screenshots show:







Pandora on the Solo
Playing Live365 streams on the Solo…




Live385 on the Solo
Locating and playing podcasts on the Solo…



Podcasts on the Solo
Streaming local media via UPnP
As currently implemented, the Solo's media player function lets you play "unprotected audio files (AAC, AIFF, MP3, RM, WAV, WMA) and play lists (M3U) stored on a networked PC or Apple [and] has been verified to work with Windows 2000 and Windows XP, and Apple OSX," according to the device's user guide.
My problem with this is that I don't want keep a PC running simply to play my audio library over my whole-house audio system. I'd rather stream via UPnP from a low-power networked media server appliance, such as my PogoPlug or Popcorn Hour A-110, at the cost of a few Watts of power (the A-110 turns on when accessed via UPnP and goes back to sleep after it's no longer being accessed).
Although I wasn't able to get the Solo to stream from these gadgets using its iPod Touch app, built-in buttons and display, or dedicated IR-remote, I did achieve limited success with the PlugPlayer iPhone app, available for about five dollars from the iTunes Store.
Playing UPnP streams on the Solo…
The screenshots below show how the PlugPlayer iPod Touch app can be used for UPnP-streaming from the Popcorn Hour A-110 to the Solo:











Using PlugPlayer to stream MP3s via UPnP to the Solo
As seen in the screenshots above, first you select the Solo as a "Media Renderer" and the Popcorn Hour PCH-A110 as a "Media Server," and then you navigate to the desired file on the server and play it. I like to organize my MP3 library — which is primarily classical and jazz music — into a hierarchy of directories containing genres, composers, artists, and albums. Obviously, it would be helpful for the app to provide a function for saving UPnP favorites pointing directly to desired directories — or perhaps playlists — located on a particular media renderer.
I'm hoping Grace will provide more generic UPnP-streaming capabilities in future updates to the Solo's firmware and iPod Touch app. IMO, it's important to support the use of low-cost, low-power UPnP-capable NAS gadgets as local media sources.
Summing up the Solo
The Solo Internet Tuner has integrated smoothly into my whole-house audio system and is providing a great deal of listening pleasure.
While it doesn't seem as physically or functionally solid as the costlier Sonos ZonePlayer 90 (watch for a DeviceGuru review on that unit soon), it actually has some features Sonos would do well to emulate. These include:
The nifty integrated favorites function, which aggregates both radio and Pandora channels
Better UPnP support (Sonos seems to be philosophically opposed to supporting user-controlled UPnP streaming, but more on that in a future ZonePlayer 90 review)
The ability to organize Internet radio favorites online at Reciva.com
Much better power consumption — 2W active and 1W standby (one-sixth that of the power-hungry Sonos gear)
On the other hand…
The Solo's iPod Touch app is decent, but could be better, for example:

The asymmetry between the access to "My Stations" (for Internet radio favorites) and "My Pandora" (for Pandora favorites)
Why not allow editing favorites' names, making them more recognizable?

As noted earlier, the Solo needs a more generalized UPnP-streaming capability
The Solo occasionally gets stuck, requiring power cycling (not often enough to be a nuisance, though)
All in all, I heartily recommend getting a Solo — it's a great little device at a very affordable price. (As of this writing, it's available on Amazon for about $105.)