Last updated Apr 28, 2008 — 20689 views

Last time I wrote about the "Black Tower," I had just installed Vista and Kubuntu 7.10 in a dual-boot setup. When version 8.04 of Kubuntu ("Hardy Heron") hit the Web last week, I wasted no time upgrading to it.

Having been burned numerous times by premature upgrades to half-baked Linux updates, I downloaded the Kubuntu 8.04 Live CD iso and tested it on the Black Tower before launching into an install. All key functions — video, audio, disk access, Internet access, etc — seemed to work as desired, so I proceeded with preparations to build a nest for the Hardy Heron on the Black Tower.
Upgrade preps
I've performed a great many upgrades and switches between Linux distros over the years. To ward off disasters from intentional changes to my OS — as well as from dumb mistakes or system failures during normal operation — I've developed a few habits that have often saved me from lost-data-disaster.
I always create separate root (/) and home (/home) partitions. For one thing, that makes it easy to frequently backup the home partition, in order protect personal settings and data. It also makes it easy to perform periodic "fresh installs" when major OS updates show up (such as Hardy Heron) or on occasions when I'm moved to switch to another distribution.
In this case my plan was to perform a "fresh install" of Kubuntu 8.04, wiping away the entire previous OS (Kubuntu 7.10) while preserving my personal data and preference settings. To prepare for this, I began by performing a full system backup, which backs up my /home partition to the fileserver on my home LAN.
Next, I logged out of KDE (Menu > Log Out) and at KDM's login prompt used Ctl-Alt-F2 to open up a console shell. Once there, I logged in as root (most Kubuntu users would do this by typing "sudo bash" to get a root shell, or by prepending "sudo" to subsequent console commands).
Then, I went into /home and renamed my personal home directory from "rick" to "rick-old." The purpose of this was to keep all my personal settings and data (which were previously located in /home/rick/) in a separate directory so that Kubuntu 8.04 could create a fresh "rick" directory with the new OS version's default settings, unencumbered by any of my own customizations and without trouncing on any of my precious data — always a good idea with a major new OS release.
One last — and very important — step of preparation was to carefully record the system's current hard drive setup (see table below). To gather data, I used both "df" and "fdisk." In fdisk, I used its menu's "p" function to display the primary hard drive's current partitioning information. The drive was partitioned as follows:
| Partition | Size | Type | Assignment |
| --- | --- | --- | --- |
| /dev/sda1 | 369 GB | NTFS – type 7 | unassigned |
| /dev/sda2 | 2 GB | SWAP – type 82 | swap |
| /dev/sda3 | 9.2 GB | EXT3 – type 83 | / |
| /dev/sda4 | 86 GB | EXT3 – type 83 | /home |
Now it was time to proceed with the installation process. While still in the root shell, I inserted the Kubuntu 8.04 Live CD into the Black Tower's optical drive and rebooted by typing "reboot" on the command line.
Installing Kubuntu 8.04
After a couple of minutes the Live CD finished loading and the system booted up into a nearly empty KDE desktop, as pictured below.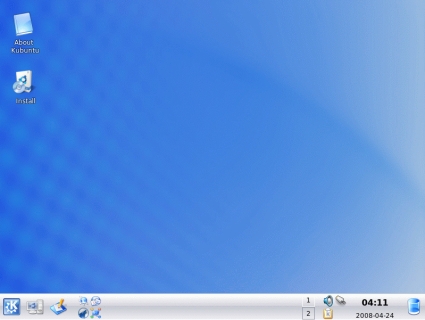 Kubuntu 8.04 Live CD desktop with "install" icon
(Click image to enlarge)

An icon on the desktop invites users to install the OS permanently on their system's hard drive. I clicked it to begin the process. After responding to a few simple prompts (timezone, language, keyboard), I came to the most critical step: partitioning the system's primary hard drive.
Here, I selected the "manual" option rather than the "guided" alternative, since my plan was to do a fresh install but preserve my /home partition. Accordingly, I used the "edit" options provided in the subsequent prompts and screens to designate…
/dev/sda1 — no changes: unallocated; no, don't format it!
/dev/sda2 — edited to: type ext3; labeled /; yes, please format it
/dev/sda3 — no changes: swap; mounted at swap; yes, please format it
/defv/sda4 — edited to: type ext3; mounted at /home; no, don't format it!
Once the above were set, I clicked the button to continue with the installation and, following a request for my user name, login password, and a name for the computer, the system began the disk partitioning and software installation process. This took about 20-30 minutes. When the software installation process was complete, the system prompted me to remove the CD and hit the Enter key to reboot.
On reboot, the Black Tower booted up its fresh, new, Hardy Heron OS without any hitches. Its KDE desktop looked like this — before (upper screenshot), and after (lower screenshot) my post-installation makeover: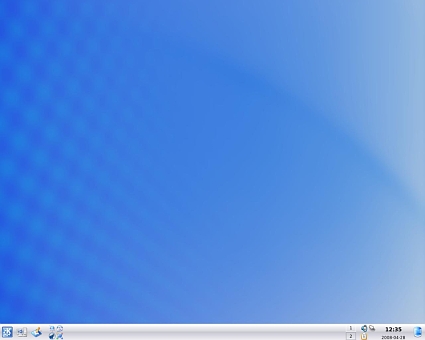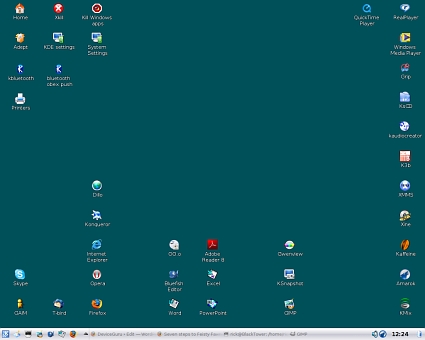 The Black Tower's desktop following the install (upper image), and following my full configuration (lower image)
(Click each image to enlarge)

The lower image above shows the Black Tower's desktop following the couple of hours I spent setting KDE the way I like it and adding all my favorite software. Kubuntu's Adept software installation tool (Menu > Add/Remove Programs) provides the easiest way to get most of the software needed.
Here are a few points of interest:
My favorite apps that aren't installed by default in Kubuntu 8.04 include: firefox, thunderbird, gaim (pidgin), gimp, kscd, bluefish, dillo, kaudiocreator, xine-ui, msttcorefonts, adobereader-enu, and flashplugin-nonfree.

Sadly, Automatix2, which I've raved about in the past, is no longer available. This didn't cause much of a problem, as most of my favorite applications are now available from the Ubuntu Hardy repositories. Programs that I had to (or chose to) download and install "manually" included: Skype's VoIP/IM tool; Sun's Java plugin; Adobe's flash browser plugin; Opera's version 9.50-beta browser (see comment below), and Real's RealPlayer.

The latest version of Firefox currently available from Kubuntu 8.04 repositories is beta version 3.0b5. It has a number of nice enhancements that can be noticed in its preferences screens and dialogs, as well as a few improvements to its overall UI (user interface). One problem I noticed is that when multiple tabs are in use, the currently selected tab's "x" (used for closing a tab) does not show up in red as it does on Firefox 2. Version 3 provides a nice. One particularly welcome enhancement is that the first time you use File > Send Link, to email a Web page's URL, the Firefox prompts you to tell it what email program you want it to use to send the link; in my case, that's /usr/bin/thunderbird.

The latest released version of Opera as of this writing (version 9.27) seems incapable of playing YouTube videos. To remedy this, I instead downloaded and installed a preview of version 9.50 (9.50 Beta 2) from Opera's download area. That one works great!
First impressions
Overall, I've found Kubuntu 8.04 to be a solid, lean Linux desktop with a polished look and feel, backed by well-stocked, reliable software repositories (stocked with around 25,000 packages). All the basics are present, including a KDE 3.5.9 desktop, graphics and multimedia utilities and support, a browsers, email, and messaging clients, games, and the incomparable OpenOffice office software suite. Additionally, the OS features easy software installation and updates thanks to its debian apt-get package architecture and graphical Adept package management front end.
On the other hand, I'm sad to witness the disappearance of Automatix. This free, user-friendly download service provided an optional software installation tool that I think the Ubuntu community — and Linux newcomers in general — could really benefit from. Automatix, as its name implies, automated the downloading and installation of a cleverly-selected assortment of highly useful software packages (multimedia codecs, browser plugins, VoIP messaging, etc.), taking care of various illusive and often frustrating post-download system configuration steps.
Throughout my eight years of experience with Linux, I've consistently found the final 10 percent of the installation process — bits like getting fonts, browser plugins, and multimedia applications installed and configured as desired — to account for 90 percent of the headaches. What I like most about Ubuntu is that it has eliminated most of those post-install headaches. Prior to its demise, Automatix helped fill in the gaps naturally left by Ubuntu; hopefully something similar will come along to pick up the pieces from Automatix, and perhaps take the process even further.
In summary, the Ubuntu-family distributions — including my favorite, Kubuntu — have already become the most popular Linuxes among desktop PC users who are inclined to run Linux. With Hardy Heron's evolutionary enhancements and polish, the continuing march of the Penguins onto the world's desktops will be unstoppable!
[Note: Some of the screenshots above are courtesy of thecodingstudio.com. A full Kubuntu 8.04 (Hardy Heron) Live CD screenshot tour is available here.]