Last updated Oct 24, 2012 — 5172 views

With 10-inch Android tablets going for around twice the price of 7-inch devices, there ought to be a market opportunity for midsized tablets, positioned halfway between typical 7- and 10-inch tablet pricepoints, and offering most of the features of the 10-inch models. This appears to be the target of Lenovo's new IdeaPad A2109, a 9-inch tablet running Android 4.0. Does it hit the mark?

Lenovo rolled out its IdeaPad A2109 at the IFA show in Berlin last month, as the first member of a new "affordable" Android tablet series. It will be joined later this year by the A2107, a 7-inch model sharing many of the same features.
The A2109 is powered by a quad-core NVIDIA Tegra 3 processor, accompanied by 1GB RAM and 16GB flash storage memory. Other key features include a 9-inch diagonal 1280×800 pixel display, dual cameras, stereo speakers, WiFi, Bluetooth, GPS, and a beefy 6000 mAh battery. Lenovo says the tablet's "metal alloy roll cage" case was inspired by the company's iconic ThinkPad laptops, although it's hard to see any overt resemblance.

IdeaPad A2109 specs vs. the 7- and 10-inch competition
The table below compares the A2109's features and specs to those of its most prominent 7- and 10-inch Android tablet competitors.
| | | | |
| --- | --- | --- | --- |
| | Google Nexus 7 | Lenovo IdeaTab A2109 | Samsung Galaxy Tab 2 10.1 |
| Processor | 1.3GHz quad-core | 1.2GHz quad-core | 1GHz dual-core |
| RAM | 1GB | 1GB | 1GB |
| Internal flash | 8GB or 16GB | 16GB | 16GB |
| microSD flash exp. | no | no | yes |
| OS | Android 4.1 | Android 4.0 | Android 4.0 |
| Apps market | Google | Google | Google |
| Display resolution | 1280×800 | 1280×800 | 1280×800 |
| Display area | 22 in2 | 37 in2 | 46 in2 |
| Display brightness | ~ 400 nits | ~ 275 nits | ~ 450 nits |
| Front camera | 1.2MP | 1.3MP | 0.3MP |
| Rear camera | no | 3MP | 3MP |
| Video output | no | yes | yes |
| WiFi | yes | yes | yes |
| Bluetooth | yes | yes | yes |
| GPS | yes | yes | yes |
| Battery | 4325 mAh | 6000 mAh | 7000 mAh |
| Continuous Netflix (full brightness) | ~ 5 hrs | ~ 5 hrs | ~ 5 hrs |
| Size (in.) | 7.8 x 4.7 x 0.4 | 9.3 x 6.5 x 0.5 | 10.1 x 6.9 x 0.4 |
| Weight | 12 oz | 20 oz | 21 oz |
| Price | $199 (8GB) $249 (16GB) | $299 (16GB) | $399 (16GB) |
From the data in the above table, it's clear that as the tablet sizes get larger, so do their battery capacity, weight, and cost. The graphic below gives a sense of the relative size of the three tablets' form-factors.
Comparing three Android tablet form-factors
Note that although the Galaxy Tab 2 10.1's screen area is about one-fourth larger than the IdeaPad A2109's, the Galaxy Tab weighs a mere 1 ounce (5 percent) more than the IdeaPad does. I'll have more to say about that shortly, but first let's check out the Lenovo tablet's user interface, homescreens, and apps.

Using the IdeaPad A2109
Given the IdeaPad 2109 runs a standard Android 4.0 OS and supports Google's full set of Android apps and services, there isn't much unique from a software perspective, about what you get on the device. The screenshots below showcase the A2109's default user interface, homescreens, folder function, and pre-installed apps.

Default homescreens…










(click images to enlarge)
Default folder function…







(click images to enlarge)
Preinstalled Android apps…



(click images to enlarge)
Default widgets…







(click images to enlarge)
Tailoring the tablet
As with all Android tablets, the A2109 is highly customizable. You're free to modify the look and feel to a large extent, including adding or substituting functionality in numerous areas — without having to resort to "rooting" the device.
For example, you can install apps from sources other than Google's Android apps market, such as Amazon's Android app store, or "sideload" apps obtained from your other Android devices. You can also add alternative homescreen environments, folder functions, onscreen keyboards, and much, much more.
The screenshots below demonstrate the results of several mods I made to the A2109. The customizations included…
Installing about 200 apps, mostly sideloaded from my growing stash of Android app "apks"
Installing the Android Folder Organizer app (one of my all-time favs) and using it to create 15 folders on the primary homescreen, making it easy to launch any app with one or two taps
Installing my favorite alternative keyboard, the Hacker's Keyboard; another alternative keyboard, the GO Keyboard, comes preinstalled on the A2109 and is also shown below, as is Android's excellent Google Voice Typing function
Tweaked homescreen and lockscreen…
The screenshot below shows the A2109's customized homescreen, containing a combination of app launchers and folders (generated via the Folder Organizer app). Note: I use mixed-case names for app launchers, and all-upper-case names for folders.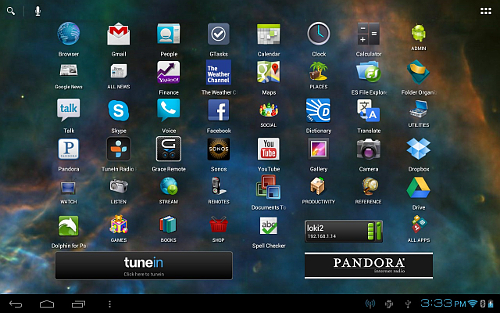 (click image to enlarge)
The pair of screenshots below show the tablet's customized lockscreen; I opted for the pattern-based unlock option in the tablet's configuration settings: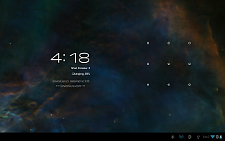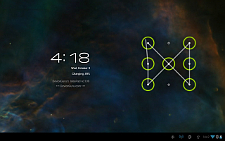 (click images to enlarge)
Alternative folder function…
These screenshots show the contents of the 15 folders (generated via the Folder Organizer app), which I placed on the A2109's homescreen:





















(click images to enlarge)
Alternative text entry methods…
The screenshots below demonstrate various ways to enter text on the A2109, including…
The standard Android keyboard
The GO Keyboard, which offers a nifty thumb-typing mode, among other interesting features
The Hacker's Keyboard, my personal favorite
"Google Voice Typing," which works amazingly well, but requires an active broadband data connection













(click images to enlarge)

Although Google Voice Typing works extremely well, the most efficient way to get serious work done on this or any tablet is with a good quality Bluetooth keyboard, such as those available from Logitech and Zagg.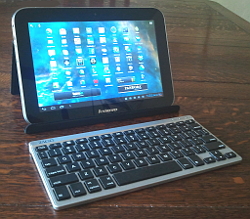 IdeaPad A2109 with Logitech (left) & Zagg Flex (right) keyboards
(click images to enlarge)

Strengths & weaknesses
From its specs, it's clear that Lenovo's IdeaPad A2109 implements virtually all the features and functions we've come to expect from current-generation Android tablets. However, several concerns are worth mentioning.
Strengths…

Quad-core 1.2 GHz processor
Rear camera
Hardware GPS
Video output port (micro-HDMI)
Wifi-direct support
Beefy 6000 mAh battery
Backed by Lenovo
Weaknesses…

Anemic display brightness
Too large/heavy/slippery for comfortable one-handed use
Overly recessed power button
One issue is that the A2109 is surprisingly heavy for its size. Due to its 20-ounce weight (just 1 ounce shy of the 10-inch Galaxy Tab 2 10.1), it's quickly fatiguing to hold the device in one hand when the tablet is positioned in portrait mode, as is commonly done with 7-inch tablets and eReaders. On top of that, the tablet's rather-slippery metal alloy casing, which tapers at the edges (see edgewise photos below), makes hanging on to it with one hand a risky business. This is based on my experience, of course; I have medium-sized hands — your mileage may vary.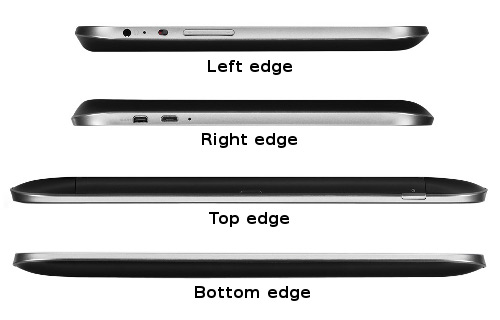 Edge views of the IdeaPad A2109
(click image to enlarge)

A greater concern is the A2109's anemic screen brightness relative to other current-generation tablets such as the Galaxy Tab 2, Nexus 7, Kindle Fire, and iPad. Specifically, the A2109's screen delivers 260-290 nits of output luminence, while the Galaxy Tab 2 10.1's display is rated at 450 nits. This is not to say the A2109 isn't fully usable, provided you don't need to use it in direct sunlight. However, placed beside a Galaxy Tab 2, Nexus 7, or Kindle Fire, the difference is remarkable: the A2109's display truly seems about half as bright.

Conclusion
So, do we really need midsized Android tablets, positioned between today's popular 7- and 10-inch configurations?
Assuming typical pricepoints of $200-250, $300-350, and $400-450 for 7-, 9-, and 10-inch models, based on my experience with the IdeaPad A2109 I'd say the answer is "yes." But please, Lenovo, upgrade that display!
For further details, visit the IdeaPad A2109's product page on Lenovo's website.


Be sure to check out DeviceGuru's continually updated Android tablet comparisons: