Last updated Nov 14, 2012 — 4759 views


Although Samsung's thin, lightweight Galaxy Tab 10.1 tablets have dominated the 10-inch Android tablet market for the past year-and-a-half, they're about to face some stiff competition from new devices from Lenovo and Google.


I spent the past several weeks getting to know Lenovo's modestly priced IdeaTab S2110, which optionally morphs into an interesting laptop-like hybrid. How does it compare?

Introducing the IdeaTab S2110
The S2110 runs Android 4.0 on a Qualcomm Snapdragon APQ8060A, which integrates dual 1.5 GHz ARM Krait cores, backed by 1GB RAM and 16GB or 32GB of flash memory. Other key features include a bright, 10.1-inch diagonal 1280×800-pixel IPS (in-plane switching) display, dual cameras, stereo speakers, WiFi, Bluetooth, and a 6320 mAh battery.
Physically, the IdeaTab S2110 is one of the thinnest, lightest 10-inch tablets available today. It's also one of the most comfortable to hold, thanks to its textured non-slippery rear surface. Also welcome, are the use of industry-standard micro-USB and micro-HDMI connectors for its USB/power and video interfaces.
The company plans to offer 3G versions of the S2110, but is not ready to announce which wireless carriers will offer it. The higher-priced 3G models will also add AGPS to the tablet's feature set.

IdeaTab S2110 specs in perspective
To find out how the IdeaTab S2110 stacks up against Samsung's Galaxy Tab 2 10.1 and Galaxy Note 10.1 tablets, and Google's upcoming Nexus 10 device, we tabulated all four 10-inch tablets' key specs.

Comparison of 10-inch Android Tablet Specs
Samsung Galaxy Tab 2 10.1
Lenovo IdeaTab S2110
Google Nexus 10
Samsung Galaxy Note 10.1
Processor
1.0GHz dual-core
1.5GHz dual-core
1.7GHz dual-core
1.4GHz quad-core
RAM
1GB
1GB
2GB
2GB
Internal flash
16GB
16GB or 32GB
16GB or 32GB
16/32/64GB
microSD expansion
yes
no
no
yes
OS
Android 4.0
Android 4.0
Android 4.2
Android 4.0
Apps market
Google
Google
Google
Google
Display
1280×800
1280×800
2560×1600
1280×800
Front camera
0.3MP
1.3MP
1.9MP
1.9MP
Rear camera
3MP
5MP
5MP
5MP
Video output
yes
yes
yes
yes
WiFi
yes
yes
yes
yes
Bluetooth
v3.0
v4.0
v3.0
v4.0
GPS
yes
no
yes
yes
Battery
7000 mAh
6320 mAh
9000 mAh
7000 mAh
Size (in.)
10.1 x 6.9 x 0.4
10.2 x 7.0 x 0.4
10.4 x 7.0 x 0.4
10.3 x 7.1 x 0.4
Weight
21 oz
21 oz
21 oz
21 oz
Price (*)
$350 (16GB)
$340 (16GB)
$??? (32GB)
$400 (16GB)
$500 (32GB)
$500 (16GB)
$550 (32GB)
(* Lenovo and Samsung prices were retrieved from Amazon.com on Dec. 11, 2012)
As seen in the above table, the IdeaTab S2110 and Galaxy Tab 2 10.1 run neck-and-neck from a features and specs perspective. Here's a quick assessment of their relative strengths…
IdeaTab S2110 advantages:

50% faster processor
Higher resolution front and rear cameras
Industry standard USB/power and video connections
Galaxy Tab 2 10.1 advantages:

Hardware GPS
microSD flash expansion slot
10% beefier battery
Clearly, there's much in favor of either of those modestly priced 10-inch tablets! Let's take a deeper look at what the S2110 can do.

Exploring the IdeaTab S2110
Since the IdeaTab 2110 runs a standard Android 4.0 OS and supports the full set of Google services and Android apps, not much about it is unique from a user interface or software perspective.
The screenshots below show the S2110's out-of-box user interface, including its default homescreens, apps, widgets, and an unusual widget-based folder function.

IdeaTab 2110 out-of-box homescreens







(click images to enlarge)

The S2110's default configuration includes a somewhat half-baked, widget-based homescreen folder feature, which you can see in the screenshot repeated at the right (click to enlarge).
This folder function is based on a set of six prenamed folder widgets (Business, Games, Life, Media, Tools, and Social), which you can place on any of the tablet's homescreens. Each folder widget can hold up to 12 app-launchers of your choice, but there's no way to rename the folders or create additional ones, and you can't put bookmarks or other 1×1 widgets in the folders — just app-launchers. All these constraints render it a relatively useless piece of eye candy.
Thankfully, the S2110 also includes the substantially more useful Android 4.x folder function, which is demonstrated in the screenshots below. This one lets you create as many folders as you like, name them any way you want, and load them with up to 48 items, which can be any combination of app-launchers and bookmarks.

IdeaTab S2110 Android 4.x folder function










(click images to enlarge)
Despite the greater flexiblity of the more useful standard Android 4.x folder function shown above, I much prefer a third party folder app, which I'll demonstrate shortly.
Now let's take a look at the apps and widgets that come preinstalled on the S2110:

Preinstalled Android apps




(click images to enlarge)
In addition to the usual Google Android apps suite (Mail, Calendar, Contacts, Maps, YouTube, etc.), there are a few nice-to-haves, such as Skype and ES File Explorer, but nothing you can't easily download yourself from the Google Play Android apps market. One exception is the unlocked version of Documents to Go (a $15 value), with which you can create and edit MS Word-, Excel-, and PowerPoint-compatible files. More about that app, later.
Next stop on our S2110 tour is a quick look at the tablet's default widget set:

IdeaTab S2110 out-of-box widgets








(click images to enlarge)
In addition to the large folder widgets, which we've already discussed, there are three quick-setting widgets for brightness, WiFi, and Bluetooth, as wall as a fairly typical array of widgets for weather, time, calendar, email, contacts, bookmarks, playing music and videos, and more.
Personally, I'm very sparing in my use of widgets, preferring to configure a single homescreen from which I can launch any app or web-bookmark with one or two taps of the screen. Which brings us to…

Customizing the tablet
As with all Android tablets, you're free to modify the look, feel, and functionality of the S2110 in many ways without having to resort to "rooting" it (a process akin to "jailbreaking" iOS devices).
After powering up the tablet and going through the initial setup process, the first things I did were to change the tablet's homescreen wallpaper and add several system tweaking and management apps. The screenshots below show the results of…
Installing about 200 apps, mostly sideloaded from my growing stash of Android app "apks".
Installing the Android Folder Organizer app (one of my all-time favs) and using it to create 15 folders on the primary homescreen, making it easy to launch any app or browser-bookmark with one or two screen taps.
Installing my favorite alternative keyboard, the Hacker's Keyboard. Note: another alternative keyboard, the GO Keyboard, comes preinstalled on the S2110 and is also shown below, as is Android's excellent Google Voice Typing function.
These screenshots show the tablet's customized lockscreen; note the modified wallpaper and the use of Android's pattern-unlock option:

Customized lockscreen with pattern-unlock



(click image to enlarge)
These screenshots show the tablet's customized homescreen (top image), plus Android 4.0's popup status panes (bottom images):

Customized homescreen and pop-up status pane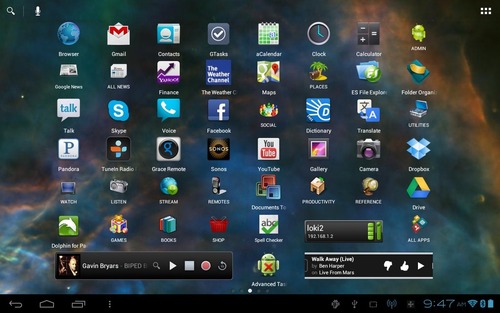 Now let's look at the user-installed Folder Organizer app, which provides more extensive features and flexibility than the standard Android 4.x folder function. Using it, you can create customized folders, app launchers, and bookmarks, and assign a custom icon image to each.
My customized S2110 has a single homescreen (shown above), which contains a combination 15 folders, 47 app launchers, and three widgets. This set of screenshots shows the innards of my 15 homescreen folders:

Contents of the homescreen's 15 folders














(click images to enlarge)
Keyboard alternatives
Being a 10-inch tablet, it's possible to type fairly accurately using the S2110's standard Android on-screen keyboard. Still, for many users — myself included — typing with an on-screen, virtual keyboard doesn't begin to approach the efficiency of typing with a physical keyboard.
Although Google Voice Typing works well on the S2110 and can go a long way toward speeding the process of entering large amounts of text, the best way to increase the efficiency of using any tablet for work purposes is to team it up with a decent-quality Bluetooth keyboard.
Accordingly, I tested two popular Bluetooth keyboards with the IdeaTab S2110: the Logitech Android keyboard, and the Zagg ZaggKeys Flex (pictured below). Both worked well.

Using the IdeaTab S2110 with Logitech's Android keyboard (left) and Zagg's ZaggKeys Flex (right)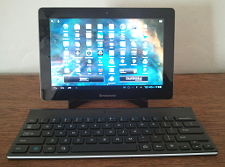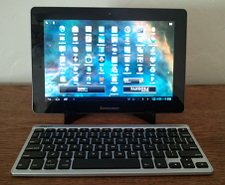 (click images to enlarge)
An intriguing alternative to adding a Bluetooth keyboard, is the IdeaTab S2110's own optional keyboard/dock accessory, which provides the following added features:
Notebook keyboard size and feel
A full row of tablet-specific function keys
Glidepad cursor navigation (with enable/disable)
3-in-one card reader
2 full-sized USB 2.0 ports
Micro-USB charging port
Secondary 6320mAh battery
Mates with the S2110 to form a foldable assembly
Snapped into its optional keyboard/dock, the IdeaTab S2110 becomes a laptop-like hybrid



(click images to enlarge)
Currently the S2110's keyboard/dock is only available as part of a tablet bundle, at around a $90 premium compared with buying the tablet alone. Although this makes it an expensive alternative to a normal Bluetooth keyboard, it's well worth considering if you value the extra features listed above. I've used it, and was very impressed with its quality and utility.
On the downside, unlike the Bluetooth keyboards mentioned earlier, which are usable with multiple models of Android and iOS tablets, the S2110's keyboard/dock is only likely to be usable with the S2110 (and possibly its successors).

Virtual keyboard alternatives
Numerous user-installable virtual keyboards can be downloaded from the Android apps market, letting you substitute your favorite keyboard. Let's take a quick look at two alternatives, as well as the tablet's option of "voice typing."
The screenshots below demonstrate four text input alternatives:
The standard Android keyboard.
The GO Keyboard, which offers a nifty thumb-typing mode, among other interesting features.
"Google Voice Typing," which works amazingly well, but requires an active broadband data connection.
Three virtual keyboards, plus Google Voice Typing




(click images to enlarge)
Adding productivity apps
To see how well the IdeaTab S2110 performed work-related tasks, I tested several office suites and other productivity apps on the device. These included Documents to GO, Office Suite Pro, QuickOffice Pro HD, Kingsoft Office, LogMeIn, SketchBook Mobile, and AutoCAD WS.
All of the MS Office-style apps I tested worked, to one extent or another, although the features implemented varied widely with some, such as Documents to Go, offering only minimal capabilities. The screenshots below give a few glimpses of these apps running on the S2110.

Running productivity apps on the IdeaTab S2110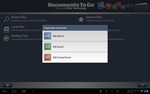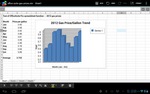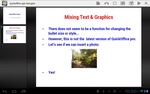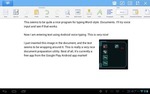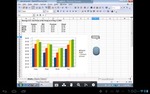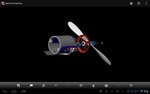 (click images to enlarge)
What else can it do?
Actually, a more appropriate question would be "What can't it do?"
Without getting swept away with the vastness of all the ways you can enjoy an Android tablet these days, here's a brief screenshot montage showing some leisure-oriented apps running on the S2110:

Games, & ebooks, & videos, oh my!













(click images to enlarge)
For more details, and more than 500 screenshots showing these and numerous other apps running on the Lenovo IdeaTab S2110, have a look at DeviceGuru's extensive IdeaTab S2110 screenshot tour. You can use the table below for quick access to various categories of screenshots. But don't forget to return here for this review's concluding comments.

IdeaTab S2110 Screenshot Tour Index
Click each title to jump to that section of our IdeaTab S2110 Screenshot Tour:
The bottom line
Lenovo has done a great job with the design of its IdeaTab S2110. The thin, lightweight, moderately priced 10-inch Android tablet is suitable for both work and leisure mobile computing purposes. It competes favorably with Samsung's Galaxy Tab 2 10.1, providing a 50% faster CPU. Additionally, the optional battery-boosting keyboard/dock accessory morphs it into a laptop-like hybrid device, which you can conveniently snap together and apart to fulfill the need of the moment.
Here's a quick summary of its main pros and cons:
Pros:

1.5 GHz dual-core processor
Bright, wide-angle IPS (in-plane switching) display
Video output port (micro-HDMI)
5MP rear camera with LED flash; 1.3MB front camera
Thin and lightweight with non-slippery textured case
Optional snap-on keyboard/dock with secondary battery

Cons:

No hardware GPS (except on 3G model)
No microSD expansion (except via keyboard/dock)
Overall, I've found it to be a pleasure to use! Lenovo's 10-inch IdeaTab S2110 Android tablet is loaded with features and modestly priced. Plus, an optional battery-boosting keyboard/dock morphs it into a laptop-like hybrid with multiple use-cases.
Further details on the IdeaTab S2110 are available on Lenovo's website, here. As of this posting, the tablet is available for about $300 (with 16GB flash) on Amazon. Buying it with its optional keyboard/dock, which also double's the combination's battery capacity, adds $80-90.

Be sure to check out DeviceGuru's continually updated Android tablet comparisons: