Last updated Aug 20, 2010 — 14114 views


In order to get a sense of the popularity of various Linux distributions over the past several years, we entered their names into Google's search insights tool and grabbed images of the resulting graphs. The graphs display some fascinating trends and bode well for the future of Linux.

Graphs tracing the popularity of 14 of the most prominent Linux distributions appear below, along with our observations and comments. Bear in mind that the graphs do not represent distribution sales, downloads, or installed base; rather, the data is based entirely on the number of Google searches containing each distribution's name per unit time as reported by Google's search insights tool.
Top-tier distros: Debian, SUSE, Fedora, Mandriva, Ubuntu
The first graph shows the long-term trends of five mature, top-tier distributions: Debian, SUSE, Fedora, Mandriva, and Ubuntu. The meteoric rise of Ubuntu, which parallels the gradual decline of the more mature major Linux distributions, dominates the picture. Additional comments follow the graph.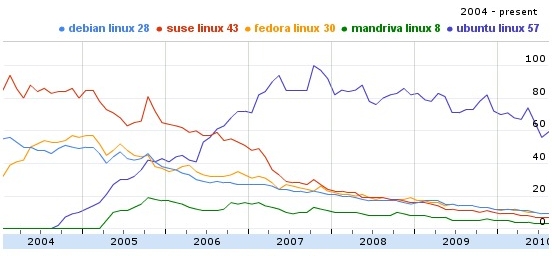 (source data)

Some further observations:
SUSE's high popular at the start of the period is largely due to the acquisition of SUSE by Novell in November of 2003.
What appears to be a rapid rise in Mandriva's fortunes in 2005 actually is due to it having been a renamed version of Mandrake.
Fedora's initially high rate of growth is due to it having been spawned in late 2003 as the community-supported basis of Red Hat's Linux distribution.
It's fascinating to observe how rapidly Ubuntu — essentially a spiffed-up, user-friendly version of Debian — could break away from the pack to rapidly attain worldwide prominence. In parallel with that phenomenon, the four most popular Linux distributions at the start of the graph's time period — Debian, Fedora, SUSE, and Mandriva — have exhibited a gradual, steady decline along a common trajectory. Ubuntu's own peak may have occurred in mid-2008, roughly four years after its launch. Remember: the graph does not reflect installed base, or even new installs — it's simply a reflection of keyword googling levels.
Shortly, we'll get a glimpse of what seems likely to be the next major Linux phenomenon.
Mature 2nd-tier distros
Here we plot the popularity trends for searches relating to Slackware, Gentoo, Arch, and CentOS, with Mandriva as a reference. CentOS, a free clone of Red Hat Linux launched in 2004, benefited immediately from the existing popularity of Red Hat's commercial Linux distribution along with that of the free Fedora project and, as seen, ends up at the head of this pack.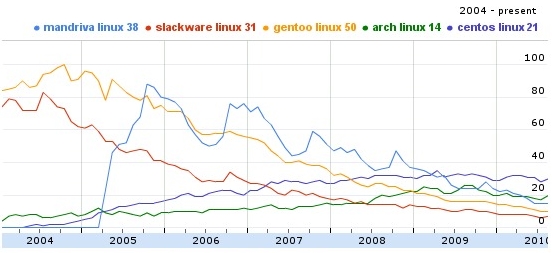 (source data)

Newer 2nd-tier distros
Next, we take a look at the popularity trends of PCLinuxOS, Puppy, Sabayon, and Linux Mint, with CentOS as a reference. Note how Linux Mint rises up above this group — apparently following in the footsteps of Ubuntu, on which it is based.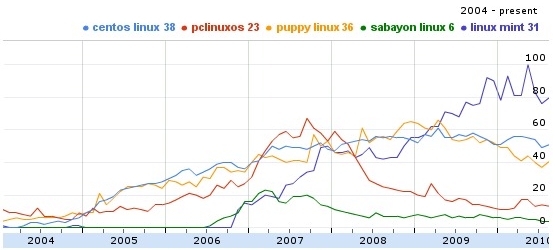 (source data)

Invasion of the androids
Last — but far from least — we plot the relative search popularities of Linux, Ubuntu, and Android. What's noteworthy here, is that Android is the first Linux spin to take on a life of its own within consumer devices. It's certainly not the first use of Linux as an OS for devices; what's unique, is that it's the first branded Linux-based OS to be widely marketed to consumers.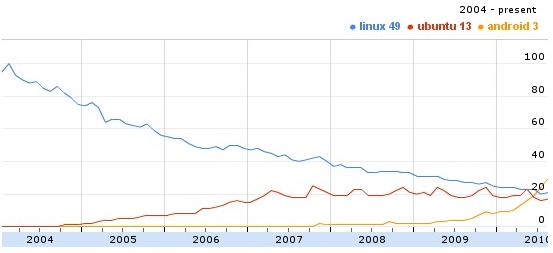 (source data)

Many of the Linux distributions listed in this post are briefly described in
this recent DeviceGuru article
. For continually-updated distribution descriptions, ranking, and news, visit
DistroWatch
.