Last updated Aug 23, 2008 — 3259 views

The emerging sub-notebook category of "netbooks" — such as the Asus Eee PC — will achieve shipments of up to 50 million units annually by 2012, Gartner research predicts.

In the near term, the market analyst firm expects 5.2 million netbooks to ship this year, increasing to 8 million units in 2009.
Gartner defines "mini-notebooks" — more commonly called "netbooks" by Intel and others — as "mobile computing devices with a screen size of 5 inches to 10 inches that run a full version of client operating system (OS), such as Windows XP or Linux." The category specifically does not include "mobile Internet devices" (aka MIDs), which are smaller and more limited-functionality devices having 3- to 5-inch screens.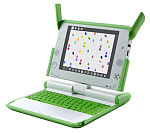 Gartner notes that the netbook device category appears to have evolved from a pair of low-cost, educationally-oriented laptops introduced over the past couple of years: the OLPC's XO (pictured at right), and Intel's Classmate PC.
Intel, a strong advocate of netbooks, hopes the new device category will create strong demand for its recently introduced low-power, 45nm Atom processor family. In June 2007, Intel joined with Asus to announce the first general-purpose netbook, the Asus Eee PC. These pioneering netbooks, priced around $200 with 7-inch displays ($300 with 10-inchers), had sold about a third of a million units by March of this year, according to Intel.
Subsequent to the Eee PC's introduction, Asus has greatly expanded its netbook line, and competing netbooks are now available from Acer, Everex, HP,MSI, Sylvania, and others.







Representative netbooks from Acer, Asus, Everex, HP, MSI, and Sylvania
(Click each image to enlarge)

Netbook specifications naturally vary. A good example is seen in the following list taken from Sylvania's recently announced G Netbook Meso, although some offerings substitute lower capacity flash for the Sylvania netbook's HDD.
Processor/chipset:

Intel Atom, clocked at 1.6GHz
Intel 945 Express Graphics chipset

RAM — 512MB or 1GB
Storage — 80GB HDD
Display — 8.9-inch LCD; 1024 x 600 resolution; LED backlit
WLAN/LAN:

802.11 b/g WiFi
10/100 Mbps Ethernet

Audio — stereo speakers; audio in/out jacks
Integrated webcam
Other I/O ports — VGA port; 3x USB 2.0
Expansion card slots — multi-card reader
Physical:

Dimensions — 9 x 7 x 1.25 inches
Weight — 2.2 pounds

OS options:

Ubuntu Netbook Remix
Windows XP Home Edition
Factors driving market demand
According to Gartner research director Annette Jump, "The demand for mini-notebooks will be driven by several factors: by their small form factor and small screen, their light weight, their price, their ease of use and their basic, but sufficient, PC functionality."
"Mini-notebooks are likely to attract a variety of users with different usage scenarios: content consumption, Internet browsing, e-mail, instant messaging (IM), keeping in touch with friends and family, storing and sharing pictures, and so on," adds Jump. "Potential users are likely to include both first-time buyers seeking a low-cost introductory PC as well as experienced users seeking a low-cost second or third PC for themselves or a relative."
Further details on the netbook market are contained in Gartner's new report, entitled "Forecast Scenarios for Mini-notebooks, Worldwide." Visit the company's website for more information.


For an interesting comparison of netbooks with two other small-form-factor device categories — UMPCs and MIDs — read this DeviceGuru article: