Last updated Feb 14, 2011 — 1261 views

Owners of D-Link's first-generation Boxee Box finally got what they were anxiously waiting for today: Netflix's video streaming service actually running on their devices. Although it's still somewhat buggy, DeviceGuru can confirm that the Boxee Box Netflix app does works well enough to browse, select, and watch videos.

Successive delays in providing Netflix support had some D-Link Boxee Box owners threatening to return their devices for a refund. D-Link and Boxee had long listed Netflix streaming as a key feature of the devices, but when the devices first shipped the companies said the support would not be available until the end of December. In early January, however, Boxee began adjusting users' expectations to an end of January Netflix availability. Then, as the end of January approached, Boxee made it known that the long awaited Netflix support would arrive within days.
Finally, today, Boxee Box owners were treated to the following screen when they fired up their devices: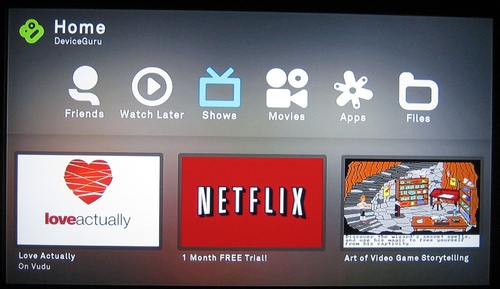 Boxee Box owners were greeted with this invitation to run Netflix on their devices today
(click image to enlarge)

"We are happy to announce that TV shows and movies streaming instantly from Netflix are now available on the Boxee Box by D-Link in the US and Canada," wrote CEO Avner Ronen in a post on Boxee's blog today.
"Netflix support was the most common request we had on our blog comments, forum posts, tweets, etc.," Ronen noted. "We heard you loud and clear. We were bummed that we could not make it happen earlier, but are very excited to have it out today."
Below are a few screenshots showing Netflix running on DeviceGuru's Boxee Box after updating the box's firmware to v1.0.4.17443, which was required prior to downloading the new Netflix app.

(click the thumbnails to view larger images)













(click the thumbnails to view larger images)

In addition to adding Netflix, the new Boxee firmware on the D-Link device appears to have introduced a fair number of the fixes and enhancements
urged by Boxee Box users
in a November 16 live chat with Boxee's CEO Avner Ronen. (DeviceGuru is still exploring the latest firmware, which just arrived today.)
Blame it on the DRM?
One challenge Boxee undoubtedly faced in developing the Netflix-streaming app for the D-Link Boxee Box was satisfying Netflix's stringent DRM (digital rights management) requirements. While Netflix's own Web-streaming service for Macs and Windows PCs relies on Microsoft's Silverlight plug-in, that approach is useless for consumer devices that run Linux — such as the D-Link Boxee Box — due to absence of Silverlight support for Linux.
Roku solved the DRM problem on its media player box by collaborating closely with Netflix on a DRM-compliant Linux driver for its hardware. However, not being an open-source development, the Roku driver never flowed outward for use on other Linux systems and devices, most likely due to being dependent on proprietary DRM-related hardware functions embedded within the Roku box's NXP system-on-chip processor.
For both companies, having a DRM solution capable of meeting Netflix's DRM requirements should be an asset, both for gaining revenue from licensing software to third parties and for having the ability to offer a low power, cost effective, Linux-based Internet A/V-streaming devices. In this regard, Roku recently tipped plans to license its technologies to other device makers, and Boxee has had third-party licensing as a key strategy (Viewsonic and Iomega are two devicemakers planning to use Boxee's software).
All this, and Vudu too
For Boxee Box owners wanting to watch more current films than what are available via Netflix's video streaming service, which tends to lag its DVD-supplied content by several years, the D-Link Boxee Box also offers an excellent Vudu pay-per-view app, as seen in the screenshot below.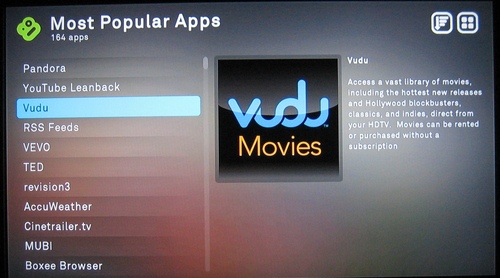 The Boxee Box also has a Vudu PPV app
(click image to enlarge)

Further info
Further details on the D-Link Boxee Box are available in our earlier coverage, as well as on D-Link's website.
Further information on the free, Boxee A/V streaming platform for OS X, Windows, and Linux PCs and the AppleTV STB is available on Boxee's website. From there, you can download the software free of charge. Maybe you'll use it to build your own Boxee Box.