Last updated Dec 25, 2012 — 24717 views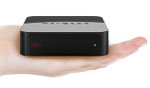 Netgear recently updated its "NeoTV" streaming media player family, which competes head-to-head with Roku's similar line of players. Compared to last year's NTV200, this year's NTV300 series is smaller, adds the ability to stream multimedia from USB files and DLNA shares, supports Intel's "WiDi" screen mirroring technology, and includes QWERTY text input buttons on the high-end model's remote, among other enhancements.


Introducing the NeoTV NTV300
The NTV300 is an evolutionary upgrade to Netgear's older NTV200. Like its predecessor, the NTV300 bears an uncanny resemblance to Roku's popular streaming media players. It's easy to configure and use, and delivers rock-solid hi-def HDMI video. Additionally, the higher-end models (NTV300S and NTV300SL) provide composite video and stereo audio outputs, making them usable with older TVs.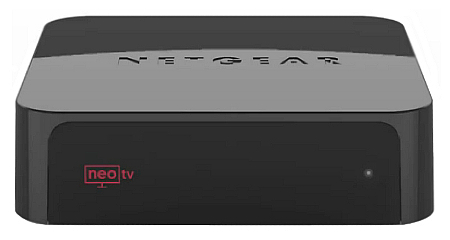 NTV300 front view
(click images to enlarge)

The table below summarizes the key features of Netgear's NeoTV NTV300 streaming media players, and compares them to the Roku 2 series devices. Noteworthy advantages of each are highlighted in green.

Table 1: NTV300 and Roku 2 key features compared
Netgear NeoTV
NTV300 series
Roku 2 series
Netflix
yes
yes
Hulu Plus
yes
yes
Amazon VOD
no
yes
Vudu
yes
yes
Cimema Now
yes
no
YouTube
yes
via 3rd-party app
Pandora
yes
yes
Web browsing
no
no
Plays from USB
yes *
yes *
Plays from network shares
DLNA *
via 3rd-party app
Media rendering svcs
DLNA *
no
Screen mirroring svcs
WiDi *
no
Official channels
160+
300+
Supports third-party channels
no
yes
Max resolution
1080p
1080p *
HDMI A/V out
yes
yes
Composite video out
yes *
yes
WiFi
yes
yes
Ethernet
yes
yes *
Remote interface
IR
IR or RF (depends on model)
Remote control text entry
pick-list or qwerty
(depends on model)
pick-list
Motion control for games
no
yes *
Active power
4W
4W or 1W
(depends on model)
Typical retail price
$50 – $80
$50 – $100
* Only available on higher-end models.
As shown in the table above, although the Roku 2 series players provide more content channels than Netgear's devices, including the availability of third-party apps, higher-end NTV300 models provide several key capabilities not available from Roku. These include DLNA media streaming and rendering, Intel WiDi display support (similar to Apple's iPad "screen mirroring"), and QWERTY keys on the rear of the high-end model's remote. A photo of the NTV300SL's QWERTY remote appears below.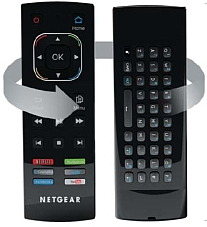 The NTV300SL's QWERTY remote speeds up YouTube searches
Connections and interfaces
The photo below shows the NTV300SL's rear panel, which includes power, Ethernet, HDMI A/V, and composite video and audio, plus a microSD card slot. Not shown is the USB socket located on its right side, through which it can stream multimedia from external USB drives. The device's microSD slot cannot be used as a multimedia source; it's reserved for other purposes.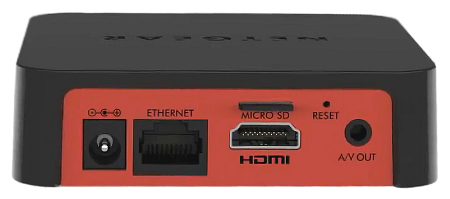 NTV300 rear view
(click images to enlarge)

The lower-cost NeoTV NTV300S and NTV300 models implement subsets of the NTV300SL's feature set, as detailed in Table 2, below.
Table 2: NTV300 feature differences by model
NTV300
"NeoTV"
NTV300S
"NeoTV Pro"
NTV300SL
"NeoTV Max"
1080p HDMI A/V output
yes
yes
yes
802.11a/b/g WiFi
yes
yes
yes
Wired Ethernet port
yes
yes
yes
Intel WiDi screen mirroring
no
yes
yes
300Mbps WiFi mode
no
yes
yes
Composite video & stereo audio ("any TV") output
no
yes
yes
Plays from USB
no
no
yes
Plays from DLNA
no
no
yes
QWERTY text input on remote back
no
no
yes
3D Vudu support
no
no
yes
MicroSD expansion slot
(not for multimedia)
no
no
yes
What's playing on the NTV300?
Like the NTV200, the NTV300 series can instantly stream thousands of movies and TV shows from multiple major rental and pay-per-view services, including Netflix, Hulu Plus, and Vudu, as well as from some lesser-known sources such as Cinema Now (an affiliate of Best Buy) and Film Fresh. There are also numerous free and ad-supported channels with movies, TV shows, and other videos. Additionally, the NTV300 includes a YouTube Leanback channel on all models, although the high-end NTV300SL's QWERTY remote makes searching on YouTube quicker and easier.
The device's 160+ content sources are grouped into two categories: 130 primary channels, accessed directly from the easy-to-navigate main menu system; and 30 additional content sources, accessed through the "Vudu Apps" meta-channel.
Using tabs along the left edge of the device's homescreen, you can browse the primary channels by popularity or by any of six category sections: Movies & TV; News & Education; Web TV; Music & Photos; Lifestyle; and Games. There's also a "My Channels" tab, which selects a configurable homescreen filled with user-selected favorite channels. The screenshots below show examples of the popularity, category, and customized "My Channels" screens. For greater detail, refer to our complete NTV300 Screenshot Tour, which is available here.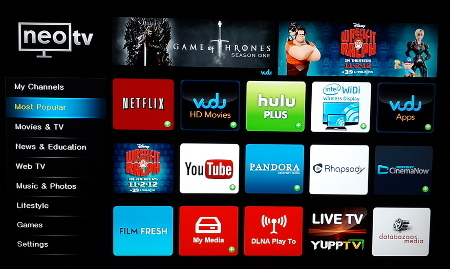 "Most Popular" channels screen
(click image to enlarge)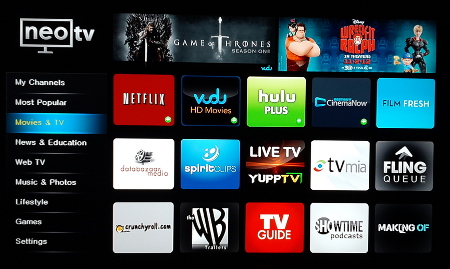 "Movies & TV" channels screen
(click image to enlarge)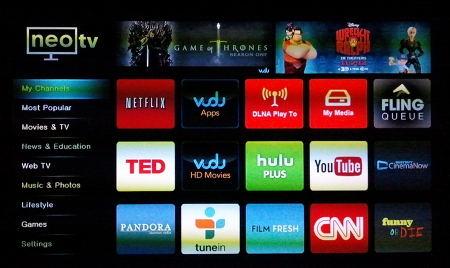 Customized "My Channels" screen
(click image to enlarge)

The NTV300's user-configurable "MyChannels" screen makes it convenient to quickly and easily access your favorite channels when you power up the box or press the remote control's Home button.

Vudu Apps meta-channel
As alluded to earlier, the NTV300's Vudu Apps channel provides 30 additional content sources, including news reports, TV shows, audio and video podcasts, and more. And like the device's primary channels function, you can browse the content sources in the Vudu Apps section by category and popularity. The Vudu Apps channel also includes a user-configurable favorites screen, as shown in the example screenshot below.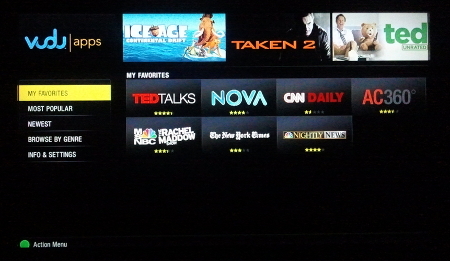 Vudu Apps favorites screen
(click image to enlarge)

Flinging content to the NTV300
By adding a Flingo bookmarklet to your desktop or mobile PC's browser, you can "fling" YouTube, Vimeo, and CrunchyRoll videos to a queue in the NTV300′s Flingo channel for watching on your TV. The screenshots below show us flinging videos to the NTV300′s Flingo Queue from Firefox on a PC, and then playing them from the NTV300′s Flingo app…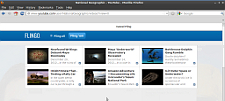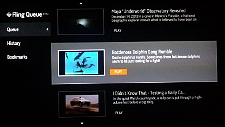 Flinging videos to the NTV300, and playing them on the TV
(click images to enlarge)

Currently, Flingo only supports videos from YouTube, Vimeo, and CrunchyRoll. Flingo is an open source project. To learn more about the technology behind Flingo, visit this page of Flingo's website. You can see more Flingo screenshots in the Flingo section of our NTV300 Screenshot Tour.

Streaming from DLNA and USB
One significant advantage of Netgear's high-end NTV300SL device is the inclusion of DLNA support, both for streaming multimedia from "DLNA Media Servers" on the local network, and for acting as a "DLNA Media Renderer" under the control of other DLNA-enabled devices, such as Android tablets. Additionally, the NTV300SL has support for playing multimedia from HDD or flash media connected to its USB port. The screenshots below show us streaming a movie from a DLNA server (a modified PogoPlug device) on our local network.




Streaming multimedia from DLNA and USB
(click images to enlarge)

The NTV300SL also has built-in DLNA Media Renderer functionality, which lets you stream content from a DLNA Media Server to the NTV300SL using a DLNA Control Point (e.g. an Android tablet) to manage the process. An example of doing that appears in our NTV300 Screenshot Tour, here.

Complete NTV300 screenshot tour
The screenshots available through the index below show various aspects of the NTV300's user interface and many of its most popular content channels. If you prefer, you can access the complete NTV300 screenshot tour here. But please be sure to return here, for a summary of the NTV300's strengths and weaknesses and other concluding comments.
NTV300 Screenshot Tour Index
The bottom line
This latest incarnation of Netgear's "NeoTV" product line is a worthy alternative to Roku's pioneering Roku players. Offered in a full-featured model plus two less expensive subset versions, the NTV300 series outperforms Roku in several notable respects.
Here's DeviceGuru's assessment of the NTV300 family's pros and cons:
Pros…
2D navigation with configurable homescreen favorites is far superior to Roku's 1D UI
All models provide 1080p HDMI video output
All models provide wired Ethernet networking
Includes a YouTube app
Top model plays media from USB files and network shares (via DLNA)
Top two models offer Intel WiDi display screen mirroring
Top model's remote control includes QWERTY keys
Cons…
NTV300's 4W power consumption is somewhat high in comparison to Roku 2's and Apple TV's 1W typicals
Having two types of channels — main channels and Vudu Apps channels — makes for an inconsistent UI (a minor beef)
A few things we'd like to see added…
More channels: Amazon VOD, Vimeo, Plex, PlayOn, Crackle, EPIX
LAN streaming sources: Windows (samba) shares; maybe also AFP
Airplay A/V streaming (lots of non-Apple devices have it now)
Third-party apps support?
In conclusion, the NTV300 represents an interesting alternative to Roku, with some useful features and capabilities that are unavailable from the Roku players. For further details, visit Netgear's streaming media player page.
You might also want to read this site's smackdown among five prominent streaming media players.