Last updated Feb 13, 2012 — 8923 views

Netgear recently introduced the NeoTV NTV200, a compact, low power, highly integrated, streaming media player that's quite similar to Roku's latest devices. Netgear clearly intends the NTV200 to capture some market share from the highly-popular Apple TV and Roku 2 streaming media players. Will it succeed?


Introducing the NTV200
Functionally, the NTV200 is much closer to Roku's Roku 2 line than to Apple's Apple TV device. As is the case with both the Roku and Apple streaming media players, the NTV200 is easy to setup and use and delivers rock-solid HDMI A/V signals to HDTVs.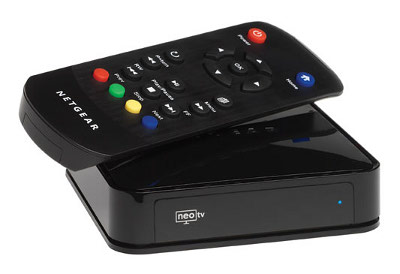 Netgear's NTV200 streaming media player
You can see the NTV200's rear panel connections for Ethernet, HDMI, S/PDIF, and DC power in the photo below.

NTV200 Rear panel connections
As expected, the NTV200 can instantly stream thousands of movies and TV shows from multiple major rental and pay-per-view media services, including Netflix, Hulu Plus, and Vudu, as well as from some lesser-known sources such as Cinema Now (an affiliate of Best Buy) and Film Fresh. There are also numerous free and ad-supported channels with movies, TV shows, and other videos, not least of which is YouTube Leanback (which, incidentally, now also offers pay-per-view movies).
Further details on the more-than-200 channels of content available on the Netgear NTV200 appear later in this review.

Features and specs: NTV200 vs Roku 2
Given the striking similarity between the NTV200 and Roku streaming media players, we've included data on both in the table of features and specifications below.
Features and Specs: NTV200 vs Roku 2
Netgear NTV200
Roku 2 LT
Roku 2 HD
Roku XD
Roku 2 XS
Netflix
yes
yes
Amazon VOD
no
yes
Vudu
yes
no
Hulu Plus
yes
yes
YouTube
yes
no
Pandora
yes
yes
Total channels
> 180
> 300
Web browsing
no
no
Play from USB media
no
no
no
no
yes
Play from LAN shares
no
yes (via 3rd-party apps)
Max. resolution
1080p
720p
720p
1080p
1080p
A/V outputs
HDMI, S/PDIF
HDMI, composite video, stereo audio
WiFi
yes
yes
Ethernet
yes
no
no
no
yes
Remote control
IR
IR
IR
IR
RF
Active power
4W
1W
Standby power
~ 0W
1W
Price
$60 ($50?)
$50
$60
$80
$100
What's playing on the NTV200?
The NTV200 currently provides a total of 180 content sources. These are grouped into two categories: 100 primary content channels, which are accessed directly from the NTV200's easy-to-navigate menu system; and 80 additional content sources, accessed through the "Vudu Apps" meta-channel.

Primary content channels…
You can browse through the NTV200's 100 primary content channels by popularity or by category, of which there are six: Movies & TV; News & Education; Web TV; Music & Photos; Livestyle; and Games.
The following screenshots show the NTV200's current set of 100 primary channels, as seen by paging through the menu's "Most Popular" channels section:








Primary channels, as accessed through the NTV200 menu
(click thumbnails to enlarge)

After you've investigated the available channels, you can tag your preferred channels as "favorites," which places copies of their launch icons in the "MyChannels" home screen. That way, your favorite channels are right there in front of you when turn on the NTV200, or whenever you press the remote control's Home button.

Vudu Apps content sources…
As noted above, one of the NTV200's primary channels — Vudu Apps — gives you access to 80 additional content sources, including news reports, TV shows, audio and video podcasts, and more.
The following screenshots show the content sources currently provided by the Vudu Apps meta-channel, as seen by paging through the channel's "Most Popular" apps section:






Vudu Apps currently provides 80 additional content sources
(click thumbnails to enlarge)

Docking favorite channels on the homescreen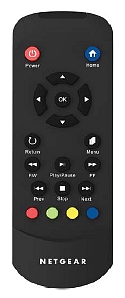 (click to enlarge)
Given the 180 content sources offered by the NTV200, you might think it would be awkward or time-consuming to get to the particular channel you want to use at any given time.
Anticipating this issue, the NTV200's user interface solves this problem in a straightforward manner, similar to browser bookmarks. In contrast to Roku's one-dimensional menu, where all the apps you have enabled are on one row at the top of the screen and you scroll horizontally though the list to get to what you want to run, the NTV200 has an easily-navigated menu that sorts channels by category and provides one section — "My Channels" — containing user-specified favorites, arranged as desired.
Once you've explored the available channels, you can add launchers for your favorite ones to the My Channels homescreen; plus, you can rearrange them there according to your priorities. This process involves locating an app to add, delete, or reposition, and pressing the green, red, or blue buttons on the remote control to add, delete, or move channel launcher icons on the My Channels screen.
The screenshots below show the process of customizing the My Channels homescreen — from the default initial configuration, to a screen of prioritized favorites. You can add as many channels to the homescreen as you wish.





Customizing the My Channels homescreen
(click thumbnails to enlarge)

When you browse channels by scrolling through the Most Popular or specific category areas, icons for favorite channels show a small green "+" in their lower-right corner. As you select a channel icon using the up/down/right/left keys of the remote, you can press the remote's green button to tag it as a favorite, thereby adding it to My Channels. When selecting a channel icon on the My Channels screen, you can press the remote's blue button to begin repositioning the icon, or press the remote's red button to remove it from My Channels.
Flinging content to the NTV200
We all know the feeling of discovering interesting videos — while browsing the web or reading email, Facebook, or Twitter — that we'd love to watch or share on our TVs. Consequently, it's important for streaming media players to provide an easy way to do this.
In Boxee's case, for example, you start by adding a Watch Later bookmarklet to your desktop or mobile browser. Then, when spot a video that you'd like to watch on your TV, you click the bookmarklet and the video gets added to your Boxee Box's Watch Later queue.
The NTV200 has similar feature, Flingo, which also involves adding a bookmarklet to your desktop or mobile browser and "flinging" videos to the NTV200's Flingo channel for watching on your TV. One exception is the Send2TV app for Android mobile devices; once it's installed, flinging becomes one of Android's "share" options, making it as easy to fling a video to your NTV200 as it is to share it via Facebook, Twitter, or Google+.
The screenshots below demonstrate the flinging of videos to the NTV200 three ways: from Firefox on a PC; from Safari on an iPod Touch; and from Send2TV on an Android tablet.









Flinging videos from Firefox, Safari/iOS, and Android
(click images to enlarge)

And here we are playing some flung content on our NTV200, using the device's Flingo channel:



Playing flung videos with the NTV200's Flingo channel
(click thumbnails to enlarge)

Currently, Flingo only officially supports videos hosted on YouTube, Vimeo, and CrunchyRoll. Flingo is an open source project. To learn more about the technology behind Flingo, visit this page of Flingo's website.

Complete screenshot tour
To give you an idea of what it's like to use the NTV200 streaming media player, we've assembled an extensive screenshot tour in a separate post. You can use the index below to access the screenshots in the tour, or you can jump directly to the complete NTV200 screenshot tour page. But please be sure to return here for the rest of this review, including a run-down of what we like — and don't like — about Netgear's NTV200 streaming media player.
NTV200 screenshot tour index…
Overall assessment
This section contains a few additional comments on the operation and functionality of the Netgear NTV200 streaming media player, organized in a compliments-and-complaints breakout.
Compliments…
Highly compact, low-power, fanless design.
The menu system is crisp, clean, intuitive and efficient; browse apps by category, or quickly access favorites on the customizable My Channels homescreen.
Flingo makes it easy to forward certain types of videos from a PC or mobile device to the NTV200, for playing on the TV; it's currently limited to videos hosted by YouTube, Vimeo, and Crunchyroll, however.
The NTV200 integrates one of the most complete sets of paid movies and TV shows services: Netflix, HuluPlus, Vudu, and YouTube, with only Amazon VOD absent. Vudu, in particular, is considered to be a top choice for prompt streaming access to new releases.
The NTV200 deserves major kudos for its ultra-low-power standby mode (well below 1W on our "Kill A Watt" meter), which it enters when you press the remote's "Power" button; press the power button again, and the device instantly snaps back into its homescreen without noticeable delay.
Ethernet and 1080p are standard, not extra-cost options.
Complaints…
User interface look, feel, and operation across all channels and content sources varies considerably, perhaps because Netgear has partnered with a variety of sources (such as RoxioNow, Flingo, and Vudu) to obtain its channels; that said, we'd rather have hundreds of channels, with some UI inconsistencies, than be restricted to a dozen perfectly-consistent channels (as is the case on the Apple TV box).
The YouTube LeanBack channel works fine for viewing what the channel automatically feeds in each of its categories; the process of searching for videos by means of the app's onscreen alphanumeric keyboard is tedious and frustrating, however, and sorely needs improvement.
The NTV200's IR remote seems more directionally sensitive than Roku's (or have we been spoiled by the RF remotes of our Boxee Box and Google TV?); of course there's always the NTV remote control apps for iOS and for Android.
We'd also love to see these killer-features added…
Some popular video channels are missing, including: Amazon Video-on-Demand; Crackle's ad-supported movies and TV shows and ClassicalTV's superb music video collection (some free, most require a modest monthly subscription); and others. Netgear has been steadily adding channels, so hopefully these and many more will be added this year.
Support for streaming content from Windows, UPnP, and iTunes network shares.
Support for DLNA and AirPlay media rendering, so you can instantly transfer music or video from your smartphone or tablet to your NTV200 for playing on the TV.
A web browser (with editable bookmarks), so you can supplement standard channels with specific desires.
Addition of a USB port, along with the ability to play USB media.
The bottom line
All-in-all, Netgear's NTV200 streaming media player is a great choice for those wanting to bring the joys of Internet-streamed music, movies, and TV shows to their TVs. It boasts an easy-to-use menu system, with an efficient way launch favorite channels or browse and select from the complete channels library. The device offers nearly 200 channels of free, ad-supported, and fee-based multimedia and other content, including nearly all the most popular ones, and compares well from a features-and-specifications perspective, and receives periodic updates with new features and channels on an ongoing basis.
How does it compare to Roku's media players, with which it directly competes? Here's a quick run-down…
NTV200 advantages

Vudu and YouTube LeanBack channels
Ethernet port on all models
1080p video mode on all models
Superior favorite channels function
Nifty flingo feature

Roku advantages:

Amazon video-on-demand channel
Overall more channels, by nearly 2-to-1
Top-end model can play from USB
Low-end model may have slightly lower price
Can play content from network shares, via 3rd party apps
As you can see, they're fairly closely matched. If you need Ethernet but don't need USB, the NTV200 might be your best bet. On the other hand, if you care about playing media from USB, Roku's the way to go; it's also the only option if your TV can't use HDMI and requires a composite video connection. And then there's Vudu on the Netgear but not Amazon VOD; and vice versa.

Further info
Additional details on Netgear's NeoTV NTV200 streaming media player may be found on Netgear's website. Although we initially listed the NTV200's price as $60 in our features and specs table, the device currently appears to be selling for about $50 at Amazon.com.