Last updated Nov 26, 2008 — 11957 views

In a better-late-than-never move, Blockbuster has introduced a video-on-demand (VOD) service accompanied by a "free" set-top box (STB). Like TiVo, Roku's Netflix box, and many other modern Internet-enabled A/V gadgets, Blockbuster's new VOD STB runs Linux.

Blockbuster claims its new VOD service offers "thousands of titles from the latest movie releases to classic favorites." The company's phrasing appears to be a thinly-veiled jab at Netflix's VOD service, which currently seems to be limited primarily to TV shows, documentaries, and mostly older ("classic") movies.


Blockbuster's VOD service uses 2Wire's MediaPoint STB
(Click to enlarge)

Like the Netflix VOD STB, there's a $99 upfront pricetag associated with the Blockbuster offering. But that's where the pricing similarity ends.

While Netflix's box (made by Roku; pictured at right) has a one-time cost of $99 followed by a minimum monthly subscription to Netflix ($8.99+ for unlimited downloads), Blockbuster currently is providing its VOD STB (made by 2Wire) free with an advance rental of 25 on-demand movies for $99. Thereafter, VOD titles are available for $1.99 each.


Main menu of Blockbuster's VOD service
(Click to enlarge)

STB specs
The VOD STB itself is a Blockbuster-specific version of 2Wire's Mediapoint Digital Media Player, which, we've confirmed, runs an embedded Linux OS.
Although a detailed data sheet is not available at this time, the user's manual (PDF download) can be found on Blockbuster's website.


Rear panel connections (see list below)
(Click to enlarge)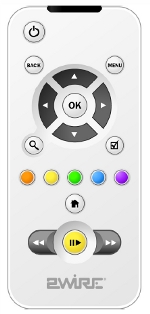 In response to our request for details on the innards of the STB, 2Wire sent the following summary list of specs:
2 x USB
SD Cardslot (not used in the Blockbuster release)
Networking — Ethernet and 802.11b/g WiFi
A/V ports — composite, component, HDMI, digital audio
Software platform — Linux
Bottom line
Although we plan to review the box in a future article, we're already skeptical of the growing number of single-service Internet-connected A/V entertainment boxes. What we'd really like to see is a reasonably-priced, open-platform STB that serves as an A/V gateway to multiple Internet-based services — one consumer-friendly, environmentally-designed, low-power gadget "to rule them all," if you will.
On this one box, we'd like to be able to gather: Netflix, based its the monthly subscription; VOD content on a pay-to-play basis from Amazon, Blockbuster, etc; free video from YouTube, Hulu, and various TV channels' websites; and free Internet radio from Shoutcast-style sources.
Update (12/1/08) — Dave Zatz, over at ZatzNotFunny.com, has just published an article relating his experiences in unboxing and setting up the Blockbuster OnDemand STB. "The big surprise for me is that Blockbuster OnDemand is not purely a streaming service. Video can be played back while streaming, without transport controls, and/or once the download has completed," says Dave.