Last updated Oct 16, 2012 — 19683 views

Boxee has announced a second-generation media streaming device. In contrast with the company's pioneering Boxee Box, the new "Boxee TV" product features a limited set of apps for streaming from the most popular Internet-based sources and local network shares, integrates dual digital TV tuners, and provides a DVR function backed by cloud-based storage and watch-anywhere services.

"With Boxee TV you'll be able watch live TV broadcasts in beautiful HD from channels like ABC, CBS, FOX, NBC, PBS, Univision, and many others," says Boxee co-founder and CEO Avner Ronen. "It works with antennas and unencrypted basic Cable that deliver the channels listed above, and has 2 tuners so you can watch one thing… and record another."
"We knew DVR had to be a part of the equation, but existing DVRs have limitations we wanted to avoid," he continues. "Even the fanciest DVRs run out of space, and most require you to sit in front of the TV to watch your recordings, so we created the first ever No Limits DVR."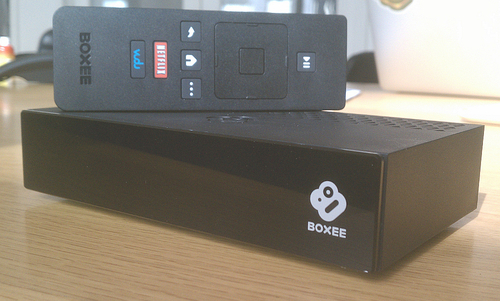 Boxee's "Boxee TV" streaming and live TV player/DVR
(click image to enlarge)

By "no limits," Ronen is referring to the fact that, rather than storing the user's recordings locally, Boxee TV uploads them to a dedicated Boxee cloud storage DVR service. For a $15/month Boxee TV DVR subscription, "there are no limits to how much you can record and no limits to where you watch — on your laptop, tablet and, of course, your TV," Ronen explains.
Although it hasn't been officially announced, Boxee is also likely to offer a free option, allowing users to record a limited number of videos occupying some maximum amount of storage space on Boxee's DVR cloud service — much as DropBox, Apple, Box, and Google offer both free and paid cloud storage options.

Take two

As mentioned earlier, Boxee TV is Boxee's second-generation media streaming box. The first-generation Boxee box (pictured on the right) packed a dizzying array of apps and features. Unfortunately, its promise was so vast and its functionality so extensive that Boxee was never able to satisfy its users' high expectations — resulting in considerable frustration among many of its customers.
Unlike the original Boxee Box, which was created "by geeks, for geeks," this new Boxee TV device was designed "by geeks, for ordinary people," asserts Boxee. Rather than attempting to be all things to all people — with hundreds of apps; wide-ranging support for multimedia types, network shares, and streaming protocols; and desktop-like web browsing features — Boxee TV will be limited to a carefully curated collection of easy-to-use apps, while maintaining a consistent, reliable, 10-foot user experience.

Hardware
This time around, Boxee has thankfully opted for a simpler, more compact enclosure design, which blends better into its surroundings and fits more easily in and around other entertainment equipment.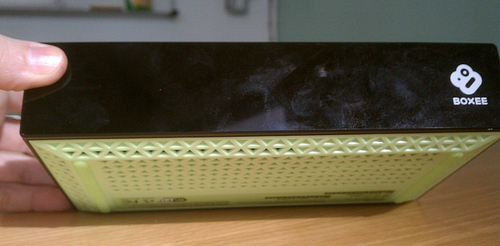 Boxee TV front and rear
(click images to enlarge)

As you can see in the above photo, Boxee TV's rear panel connections include (left to right):
DTV signal input (antenna or unencrypted cable)
HDMI output
Ethernet
USB x 2
DC power
In addition to its Ethernet input, Boxee TV has built-in WiFi, letting you connect it to the Internet and your local network either way.

Content
Boxee TV's initial app lineup includes Netflix, Vudu, YouTube, Vimeo, and a few others. "It'll also come with music apps like Pandora and more as we grow," says Boxee. And then there's live, over-the-air DTV reception via the device's internal ATSC receiver circuit, plus Boxee's cloud-based DVR service.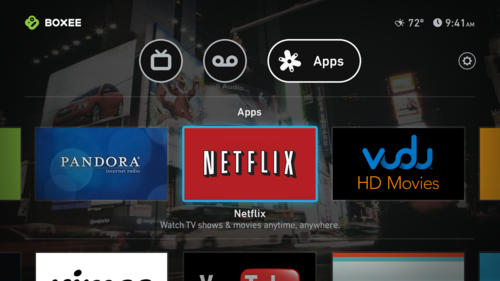 Boxee TV apps selection interface
In stark contrast to Google TV, Boxee TV forgoes direct Internet browsing, in recognition of the difficulty of providing users with an acceptable 10-foot web browsing experience. Instead, Internet-based media streaming is limited to the consistent, user-friendly interface provided by a limited set of Roku-like canned apps.
In light of past disappointments, the company appears reticent to hint at future plans for supporting popular sources such as Amazon VOD and Hulu Plus. But one can only assume that efforts are being made to reel in those two big fish.

DVR in the cloud

Where Boxee's new media-streaming box stands alone, is its integration of live TV and DVR capabilities, which leverage Boxee's experience with the Boxee Box live TV adapter (pictured at right) introduced earlier this year. This time around, however, the company has added all-important DVR functionality, along with an innovative cloud storage service featuring unlimited storage and watch-anywhere capabilities.
As indicated in the graphic below, Boxee is positioning its DVR cloud service as offering watch-anywhere access on multiple devices.


Boxee's DVR cloud service architecture
(click image to enlarge)

As seen in the illustration, the Boxee TV device serves two key roles in the overall Boxee DVR architecture: as the DTV reception point; and for rendering video on a TV display.
These screenshots show Boxee TV's live TV watching and recording functions:



Boxee TV's live TV and DVR control screens
(click images to enlarge)

Local media streaming and sharing
Several other Boxee TV capabilities involve local media sharing and streaming. These, according to a Boxee source, include:
Rendering content "thrown" from a smartphone or tablet to the Boxee TV. Here, DLNA will be the official mechanism. AirPlay seems likely to be supported as well, at least unofficially (but probably minus Apple's nifty screen-mirroring option).
Streaming audio and video content from network shares, including at least UPnP/DLNA, but perhaps from Windows (samba) and Apple (AFP) shares, as well.
Playing and rendering music, video, and photos from media connected to the Boxee TV's two USB ports.
Availability
Boxee says it will begin shipping Boxee TV in November, priced at $99. With regard to the device's live TV and DVR capabilities, we're guessing live TV is available in all markets. The DVR function, on the other hand, is being rolled out on a geographically limited basis, as follows:
"No Limits DVR is rolling out to 8 of the top TV markets in the US: New York City, Los Angeles, Chicago, Dallas, Houston, Atlanta, Philadelphia and D.C. We will be rolling out in additional markets later in 2013. If you choose to become a DVR subscriber you will be able to record as much as you like and watch it on any screen for just $14.99 a month."
Note that for live TV reception, you'll need a DTV antenna and decent signals, or ClearQAM unencrypted cable. Additionally, for good results with the device's DVR capability, Boxee recommends that your broadband connection have at least 3MB download and 1MB upload data rates.
For further details, visit Boxee's website.