Last updated Nov 5, 2010 — 557 views

In addition to pioneering the world's first mass-marketed all-electric vehicle — the Leaf — Nissan has been busy developing advanced safety systems that reduce the risk of accidents by wrapping a virtual safety bubble around the car.

Nissan announced in 1995 that it planned to reduce the number of people killed or seriously injured in its cars by half within two decades, by introducing a variety of intelligent transportation systems (ITS) technologies into its vehicles. The advanced safety technology involves a combination of intelligent transportation systems, vehicle-to-vehicle (V2V) communications, and proactive feedback to both the driver and the vehicle.
Nissan's "all-around collision free" initiative encompasses both active and passive safety features. The vehicle's on-board intelligent safety system categorizes potential risks into different phases of driving, and activates various "barriers" to provide multiple layers of protection depending on the type of approaching risk. Based on risk data collected, the car provides suitable safe-driving prompts to the driver to help avoid the risk, and also offers a succession of other safety features as the risk approaches or in case a crash occurs.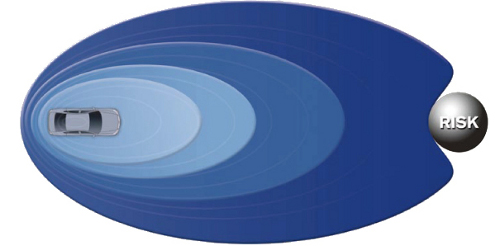 Nissan aims to surround its vehicles with a "safety shield"
According to Nissan, key features of its intelligent safety system will include…
Safety shield — creating a "bubble" of safety around each vehicle to reduce accident risks, based on sensor technologies and V2X wireless communications
Intelligent cruise control — a feature that helps facilitate driving in normal "no-threat" conditions
Distance control assist — ensuring a safe distance from vehicles directly ahead by prompting the driver to release the throttle when needed to avoid getting too close
Lane departure warning and prevention — warns the driver when the car is about to drift out of its lane; when necessary, gently applies right- or left-side brakes to ease the car back into the middle of its lane
"The challenge with lane departure technology lies in the fine-tuning of the accuracy," explains Satoru Yahagi, a member of Nissan's ITS Engineering Department. "Since this is a technology that helps provide safety, we need to thoroughly eliminate any errors in recognition. We make selective use of the external information gleaned from the sensors and cameras to help acheive the accuracy for the system. Moving forward, we hope to develop a system that would detect the road lanes even where there are no lane markers."
Video demonstrations
The five videos below, courtesy of Nissan, illustrate various aspects of Nissan's "all-around collision free" safety technologies, and demonstrate how they will avoid or mitigate typical accident risks. The functions illustrated require the presence of intelligent transportation systems and V2X communications functions within both the vehicles and their roadside infrastructure.
Overview of concepts
Animation
Demonstration and discussion
Lane departure prevention
"All-around collision free" demonstration

What about the Leaf?

Despite the Nissan Leaf pioneering numerous new electric vehicle technologies, Nissan makes no mention of intelligent safety systems or concepts — such as "all-around collision free" or "safety shield" — in the Leaf's brochures, briefing documents, or specifications. Additionally, DeviceGuru recently test drove a Leaf, and was unable to detect any indication of such features. We therefore must conclude that the Leaf, at least initially, does not offer any of Nissan's advanced safety capabilities.
Further information
Further details on Nissan's "All Around Collision Free" technologies are available on Nissan's website, here. Additional Nissan's safety research may be found here.
Many of these same capabilities are central to the U.S. Department of Transportation's Intellidrive initative. For a detailed introduction to IntelliDrive, read this article.