Last updated Aug 2, 2011 — 321 views

Sometimes when you're at your computer, chatting with friends, or browsing the Internet, you run across some video that you'd rather be watching on your TV's big screen using your Boxee Box.

For this reason I have created TeleTube. It is a simple extension for the Opera browser that adds a single button — "Play to TV" — to some websites with video content. Clicking the button sends the currently opened video to Boxee for playback.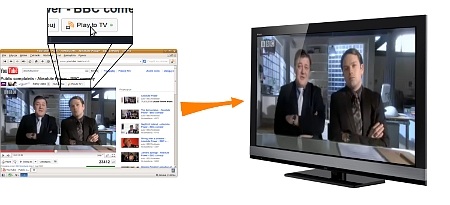 When you click the "Play to TV" button, TeleTube plays the video through Boxee
(click image to enlarge)

TeleTube works with both Boxee and XBMC (I'm actually using the latter) and supports content on YouTube, Dailymotion, and The Escapist Magazine.



Installing and configuring TeleTube on Opera
(click thumbnails to enlarge)

You can find more information, including installation and configuration instructions, on the TeleTube website.

Note: this guest post was submitted by Marcin Simonides, developer of the TeleTube extension for Opera