Last updated Jan 27, 2013 — 46613 views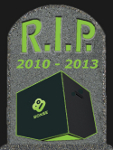 [Updated Jul 10, 2013] — When Boxee announced its new Boxee TV product last October, it also stated that the original Boxee Box, which had already ceased being manufactured, would soon transition into "maintenance mode." Additionally, the company promised one last firmware update, which would "update the Flash player and fix some key bugs."

In an Oct. 16, 2012 post on Boxee's blog, CEO Avner Ronen laid out the company's plans for discontinuing its proactive support for the Boxee Box. Quoting from Ronen's blog post…

The Boxee Box launched in Nov. 2010, and it was an exciting milestone for us. Since Boxee started, we wanted to see it running on a dedicated device and our partnership with D-Link made it happen.

Over the past couple of years we have released several major updates, numerous minor updates and added hundreds of apps. Earlier this year we launched Boxee Live TV [DeviceGuru story], which added the ability to access over-the-air broadcast and the basic tier of cable (Clear QAM) in North America.

Our small team has poured our hearts and souls into the Boxee Box and it has been great to meet users from all over the globe. Some loved it, some wanted more features, others complained, but everyone was passionate. We hope you have enjoyed it and will continue to use it in your living rooms, dens, bedrooms or wherever else you set it up (I met one guy who installed it in his yacht!).

If you are living in the US, we would love for you to continue our journey with us and order Boxee TV when it comes out.
On Oct. 31, Andrew Kippen, Boxee's chief marketing executive, clarified Boxee's plans for the Boxee Box in a followup blog post. Quoting from Kippen's blog post…

Based on this month's earlier announcement, many have asked us what that means for the original Boxee Box. We're here to give you an update on what you can expect moving forward as a Boxee Box owner.

The Boxee Box will continue to work exactly as it has for the past two years – you'll be able to login, use the apps, use the web browser, download artwork for video files, all of the key back-end that powers the Boxee Box will remain up and running for the foreseeable future.

We will be releasing an updated Flash player for Boxee in the next few months. It should improve the browser experience and add some important content back to the TV show library. We will post an update in November which will let you know when to expect the release of the updated Flash player.

We cannot open root access to the device. We had to make a decision between releasing a box that was hackable and one that was commercially viable with premium content. We would have loved for the Boxee Box to be open to other software, but in the end we're bound by agreements with our content providers to ensure the security of their content.

Netflix will not be available on Boxee Boxes outside the USA and Canada. Netflix requires version 3.1 or later of their application outside the USA and Canada. The Boxee Box runs version 3.0. Unfortunately, Intel no longer supports this chipset for consumer products and the version of the Intel firmware for the Boxee Box cannot run version 3.1. We would have loved to enable this for users in the UK, Brazil, Sweden, Denmark, etc. but technically speaking it's simply not possible.

The Boxee Box will still be supported. D-Link and Boxee have our regular support teams working around the clock to answer any questions that come up. The forums and support sites are still up and full of answers to basic and advanced questions. We will continue to do our best to clearly resolve issues in those venues.
As noted by Kippen, existing Boxee Box owners can continue making use of the Boxee Box discussion forum and the Boxee Box support site, and the infrastructure that underpins the Boxee Box's default apps will continue indefinitely. Additionally, many third party repositories continue to support the Boxee Box. Moreover, according to Boxee's developer page, "the Boxee Box will continue to function as it does today. TV show and movie library, artwork look-up, channel listings data for Live TV users, etc. will all continue to be provided by Boxee. While new applications will no longer be released for the Boxee Box, we still encourage third party developers to keep their creative juices flowing and continue to release quality apps within their own repositories."

Second generation Boxee box: "Boxee TV"

In contrast with the company's pioneering Boxee Box, the new "Boxee TV" product will feature a limited set of apps for streaming from the most popular Internet-based sources and local network shares, integrates dual digital TV tuners, and provides a DVR function backed by cloud-based storage and watch-anywhere services.
Boxee began shipping Boxee TV in November, priced at $99, but with DVR features limited to a handful of major U.S. population centers. The company plans to phase in DVR features in other U.S. markets throughout 2013. For further info, read our introduction to Boxee TV and visit Boxee's website.

Boxee Sells itself to Samsung,
shuts down cloud DVR
"Boxee, the Israeli startup that achieved fame first as the developer of an innovative, free, media-streaming software platform, and later through its partnership with D-Link around the iconic Linux-powered Boxee Box device, has been acquired by Samsung. According to reports by Haaretz and the New York Times, the company's selling price was less than the $28.5 million it raked in from optimistic investors over the past six years…."
Read the complete story in this DeviceGuru post