Last updated Jun 21, 2010 — 22516 views

Sonos offers an interesting family of high-quality devices capable of playing audio streamed from a variety of Internet and local sources wirelessly throughout the home. I've just spent a few weeks getting to know the Sonos ZonePlayer S5 and 90 streaming-music players. How well did they perform?

The ZonePlayers are key components in Sonos's grand scheme for wireless home audio entertainment, as indicated in the drawing below.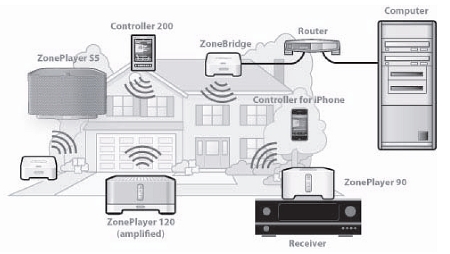 Sonos Networked Home Audio Architecture
(click image to enlarge)



Sonos family portrait
As seen in the architecture diagram and family photo, above, a Sonos home entertainment setup could conceivably include quite an assortment of gear, including:
ZoneBridge — bridges the proprietary Sonos wireless mesh network to a wired LAN or WAN connection
One or more ZonePlayers — available in three styles: non-amplified (ZP90), amplified without speakers (ZP120), and amplified with speakers (S5)
One or more controllers — can be dedicated Sonos handheld, an iPhone or iPod Touch, or a PC or Mac
Although the architecture diagram (above) illustrates a complex, multi-device installation, a minimal Sonos setup consists of a single ZonePlayer, the least expensive of which is the non-amplified ZonePlayer 90, currently priced at $349.
On top of that, you'll need a controller to operate the device, since the ZonePlayer doesn't provide a "front panel" display or controls. Although Sonos provides free apps for controlling the ZonePlayer from a PC or Mac, it's likely you'll want some sort of wireless remote. Otherwise, why not just stream the content to your desktop PC or Mac and play it from there and save the expense of the dedicated Sonos sound player?
If you already have an iPhone or iPod Touch you're in luck, since Sonos provides a free iPhone app for controlling its ZonePlayers wirelessly, and it works quite well. At under $200, a low-end iPod Touch can save you a bundle compared with the dedicated Sonos remote control ($349).
Overall impressions
I tested both a non-amplified ZonePlayer 90 (ZP90) and the ZonePlayer S5, the one with built-in speakers. Here are photos of the two Sonos devices, along with diagrams showing their rear connections: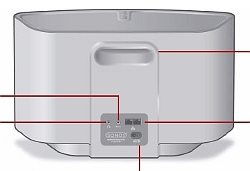 ZonePlayer S5 front and rear
(click each image to enlarge)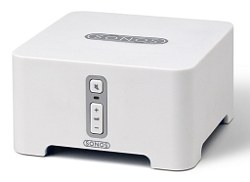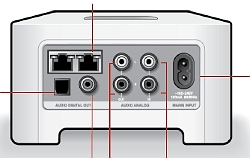 ZonePlayer 90 front and rear
(click each image to enlarge)

I connected the ZonePlayer 90 to one of my Yamaha RX-V365 AV Receiver's optical inputs, and used my iPod Touch as the wireless remote control for the ZonePlayers, as illustrated below. In general, I was very impressed with the quality of the Sonos gear. It's easy to setup and use, and the documentation is clear and thorough to a fault.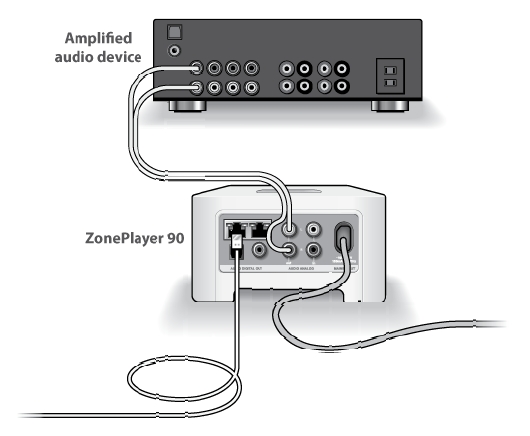 ZonePlayer 90 audio output connections
On a personal note, I didn't particularly care for the S5 (the one with the built-in speakers). For one thing, I prefer using a pair of "real" speakers. Despite Sonos's claim that the S5 provides "crystal-clear, room-filling sound," the S5 sounded a bit like a high-tech "boom box" with small, albeit reasonably good quality, built-in speakers.
Furthermore, since the S5's left and right channel speakers are both located in the same compact unit, creating a decent stereo setup — for example on a bookshelf in a family room — requires configuring two S5s as a pair, and designating one as the left channel and the other as the right channel. At that point I'd rather have a ZP120 along with a pair of standalone speakers.
The remainder of this review will address the Sonos ZonePlayer and iPhone app functionality, which are common among all Sonos ZonePlayers.
Using the Sonos ZonePlayers
I won't attempt to describe in detail how the ZonePlayers get hooked up, configured, and operate, since all of that is covered thoroughly in the devices' product guides. You can download any of the ZonePlayer product guides from the Sonos website's documentation download area.
Below are some screenshots showing the use of the Sonos ZonePlayer via its iPhone remote control app. I've included many, but by no means all, of the ZonePlayer's capabilities. Click each thumbnail to view a larger image.
Top-level menu and configuration functions…









Using Internet Radio on the ZonePlayers…










Using Pandora on the ZonePlayers…









Configuring access to your local music library…





Streaming from your local music library…







The good, the bad, and the annoying
From my brief experience with the Sonos ZonePlayers, I'm pleased to report that they're well constructed and easy to use, and that they perform their functions well.
As with most complex products, they're not without a few shortcomings, however. Here, then, is a summary of what I like most about the ZonePlayers, plus a few suggestions on how they could be improved.
What I like most about the ZonePlayers:
Excellent overall quality, including physical look and feel, sound output, features, and ease of use.

Rock solid media-streaming performance, partly thanks to the use of a wired Ethernet WAN connection.

Great iPhone / iPod Touch app! The Internet Radio, Pandora, Music Library, and system configuration functions implemented by the app are easy to use, relatively intuitive, and work as expected.

The Sonos WiFi mesh network enables multiple ZonePlayers to stream a common audio source in a synchronized manner to multiple areas of the home at once, without the echo that is common with simultaneous streaming to noncoordinated devices. Alternatively, you can stream multiple audio sources to multiple ZonePlayers at once, without noticeable audio skipping due to dropped data packets.

The ZonePlayers use embedded Linux as their internal operating system. Hey, what's not to love about that!
Suggestions for improvement:
I wish there was more consistency of UI features in the iPhone app, as you move from service to service. The app seems to be constructed from multiple sub-apps, supporting each of the services (e.g. Pandora, Internet Radio, etc.), stitched together. The result is that each service has its own set of UI features, although there are many common elements. Consequently, you have to remember which service you're using, to know how to get it to do what you want, much as though you were running a different app for each service. It's not terrible, but I suspect some users will find the device's operation frustrating.

One way to alleviate the concerns raised by my previous comment regarding inconsistency in the behavior of the UI within each of the various services might be to create a master set of favorites (perhaps called "presets"), which would allow users to designate any source of streams — channels, stations, or local shares — as favorites within this master list. Take a look at what Boxee has been doing in this regard; it has the same sort of challenges, due to Boxee's support for hundreds of third-party apps. As an example of a unified favorites function, take a look at what Grace has done with "presets" on its Internet radios; they let you intermix up to 10 Internet radio and Pandora stream favorites in an arbitrary manner. With that approach, you're never more than a couple of quick clicks away from your favorite streams.

Beware: the iPhone app's slider volume control can be dangerous! If you accidentally slide too far to the right all at once, you can get screamingly loud volume through your sound system and speakers. In fact, the ZonePlayer S5 I was testing "went toyota" on me once, and although it didn't actually damage the ZonePlayer, the experience left my ears ringing and my heart pounding for quite a while. I've found the Grace Internet radio's "tap-tap" (+ and -) method of raising and lowering the volume to be more reliable — and, more importantly, it provides better protection for both my sound system and my ear drums.

The ZonePlayers' standby power consumption is higher than one would hope for. In my measurements, the ZP90 drew 4W when idle or when playing music, while the S5 sucked 6W when idle and 12W when playing music. I think 1-2W idle power, from which the devices could be awakened wirelessly via the iPhone's remote control app, would be a reasonable goal, particularly in light of the fact that the ZonePlayers do not have on/off switches.

Why not provide an option for using ZonePlayers' built-in WiFi for the LAN/WAN connection if the user needs it, rather than requiring a network connection via either wired Ethernet or the $349 ZoneBridge? I realize the streaming might suffer somewhat, but in a single ZonePlayer scenario it would probably work acceptably; and, users could be warned that for best streaming they should use a wired LAN/WAN connection.

Big beef: the ZonePlayers don't appear to stream from garden variety UPnP Media Servers, only from selected devices. For example, I was unable to stream my MP3s from either my Popcorn Hour PCH-A110 or from my V2 Pogoplug, even though I can stream from those sources to my iPod Touch using its PlugPlayer app. I questioned the Sonos folks regarding this, and they replied…


"Sonos does allow you to connect to Rhapsody's servers using Universal Plug and Play (UPnP) but it is not possible to connect to any other types of UPnP servers. And unfortunately, we don't have any plans to add UPnP sharing from what I understand. While we use UPnP under the covers we don't do it in the most generic fashion (e.g. streaming from any UPnP content store — as they are called). We do support it from the Microsoft Media world and those content sources will show up on Sonos. However, we don't have a comprehensive test suite of UPnP media servers, nor is that typical in our customer environment, thus we just haven't put the effort into supporting anything beyond what Microsoft bundles."

I don't know about you, but I don't care for the idea of having to run my power-thirsty desktop PC solely to provide streaming of my local media to my Internet radio device. That's a job for a sub-5W gadget that throttles down to a sub-2W low power mode when it hasn't been accessed for a while. Let's get "green," guys, eh? In any case, I'd love to see Sonos make the ZonePlayers' UPnP Media Renderer functionality more universal, in order to be able to support today's increasingly popular consumer UPnP-streaming NAS devices — whether for power reasons, or simply to be compatible with current trends in consumer electronics.


And while we're on the subject of playing local media, it sure would be nice to have a USB port for local media connection, instead of limiting Music Library services to NAS devices or desktop computers. How hard could that be!
The bottom line
Despite my suggestions for improvements, I highly recommend the Sonos ZonePlayers for users who don't require features or functions that they currently don't implement. In any case, since both the ZonePlayers' built-in firmware and the remote-control iPhone app are updated periodically, it's reasonable to expect new features and UI enhancements to show up from time to time.
For further details on the Sonos ZonePlayers and related accessories, visit the company's website.