Last updated Dec 19, 2011 — 3470 views

With a dizzying array of 7-inch Android tablets quietly penetrating the market this year, we wondered how well the lower-priced 7-inch tablets performed. ViewSonic's ViewPad 7e ran virtually everything we threw at it, and did so surprisingly well.
Introducing the ViewPad 7e
According to product manager Mike Holstein, ViewSonic's tablets fall into three categories: value, mainstream, and commercial. The ViewPad 7e we reviewed, which goes for about $170, represents the company's "value" 7-inch tablet. It's positioned as a solid, aggressively-priced device with basic functionality, and is primarily marketed to schools, explains Holstein.

While lacking some of the bells, whistles, and coolness-factor of Apple's and Samsung's latest tablets, the ViewPad 7e (pictured at right, click to enlarge) is hardly limited in what it can do.
Among its modest features, the ViewPad 7e runs Android 2.3.1 on a single-core 1GHz CPU, has a relatively low-resolution 800 x 600px display, is equipped with a resistive (rather than capacitive) touchscreen, and relies on Amazon's (rather than Google's) Android app market for its apps. We applaud its microSD slot, but bemoan its low-res screen and lack of GPS.
Here's the ViewPad 7e's full list of hardware specs:
Processor: 1GHz Samsung S5PV210 single-core ARM A8
RAM: 512MB
Flash storage: 4GB built-in; expandable to 32GB via microSD slot
Display: 7-inch diag, 800 x 600 px (500:1 contrast ratio, 250 cd/m2 nits brightness)
Touch technology: resistive multitouch
Cameras: 0.3MP front; 3MP rear
WiFi: 802.11 b/g/n
USB I/O: yes (on microUSB connector)
HDMI: up to 1080p output (on microHDMI connector)
Bluetooth: yes
Cellular: no
GPS: no
Built-in speakers: yes/mono
Built-in mic: yes
Battery: 3300 mAh
Dimensions: 7.6 x 5.2 x 0.6 in
Weight: 16 oz
A table comparing the ViewPad 7e's features and specs with those of several of its 7-inch Android tablet rivals appears in this DeviceGuru post.
The diagrams below show the location of the ViewPad 7e's buttons and connectors. Unlike most current tablets, the device provides a set of four hardware buttons for the Home, Menu, Back, and Search functions.



ViewPad 7e physical features
(click thumbnails to enlarge)

Standard homescreens and apps
The ViewPad 7e offers two homescreen modes: a standard launcher homescreen, and a gee-wiz 3D mode. Both homescreen modes are pictured below. The third image shows the tablet's default set of apps as they appear on the "all apps" page.




Default launcher and 3D homescreen, and default apps
(click thumbnails to enlarge)

The ViewPad 7e came preinstalled with this fairly comprehensive set of basic apps:
1Mobile Market, Adobe Reader, Alert Machine, Amazon Kindle, Amazon Android Appstore, Amazon MP3, Angry Birds, Browser, Calculator, Calendar, Camera, Clock, Contacts, Dialer, Downloads, Dropbox, Email, ES File Explorer, Gallery, Music, Note Everything, Sketcher, Sound Recorder, Tunein Radio, Twitter, FW Update
Tailoring and tweaking
As with our Galaxy Tab 10.1, we opted to dispense with the ViewPad 7e's standard homescreen look and feel. After downloading and switching to our favorite NASA nebula image wallpaper, we added a bunch of our favorite apps and utilities.
Although the device's default app market is Amazon's Appstore for Android, we preferred to "sideload" the apps we already had accumulated on our other Android devices. Doing this involved copying the desired apps (.apk files) into the tablet's storage flash via USB, and then selecting each one using the preinstalled ES File Explorer app.
Of the apps we attempted to sideload in that manner, these are the ones that worked:
Advanced Task Manager, AndFTP, Andoku 2 Free, Android File Manager, Android Task Manager, AndroZip, AndSMB, ASTRO, ASTRO Bluetooth Module, ASTRO SMB Module, Bluetooth File Transfer, B&N Nook, BubbleUPnP, Dolphin Browser HD, Google Earth, eFile, ES Task Manager, File Manager, Folder Organizer, Merriam Webster, MoboPlayer, MP3tunes, mVideoPlayer, Netflix, NPR News, Pandora, Pogoplug, Quick Settings, RockPlayer Lite, Skype, Sonos, SugarSync, The Weather Channel, UPnPlay, Video Player, WiFi Manager, WordPress
These three screenshots show all the apps present on the ViewPad 7e following this process.




All apps, including defaults plus sideloads
(click thumbnails to enlarge)

Organizing apps in folders
Thanks to Folder Organizer, all the apps on the device could be gathered onto two homescreens: the first containing 25 favorite apps, and the second containing eight folders of apps sorted by categories. You can find more discussion of Folder Organizer in DeviceGuru's review of the Galaxy Tab 10.1.
Here's how the ViewPad 7e's homescreens looked after modifying the wallpaper, adding apps, and organizing the apps into folders as discussed above:



Tweaked homescreens: 25 favorite apps; 8 app-folders
(click thumbnails to enlarge)

And here's how each category folder looks, after you tap its icon to reveal what lurks within:

(click thumbnails to enlarge)










Accessing apps via eight Folder Organizer folders
(click thumbnails to enlarge)

For some reason, Folder Organizer's 1×1 folder widgets occupied more space on the screen than they're supposed to, so that only two fit per row on the screen (unlike on our Galaxy Tab 10.1). As a result, our eight app folders consumed the space of 20 simple app-launchers. Still, the folder approach works well for providing quick-and-easy access to a large number of apps.
Streaming multimedia
The ViewPad 7e had no problems streaming audio and video multimedia files from both UPnP and Windows shares on DeviceGuru's LAN. UPnPlay deftly handled the former, while ES File Explorer handily managed the latter. Both are free apps in Google's Android Market.
Additionally, Pandora and TuneIn Radio delivered streaming music galore, and YouTube and Netflix streamed video-on-demand flawlessly.
Speaker
The ViewPad 7e's built-in speaker has disappointing quality, reminiscent of pocket-sized FM radios. The speaker's audio output is passable, though not particularly pleasant, for short newscasts or YouTube videos, or making Skype voice calls. But it's far from pleasurable.
On the other hand, the tablet's audio output quality is much better, when listened to via headphones or an external amplified speaker.
Camera
The ViewPad 7e 0.3MP front and 3MP rear cameras. The rear camera lacks an LED flash, but in good lighting conditions it takes decent photos and videos. The two photos below were taken by a ViewPad 7e and a Galaxy Tab 10.1. Both tablets have 3MP rear cameras.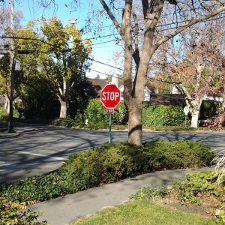 Comparison of ViewPad 7e and Galaxy Tab 10.1 3MP camera photos
(click each image to enlarge)
What about battery life?
How long will the ViewPad 7e run between recharges?
Holstein says ViewSonic avoids being precise about battery life since there are so many styles of using the device. In the 7e's specs, ViewSonic lists "about 5 hours" as the expected operating time available per recharge.
DeviceGuru performed these experiments:
Beginning with a fully-charged battery, we streamed Netflix videos with the tablet's screen at full brightness and WiFi enabled. It streamed continuously for 2.5 hours before running out of juice.
Next, we charged it back up to full without any apps or wifi running. That process also took 2.5 hours.
With the tablet's battery at 100 percent charged, we then let the device idle, with the screen off, WiFi enabled, and no apps running. Amazingly, it took more than 20 hours for the battery charge to run down to 10 percent.
Obviously, in actual operation, battery life will be somewhere between these two extremes, depending on what fraction of the time the tablet is under heavy load, light load, and idle. Based on our tests, it's reasonable to expect the ViewPad 7e to function for 8 hours, assuming moderate use.
Overall assessment
All in all, the ViewPad 7e is a bit thick and hefty relative to the thinness and lightness standards set by current generation Samsung and Apple tablets. Additionally, its screen lacks the pizzaz of those newer and higher-priced tablets. And then there's the lack of a dual-core processor, Android 3.x OS, LED flash, and GPS.
However, in light of its combination of low price, decent quality, and comprehensive features (including 1080p HDMI output), the ViewPad 7e merits consideration by anyone desiring a mid-sized Android tablet on a tight budget. It's more than adequate for web-surfing, texting, emailing, Skyping, accessing social networks, watching Netflix and YouTube videos, streaming Pandora and Internet radio, playing games, reading ebooks, and much, much more.
Further information is available on ViewSonic's website. In particular the ViewPad 7e's user manual is available here (2.6MB pdf file).