Last updated May 2, 2008 — 3421 views

ASIMO, Honda's amazing 51-inch tall humanoid robot, is preparing to conduct the Detroit Symphony Orchestra in a performance of "Impossible Dream." Along with renowned cellist Yo-Yo Ma, the mechanical marvel will open a special concert performance for young people in Detroit on May 13.

According to Honda, the robot will demonstrate its capabilities to hundreds of Detroit-area school children prior to a specially arranged master class in which a select group of music students will receive personal instruction from Ma. Honda expects ASIMO — whose name stands for "Advanced Step in Innovative Mobility" — to eventually be put to work assisting the elderly and disabled in their homes.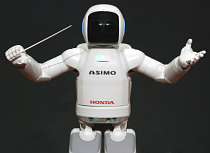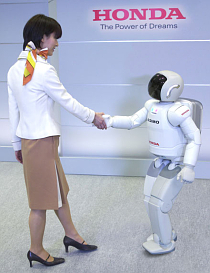 Meet maestro ASIMO
(Click each image to enlarge)

Honda says ASIMO's size was designed to help it operate comfortably within human living spaces, and to make it "people-friendly." At 51 inches tall, it can operate light switches and door knobs, and work at tables and other work surfaces. The height of its eyes matches that of a sitting adult, making it easy to communicate with.
The robot's 34 degrees of freedom of motion help it to walk and perform many tasks in a human-like manner. For example, ASIMO can run, walk, climb stairs, communicate, and recognize people's voices and faces, according to Honda.
To see just how well ASIMO performs, have a look at the following short YouTube video:
(Click above to play video)

ASIMO is constructed with lightweight materials, including a magnesium alloy structure. Additionally, the robot possesses powerful computing capabilities. Here's a summary of ASIMO's key specifications, as listed by Honda:
Height — 51 in (130 cm)
Weight — 119 lbs (54 kg)
Walking speed — 1.7 mph (2.7 km/hour)
Running speed — 3.7 mph (6 km/hour)
Walking cycle — adjustable cycle and stride
Grasping force — 0.5 kg/hand (5 finger hand)
Actuator — servomotor; harmonic speed reducer; drive unit
Control unit — walk/operating control unit, wireless transmission unit
Sensors — foot: 6-axis foot area sensor; torso: gyroscope and acceleration sensor
34 degrees of freedom (DOF) for "human" joints:

Head — 3 DOF (rotation; up/down nodding)
Arm — 14 DOF
Hand — 4DOF (not counting the joints for the 5 bending fingers)
Torso — 1 DOF
Legs — 12 DOF

Power — rechargeable 51.8V Lithium Ion battery
Operating time — 1 hour
Honda says it is giving the Detroit Symphony Orchestra a gift of more than $1 million to create The Power of Dreams Music Education Fund. The fund is intended to help the Detroit Public Schools, which have suffered from severe cost constraints that have hurt the district's ability to provide music education, offer students the opportunity to learn to play instruments, read music, and participate in bands or orchestras.
For more details and photos of this unique humanoid robot, visit ASIMO's website. A PDF file with detailed technical information can be downloaded here.
Hmmmm…. It would be interesting to see what sort of sparks would fly if Honda's orchestra-conducting robot got together with Toyota's violin playing robot?
[ASIMO photos courtesy of asimo.honda.com]