Last updated Feb 7, 2012 — 30975 views

This in-depth review and screenshot tour takes a close look at Roku's latest streaming media players. Although the Roku 2 series players are smaller and cost less than their predecessors, they're jam-packed with multimedia apps, offer multiple A/V outputs along with microSD and USB expansion, and are significantly less power-thirsty.

Before diving into this review, let's get one thing straight: despite the "2" in its name, the Roku 2 series is actually Roku's third generation streaming media player family.
Here's the skinny on that…
Roku's original media player (shown at right), introduced in 2008, was initially marketed as a dedicated player for Netflix instant videos. A year later, however, what started out as a "Roku Netflix player" started receiving free firmware updates that added additional content sources, with the first being Amazon Video-on-Demand.
Then, in 2010, Roku came out with a cost-reduced line of three streaming media players (shown at right). In addition to reduced costs, the new design provided faster WiFi, enhanced HD video, and a USB port for playing A/V files and viewing photos from USB media.
Roku's third-generation media player, dubbed "Roku 2," was introduced in the second half of 2011. The new line further shrank size and costs, and also significantly lowered power consumption — to about 1W, in our tests. The tiny devices, which measure a mere 3.3 x 3.3 x 0.9 inches, fit comfortably in the palm of your hand.
How small is the Roku 2? Depending on the screen you're viewing this on, the photo below may appear larger than the Roku 2's actual size!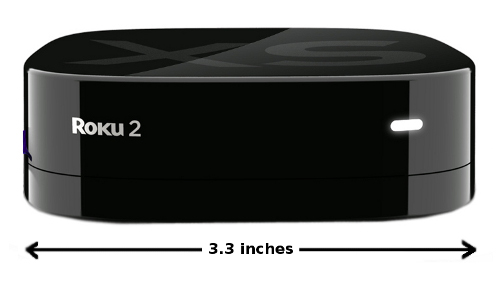 Roku's latest media player design shrinks size, cost, and power
(click image to enlarge)

Roku 2 features and specs
The Roku 2 line consists of four models: three have "Roku 2" designations and the fourth, the lowest-end model, is dubbed "Roku LT." The four models, ranging from $50 to $100 in price, are identical but for a few differentiating features.
The first of the two tables below shows key features of the Roku 2 media players from the content sources and A/V capabilities perspectives. The second table indicates other key hardware features and specs, and highlights differences among the four models.
Roku 2 Features
| | |
| --- | --- |
| Netflix | yes |
| Amazon VOD | yes |
| Vudu | yes |
| Hulu Plus | yes |
| YouTube | no |
| Pandora | yes |
| Total official apps | > 300 |
| Supports 3rd-party apps | yes |
| Web browsing | no |
| Plays from LAN shares | via 3rd-party apps |
| Plays from USB media | on Roku 2 XS only |
| Remote media rendering | no |
Roku 2 Specs, by Model
Roku LT
Roku 2 HD
Roku 2 XD
Roku 2 XS
420i and 720p video out
yes
1080p video out
no
no
yes
yes
A/V outputs
HDMI, composite video, stereo audio
Video formats supported
MP4/M4V (H.264), MOV (H.264), MKV (H.264) ASF/WMV (WMV9/VC-1)
Audio formats supported
MP3, AAC, Dolby Digital (MP4, MOV, and MKV passthrough), DTS (MKV passthrough)
Image formats supported
JPG, PNG
WiFi
yes
Ethernet
no
no
no
yes
USB expansion
no
no
no
yes
microSD expansion
no
yes
yes
yes
Power required
1W
Power-down control
no
Enhanced RF remote (with motion control for games)
no
no
no
yes
Price
$50
$60
$80
$100
Rear panel connections
The two photos below show the rear panel layouts on the HD and XD players (upper) and XS player (lower). The Roku LT's rear panel is similar to that of the HD/XD, but minus the microSD card slot.



Rear panel connections: HD and XD (upper); XS (lower)
(click images to enlarge)

Not shown in the photos above is the Roku 2 XS's USB expansion port, located on the enclosure's side.
Casual games support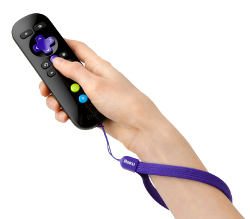 The Roku 2 media player family comes with a new Roku capability dubbed "casual games." To support the hand motions required by games, Roku introduced an enhanced remote control that integrates a motion sensor (pictured at right; click to enlarge).
The gaming remote also includes a hand strap, so users don't accidentally toss their remotes across the room in the heat of the moment. Since IR remotes don't work reliably when they're not pointed directly the gadget they're controlling, the new gaming-style remote utilizes RF, rather than IR, wireless technology.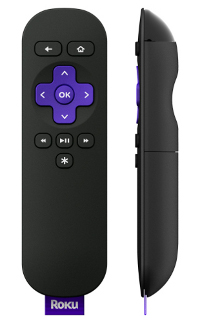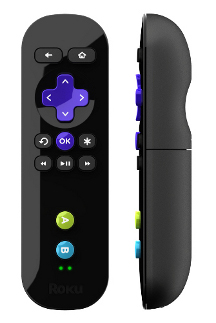 Roku's new remotes: standard IR (left) and gaming RF (right)
(click each image to enlarge)

The new RF casual game remote comes standard with the top-of-line Roku XS model. It's also available as an option for the Roku HD and XD models, but not for the low-end Roku LT model. Besides being needed for Roku's new casual games, the RF remote could be advantageous if you don't like having to worry point at the Roku player, or if prefer having the Roku player tucked away within a cabinet.
What's playing on the Roku?
From its humble origins, when it was introduced as the "Roku Netflix player" with a single app on it, Roku's popular streaming media player family has evolved to where it now offers more than 300 official channels of content, games, and other apps.
When you first start using your new Roku player, you'll be prompted to create an account on Roku's website, after which you'll be presented with a page of featured channels, from which you can select a few for starter apps (see browser screenshot, below).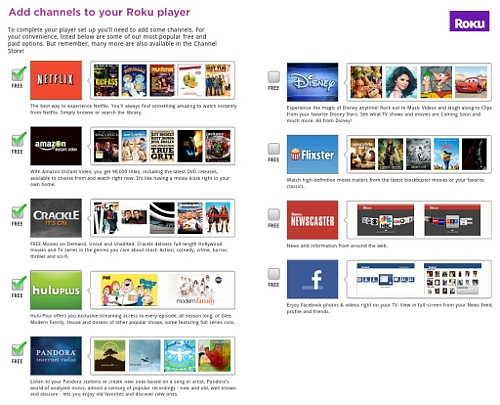 Iniitial channel selection process
(click image to enlarge)

You can always install more apps by means of the Roku Player's internal Channel Store, which is accessible from the device's top-level menu (see screenshots below). In the Channel Store, you can browse apps by popularity, newest, featured, and various categories.



Typical initial top-level menu
(click images to enlarge)

Not all Roku apps are free, nor is all content. For example, Netflix requires a monthly subscription and watching Amazon videos involves a video purchase or a subscription to Amazon Prime.
In general, three situations apply:
Free to install app; free or ad-supported content
Free to install app; fee-based content
Payment for installing app; free, ad-supported, or fee-based content
When you select apps using the Channel Store in the Roku player's top-level menu, you'll be informed as to whether a payment will be required to install the app. You'll also be informed whether subscriptions or pay-per-view fees will apply to use of the channel's content or service. In any case, rest assured that Roku has setup the process in a manner that should protect you from being charged fees you haven't accepted.
The collage below shows the Roku media player's 300+ official apps, as of this post. Click the image to view a page full of larger logos, enabling you to peruse the entire library.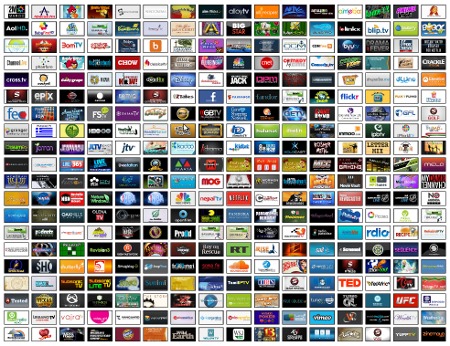 Roku currently offers more than 300 content channels
(click the image to view a page filled with larger app icons)

As seen above, in addition to the original Netflix channel for shows and movies, Roku now provides several other major sources of subscription, pay-per-view, and ad-supported shows and movies. Principle among these are Amazon's video-on-demand service and Hulu Plus. But there many other lesser-known services including Crackle, EPIX, Movie Vault, SnagFilms, Vanguard, and more. Check out Roku's movies and shows channels here.
Numerous music-streaming channels are also available, including free, ad-supported, and subscription-based services. These include well-known sources like Pandora, TuneIn Radio, Live365, MediaFly, MOG, Rdio, Shoutcast, SomaFM, and more. And don't miss Classical TV, a musical feast for both the eyes and ears. You can read more about Roku's music channels here.
Other standard Roku channel categories include Sports, News & Weather, Kids, Tech, Web TV, Lifestyle, Photos & Video, International, Spiritual, and Fitness & Outdoors. For more details on all 300+ available Roku channels, go here.
Private and beta channels
Standard Roku player channels are installed simply by selecting them from within the device's built-in Channel Store. There are also "private" and "beta" channels, which require a slightly more circuitous installation process.
As Roku describes it, "a private channel is a channel or application that a Roku channel developer distributes outside the Roku Channel Store. A developer may decide to create a private channel if they want to reach a specific audience (for example, a corporate audience) without making their channel available to all Roku customers."
Private and beta channels are installed via the web, in the following manner:
Obtain a "link code" from the channel developer (more on this in a moment)
Log into your Roku account on Roku's website
Enter the private or beta channel code on Roku's website, here
After linking, the private or beta channel will automatically show up on your Roku player's top-level menu, beside your other installed channels like Netflix, Amazon VOD, Pandora, etc.
You can find lists of private Roku channels on a number of websites, some of which conveniently provide the required channel link codes. Below is a list of three such sites; please note that they're independent sites, unaffiliated with Roku.
Further information regarding Roku private and beta channels may be found on Roku's website, here.
Playing content from USB
Among its other differentiating features, the high-end Roku 2 XS model has a USB socket, where you can plugin a thumb drive or connect other USB media. If you have that model, you can watch your own videos and movies using Roku's USB media player app. You'll find that app in the Roku Channel Store on the device, in either the Music or Photos & Video category; it's called Roku USB Media Player.
According to Roku's website, only supported file types are shown by the app. It hides unsupported file types, as well as folders with no supported file types in them, from view. Specific details regarding supported file formats and resolutions are available in several locations on Roku's website, including here and here.
Here are a few screenshots showing use of the Roku USB Media Player app:





Playing content from USB
(click thumbnails to enlarge)

More details regarding Roku's USB Media player may be found on Roku's website, here.

Playing content from LAN shares
One big drawback of the Roku players is their lack of built-in support for playing media from Windows shares (i.e. samba) and UPnP/DLNA services, which enable let to them play multimedia content from NAS devices, PCs, and Macs on the local network.
To fill this void, a number of developers have created Private Channels that allow playing music, watching videos, and viewing photos from PCs and Macs. Unfortunately, these filesharing channels tend to require you to install a companion server app on the PC or Mac end, although some use http-based access (we installed Apache on our Linux desktop to test one).
Here are some Private Channels that let you play media from LAN shares on a Roku player. We've tried three of them, with varying degrees of success (see screenshots below). No doubt there are more.
Bekow are some screenshots demonstrating MyMedia, Roksbox, and Plex streaming movies from our Linux PC to our Roku 2 HD.
Using the third-party MyMedia app:






Using the third-party Roksbox app:






Using the third-party Plex app:








Screenshot tour
To give you an idea of what it's like to use a Roku 2 series player, we've assembled an extensive screenshot tour in a separate post. You can use the following index to access the screenshots in the tour, or jump directly to the complete Roku 2 screenshot tour page. But please be sure to return here for the rest of this review, including a run-down of what we like — and don't like — about the Roku 2 media players.
Roku 2 screenshot tour index…
Overall assessment
This section contains a few additional comments on the operation and functionality of the Roku 2 media players, organized in a compliments-and-complaints breakout.
Compliments…
User-friendly, intuitive user interface — easy to learn, easy to use.
300+ standard channels — all tuned specifically to the Roku player's easy-to-use user interface.
Active third-party channel ecosystem — in addition to providing standard channels Roku has created a framework that enables outside development Private Channels that support unique requirements, markets, and demographies.
Excellent remote controls — Roku's remotes are well designed and the IR ones have a wide operating angle, making them easy to use and highly reliable; the new RF gaming remote has a similar layout and its RF wireless makes it omnidirectional.
Rock-solid stability — in years of testing, DeviceGuru has never become aware of any Roku player crashes or bugs.
Rock-solid A/V output — with 1080p available in the two high-end models.
Ultra-low power consumption — although the Roku line lacks of power switch (a gripe in our prior reviews) this latest design consumes just 1W, so we no longer count the absence of a power-down switch or command as a major deficiency.
Fanless operation — not a whisper of sound comes from that tiny player.
A superb value — at its $50 entry-level price, the Roku 2 makes a great companion for every TV.
Complaints…
One-dimensional menu — with 300+ channels available, it's time for Roku's 1D menu system to evolve into something slightly more structured, along the lines of browser bookmarks and bookmark folders; but please don't lose the ability to keep a handful of "favorite channels" right on top.
Playing from LAN shares — needs support for playing content from Windows shares (samba) and UPnP/DLNA media servers. In light of the large number of apps that let iOS and Android smartphones and tablets play media from UPnP/DLNA and Windows shares, it's surprising that similar apps are absent from Roku's Private Channels ecosystem.
Web browser — the lack of a browser for accessing content at arbitrary web locations restricts users to the "walled garden" Channels environment; admittedly, however, this also reduces the range of A/V formats that would have to be supported, among other complications that come from attempting to interface with the wild, whacky web. But is that a good enough reason to omit such a critical function?
Limited range of A/V format support — requires users to convert formats in order to play their own content on the device via USB or LAN shares and content servers.
Inability to play content from microSD — a Roku executive told us: "We can't play media from a microSD card because we format the microSD card using a proprietary format once the card is inserted and the user approves. This is for security reasons related to our channels. You can't even move the microSD card and the channels stored on it from one player to another."
No fileservers — given the Roku player's low power consumption, it would be great if content connected to it over USB (or via microSD) could be shared on the user's LAN. That way, it could be played on smartphones and tablets around the home; conversely, a built-in server would also enable users to copy content TO the USB or microSD media attached to their Roku players, for rendering on their TVs.
Last, but not least: Why no AirPlay target support? Boxee Box has it. Google TV has it. Oh, and Apple TV has the best of all, AirPlay target plus iPad screen mirroring. Nuff said.
The bottom line
How does the Roku 2 media streaming player compare with the growing field of competing products?
By far, Roku is what we recommend most to those who have resolved to cut the cable TV umbilical cord, but haven't figured out how to go about it yet. "Get a Roku player and an HDTV antenna, cancel cable, and don't look back!," is generally our advice. Oh, and subscribe to Netflix ($8/mo) and Hulu Plus ($8/mo).
Still, there are numerous features the Roku doesn't provide, which we would love to see added. For more information including a detailed comparison between Roku and its main competitors — Apple TV, Google TV, the Boxee Box, and Netgear's NeoTV — read our comprehensive streaming media player smackdown.

Further info
Further details on the Roku 2 streaming media players may be found on Roku's website.