Last updated Mar 28, 2013 — 4354 views

I've griped for years about Roku's retro one-dimensional menu. Finally, in conjunction with the release of the Roku 3 model, the company is giving the Linux-based media streaming player a 2D facelift, making it quicker and easier to access favorite channels and find new ones.

In addition to the new two-dimensional menu system, the Roku 3 also introduces a more powerful CPU, an enhanced remote control, and a headphone jack for private listening. Its other key features include 1080p HD output, dual-band wireless, Ethernet and USB ports, and a microSD slot.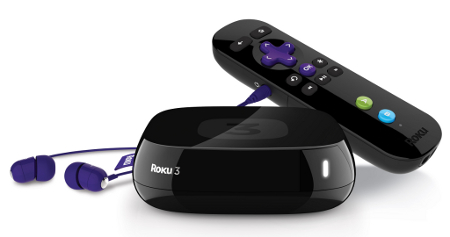 Roku 3 media player, with remote control and headphones
(click image to enlarge)
Roku founder Anthony Wood says the "intuitive new interface makes it easy to find movies and shows quickly while the private listening mode is perfect for late-night streamers who don't want to wake up the family."
Frankly, it's hard to understand how Roku took so long to upgrade its menu system from 1D to 2D, in light of the device's hundreds of available channels. Perhaps the company was yielding to pressure from the likes of Google TV, Apple TV, and NeoTV, which have had 2D menu systems for years.
The company says all "current generation" Roku boxes will automatically begin receiving the new user interface via a free software update in April. Specifically, the following devices will be updated: Roku LT, Roku HD (model 2500R), Roku 2 HD, Roku 2 XD, Roku 2 XS, Roku Streaming Stick.
The YouTube video below demonstrates Roku's new two-dimensional menu system.
For a detailed review of the Roku 2 series devices, read DeviceGuru's in-depth review. For information on the new Roku 3 player, visit Roku's website.
Roku, what took you so long!