Last updated Jul 20, 2009 — 7531 views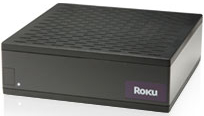 Mediafly's A/V podcast aggregation service will be added to Roku's $100 digital video player set-top box (STB) this Fall, the companies report. According to Mediafly, its service will provide free access to "tens of thousands of audio and video podcasts" from NBC, CNN, ESPN, Comedy Central, and other sources.

Roku VP Jim Funk notes that Mediafly is using a new "Roku Developer Kit" to ease the task of developing its add-on for the Roku STB.
Mediafly already delivers its A/V aggregation service to PCs; smartphones such as the iPhone and Blackberry; MP3 players such as the iPOD and Sansa; and Internet-access devices such as the SqueezeBox and Popcorn Hour.
Mediafly's website provided the following screenshots, which suggest what Roku STB users might expect to see showing up on their TVs this Fall (click each image to enlarge):






Mediafly screenshots
(Click each image to enlarge)

Mediafly apparently intends to expand its Internet A/V aggregation service beyond podcasts, bringing it into competition with
Hulu.com
. Specifically, today's announcement states: "…podcasts are just the beginning. As more media companies realize they can deliver high quality, personalized audio and video to the masses through Mediafly on the Roku player, there is no limit to how they may leverage this inexpensive, simple-to-operate media delivery ecosystem."
Further details on Mediafly may be found on the company's website.