Last updated Jan 4, 2012 — 7356 views

Roku plans to embed its streaming media player technology into a thumbdrive-style device that plugs directly into a TV's HDMI port. The "Roku Streaming Stick" will instantly convert ordinary TVs into "smart TVs," says Roku CEO Anthony Wood.

Wood unveiled his company's bold new product idea in a blog post today. He expects the tiny device to be priced along the lines of Roku's current generation of standalone players: between $50 and $100.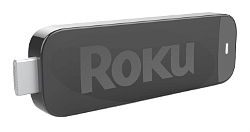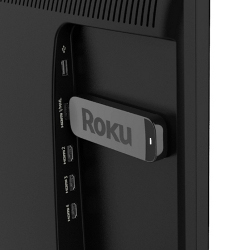 Roku's streaming media player-on-a-stick plugs into a TV's HDMI port
(click images to enlarge)

Roku's new thumb-drive-sized media player interfaces with the TV via the new Mobile High-Definition Link (MHDL) standard. MHDL, just now beginning to show up on TVs and other devices, is governed by the MHDL Consortium. The group's membership currently includes Nokia, Samsung, Silicon Image, Sony, and Toshiba.
MHDL uses a single cable and 5-pin interface. Functions included on the interface include: 1080p HD video; digital audio; DC power for powering an external device; and signaling, so the TV can control and communicate with the external device (for example, so the TV's remote can control the device's operation).
Although embedding a Roku Player's worth of electronics into an HDMI stick represents a major design challenge, it saves significant connector and power supply component costs.
Roku's take on the "Smart TV" market
"Now that 2012 is upon us, we are turning our attention to the Smart (Connected) TV market, which will no doubt be a hot topic at the 2012 Consumer Electronics Show in Las Vegas next week," says Wood in his blog post. "We think there are some fundamental issues that are preventing the current breed of Smart TVs from gaining mass adoption."
"Even though a lot of Smart TVs are sold, according to Parks Associates only 11 percent of Smart TVs sold in the U.S. are ever connected to the Internet and less are actually used," Wood continues. "Some of this is probably just lack of awareness… Yet another reason is the quality of the streaming experience can be poor. We've found that it just takes a lot of work to keep the experience current and performing at its best. We issue software updates almost every month, and add about one new channel per day. It used to be sufficient enough to have a few key channels (remember we launched with just Netflix [DeviceGuru story]) but those days are rapidly fading. With more and more content available for streaming the software stack and associated updates are a challenge for TV vendors."
Wood continues: "With the rapid pace of innovation in the streaming world, and all the software updates, it's inevitable that over time the software needs more hardware power. You see this in the mobile world. Apple and Google increase the memory requirements of their platforms regularly. New games come out that require faster processors. This same problem exists in the Smart TV world, but unlike phones people don't replace their TVs every two years."
"We've thought about this problem a lot, and believe we have the solution: the Roku Streaming Stick — a little stick about the size of a standard USB flash drive that will simply plug into a TV to instantly transform it into a Smart TV. It essentially includes everything in a Roku player — built-in WiFi, processor, memory and software — and will deliver all the channels found on the Roku platform today. It will also benefit from regular free software updates and channel enhancements."

Continually shrinking streaming media players…
The photos below chronicle Roku's progression from its initial "Netflix Player" to the current cost- and size-reduced Roku 2 player line, to the soon-to-be-released Roku Streaming Stick.




Left to right: original Roku Netflix Player; Roku 2 line; Roku Streaming Stick
(click thumbnails for larger images)

Funding or acquisition in the works?
Interestingly, a rumor recently surfaced that Intel may be thinking about acquiring Roku.
"A few days ago, I got a tip that Intel is supposedly in talks to buy Roku," writes Janko Roettgers at Gigaom.com. "I haven't been able to confirm this; both Intel and Roku are simply saying they're not commenting. So at this point, we gotta treat it as just another Valley rumor, which coincides with another rumor I've heard about Roku working on getting yet another round of funding."
Roettgers discusses the potential pros and cons of Roku being acquired vs. obtaining additional funding. He also considers the desirability of a Roku acquisition, from Intel's perspective. Read his full article here.

Further information
For more details on Roku's successes in 2011 and its current view of the Smart TV landscape, read CEO Anthony Wood's complete blog post on Roku's webite, here.
For more background on Roku's streaming media players check out DeviceGuru's detailed Roku coverage.