Last updated Apr 19, 2011 — 2974 views

Sonos today released several enhancements to its Linux-powered streaming audio player devices. The new capabilities, all delivered via free apps and software upgrades, include the first Android app for remote control of Sonos gear, new support for Apple AirPlay audio sources, and the introduction of iOS 4 multitasking capabilities into the remote control apps.

One interesting feature of Sonos's new Android app is the ability to use voice commands for searching music artists, albums, or tracks. Also, the app makes use of the Android smartphone's physical volume up/down buttons for sound level control, and provides true multitasking capabilities. This capability is not permitted by Apple on its devices, Sonos points out.
Here are three screenshots showing the new Android remote control app: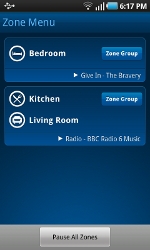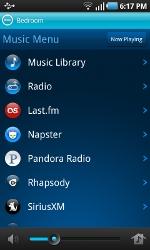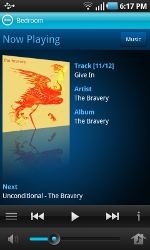 Android smartphones are now Sonos remote controls
(click each image to enlarge)

Sonos says the Android remote control app works on smartphones running Android 2.1, 2.2, or 2.3 and supports screen sizes of HVGA 320 x 480, WVGA 480 x 800, or WVGA 480 x 854. It's available for free download from the
Android Market
beginning today.
Other enhancements
Also today, Sonos is releasing free updates to its remote control apps that run on the iPhone, iPod Touch, and iPad, along with a free update to the firmware that resides within the Sonos media-streaming players. Key new features and functions resulting from this suite of software updates are summarized below.
Fast app switching:

All Sonos remote control apps will now support Apple's iOS 4 "fast app switching" (aka multitasking) capabilities. Not all iOS 4 devices support this feature, however.

AirPlay support:

With today's free firmware update to "Sonos System Software 3.4," the company's audio-streaming ZonePlayers can now play Apple AirPlay-streamed music when you plug the audio output of an Apple AirPort Express into the "line in" connector of a Sonos ZonePlayer.

Additionally, in contrast to Apple's one-location AirPlay support, a Sonos setup with multiple ZonePlayers can stream AirPlay audio to "all the rooms in a home with perfect synchronization," says Sonos CEO/founder John MacFarlane.

Further info on the Sonos gear
For lots more information about Sonos's audio-streaming equipment, read our detailed Sonos review.
Also, visit Sonos's website, including the Android app and Apple AirPlay pages. And for details on getting your hands on today's software updates, go here.